Fruit Chutney (Zwt - South Africa)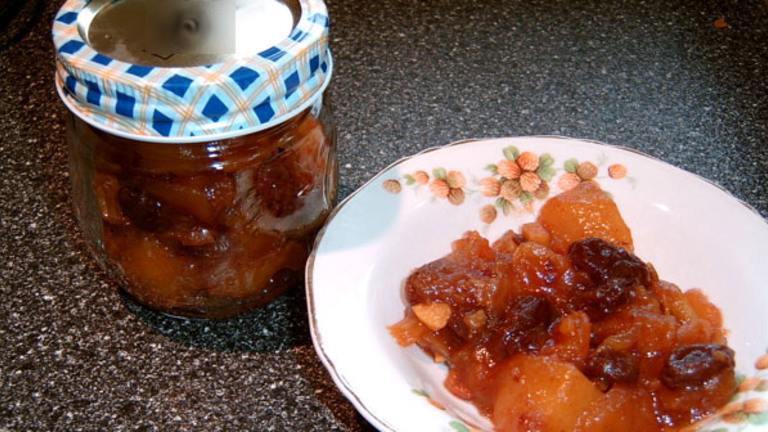 This recipe was entered for ZWT & has been modified slightly. My source is: http://africhef.com/Chutney-Recipe.html. The intro is short & sweet ... "This easy South African Fruit Chutney recipe is 1 of the simplest I've come across & is well worth the slight effort taken to prepare it." (Yield & times have been estimated. Times do not include standing overnight or waiting period to mature)
Ready In:

2hrs 30mins

Serves:

Yields:

Units:
directions
Chop all dried fruit except the sultanas.
Place fruit & water in a lrg mixing bowl, cover & leave overnight.
Do not drain the fruit. Add the remaining ingredients & place in a heavy bottomed saucepan.
Simmer over low heat (stirring constantly) till the sugar has dissolved.
Bring to a boil & then lower heat. Allow to simmer (uncovered) for approx 1 1/2 hrs or till thick, stirring occ.
Pour chutney mixture into sterilized jars while still hot. Fill to ½ in below the top. Cover w/an airtight plastic lid. Do not use a metal lid because the action of the spices & vinegar will cause corrosion.
Leave the chutney to mature in a cool, dark, dry place for 6-8 weeks before use.
NOTE: This fruit chutney may be used in curries, almost any dish that has rice as an accompaniment & also to tasty up pasta dishes.
Submit a Recipe Correction
RECIPE MADE WITH LOVE BY
"This recipe was entered for ZWT & has been modified slightly. My source is: http://africhef.com/Chutney-Recipe.html. The intro is short & sweet ... "This easy South African Fruit Chutney recipe is 1 of the simplest I've come across & is well worth the slight effort taken to prepare it." (Yield & times have been estimated. Times do not include standing overnight or waiting period to mature)"
I used fresh and dried fruits as I could not get some of the dried ingredients here. It is not Mrs. Balls Chutney but it is an excellent substitute! The only thing I will do differently next time is to blend 2/3 if the finished chutney as there are too many "bits" in it for my taste. Thank you for enabling me to have Chutney in Austria as well.

This is very tasty. I couldn't find dried pears anywhere and since it is fresh pear season here, I used those. I just did half a recipe and got six 8-oz. jars. I will make a full batch next time to give away to friends. Looking forward to using this after it ages for awhile! Sure made the house smell good! Made for Fall 2007 PAC. UPDATE: Just tried a jar of this after it had "aged" and it is really good! Some real nice flavor combinations!

This recipe was entered for ZWT & has been modified slightly. My source is: http://africhef.com/Chutney-Recipe.html. The intro is short & sweet ... "This easy South African Fruit Chutney recipe is 1 of the simplest I've come across & is well worth the slight effort taken to prepare it." (Yield & times have been estimated. Times do not include standing overnight or waiting period to mature)