Fried Chicken Drumsticks Southern Style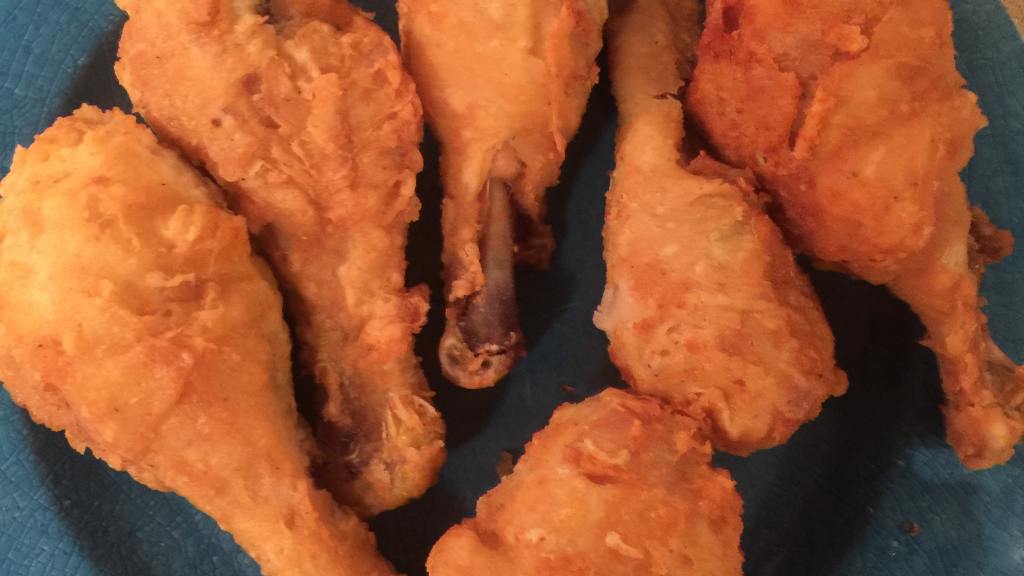 Ready In:

1hr 5mins

Ingredients:

7
directions
Before frying, boil chicken legs in a pot of water for 10 minutes.
In a large saucepan, heat vegetable oil on medium heat.
On a large plate, combine flour, cayenne pepper, paprika, and salt.
Keep beaten eggs in a separate bowl.
Take 1 chicken leg and cover it is flour mixture.
Place the chicken leg in eggs and cover it in egg.
Place the chicken leg back into the flour mixture and cover it again in flour.
Once oil is hot and ready for frying, place chicken leg into the oil for frying.
Repeat steps 5-8 for each chicken leg allowing up to 3 legs to fry at one time.
Once legs are fried to a golden brown, remove from oil and place on a double-folded paper towel on a plate.
Allow plenty of time to cool before serving.
Join The Conversation
Okay, so I've already started to make this recipe when I found out that I spray have dinner for tonight. Chicken is boiled, egg wash made, for prepped. My question is: Should I put it all in the fridge and batter and fry tomorrow or batter and cover and store in fridge and fry tomorrow? Which way would yield the best results?

 

Greatest fried chicken drumsticks I have ever had! And coming from a fellow musician and artist....is tooo cool man!! Ha ha! I too have picked up cooking until we can get back out on the road!! I cannot wait try more of your recipes! I grew up in Buffalo New York and now live north of New York City and our Fried Chicken isn't anything like that! You can play is good you can cook I would love to hear your stuff! LOL Anyway I recommend this recipe to anybody who really likes Fried Chicken. Moist and not over seasoned, and crispy like it's supposed to be!