Fried Cheerios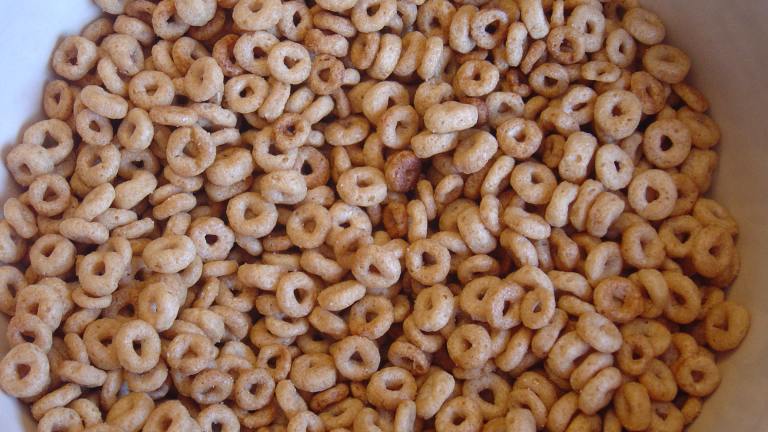 EDITED TO ADD: This is just a family recipe and treat. It is not exact, it will not be to everyone's liking. I have never had them turn out soggy or so bad they had to be thrown out. All I can say is cut down the butter or add more cheerios and maybe not everyone will llike them. I've seen many recipes posted her that were not exact and just family recipes. I'm sorry it has not worked out for a couple of posters, but it is not an exact recipe with proper instructions, its something mom made us as a snack to stretch money that was not there. Thanks for trying it but if your set against something absoulutely turning out perfect and to your liking with exact measurements and a science to it, you may want to pass this recipe by. Not a health conscience snack, my mom made these for us because her family could not afford popcorn when they were growing up and this was their alternative not a healthy snack but not only do I love it but also my kids love to have something nana use to have
Ready In:

20mins

Yields:

Units:
directions
melt butter in a frying pan.
add cheerios and brown stirring to coat cheerios. Cheerios should be browned but dry not soggy. You should let them fry up and get crispy.
then salt as you would when making popcorn.
Submit a Recipe Correction
RECIPE MADE WITH LOVE BY
"EDITED TO ADD: This is just a family recipe and treat. It is not exact, it will not be to everyone's liking. I have never had them turn out soggy or so bad they had to be thrown out. All I can say is cut down the butter or add more cheerios and maybe not everyone will llike them. I've seen many recipes posted her that were not exact and just family recipes. I'm sorry it has not worked out for a couple of posters, but it is not an exact recipe with proper instructions, its something mom made us as a snack to stretch money that was not there. Thanks for trying it but if your set against something absoulutely turning out perfect and to your liking with exact measurements and a science to it, you may want to pass this recipe by. Not a health conscience snack, my mom made these for us because her family could not afford popcorn when they were growing up and this was their alternative not a healthy snack but not only do I love it but also my kids love to have something nana use to have"
I made this thinking it would be a bit bland. Also I was worried that I wouldn't get the ratio correct. After eyeballing the ingredients (instead of actually measuring,) I made a batch. This stuff is REALLY good. I added Lawry's seasoned salt to add to the unhealthiness, but seriously, I don't think it's that much worse than buttery popcorn. Going to give this to my kids with braces to see if it passes as a good popcorn substitute. I hope so as my daughter is craving popcorn like crazy!!! Thanks for sharing this recipe. It's a keeper. P.S. My daughter who craves popcorn finds this an amazingly good substitute. It may just save her braces :).