Frida Kahlo Birthday Cake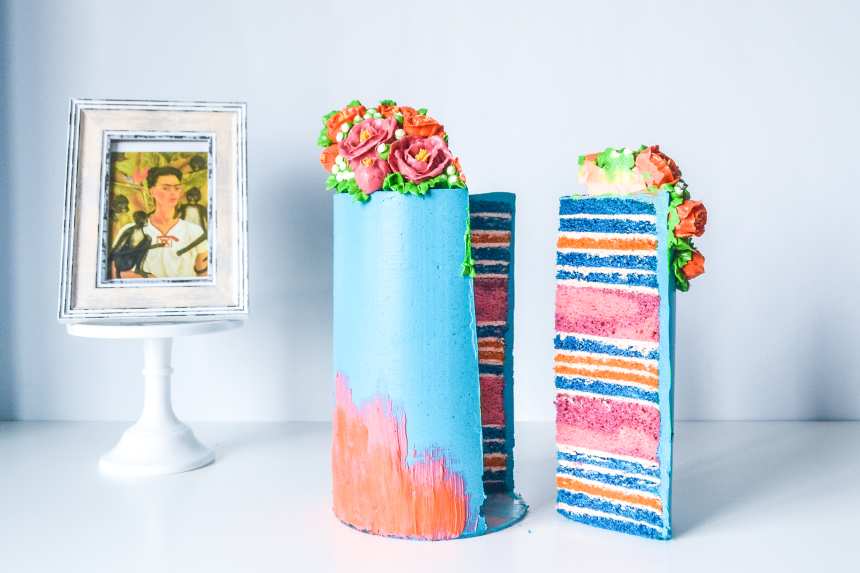 photo by Milkmoon Kitchen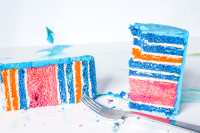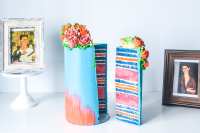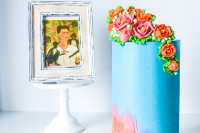 Ready In:

48hrs

Ingredients:

14

Serves:

20
directions
Make Your Batter.
Preheat your oven to 350°C Prepare 2-5 (or however many you have) six inch round, three inch deep (6"x3") cake pans by greasing with shortening, placing a baking paper round on the base, greasing again, and flouring. I know it's a lot just to prep the pan, but you will never have cake stuck clinging to your pan ever again! Worth it.
In a medium-size bowl, combine your egg whites, whole eggs, 1/2 cup of your milk, and vanilla and whisk to combine. Set aside.
In the bowl of a stand mixer fitted with the paddle attachment, combine your cake flour, sugar, optional whole milk powder, baking powder, and salt and mix on low speed for a few minutes until combined. Low speed is important here so as to avoid creating a burst of flour that will get all over your hair and maybe in your eyes, it is the worst.
All at once, add in your butter and keep mixing to moisten your dry ingredients, about 20 seconds. Begin streaming in your remaining 1 1/2 cups milk, half a cup at a time, continuing to beat on the lowest speed. When all the milk is added, raise the mixer speed to medium and continue to beat the batter for about 1 minute. This process is important because it incorporates air into your batter. Don't worry about developing too much gluten—cake flour has less than regular all-purpose.
Scrape your bowl, and then return the batter to low speed. Add your egg mixture in three batches, allowing each to incorporate fully before adding the next.
I like to beat again here on medium for about 20 seconds just to make sure the batter is totally homogenous!
Color Your Batter.
You will have roughly 11 cups of batter, and we need to split it out so we can create differently-colored cakes from the same batch. Get out four medium-sized bowls, however many spatulas you have, and a cup measure.
Scoop five cups of batter into your first bowl. This will be the blue cake.
Scoop two cups of batter into each of the remaining three bowls. These will be your pink, purple, and orange cakes.
Now, get out your gel colors! Gel is important here because it imparts a bright burst of color, exactly what we're looking for in this cake. For the blue cake I used mainly Chefmaster Royal Blue and just a few drops of CK Teal. For the pink, I used Chefmaster Rose Pink. For the purple, I used Americolor Fuchsia, and Chefmaster Rose Pink. And for the orange, I used mostly CK Orange with just a few drops of CK Neon Orange for extra pop. You should feel free to experiment with whatever colors you like, mixing them into the batter until you achieve a vivid hue. The great thing about this cake is that it will bake up to be more or less the same color!
Bake Your Cake.
If you have five 6"x3" cake pans then by all means, bake all these cakes at once. If you're a home baker like me, you can only really practically have 2-4 stored in your kitchen, so go ahead and split your blue batter between two pans and bake if you've only got those two, and if you have four you can also split your purple batter between those, Then, split your pink batter between the purple cake pans, layering it on top of your purple batter. Use a toothpick to swirl the pink and purple together to achieve a neat affect in your slice. Then, when these cakes cool, you can circle back and bake your poor lonely orange cake.
Bake your cakes for roughly 30-35 minutes, but keep an eye on them starting at minute 25. You'll know they're baked when you press down in the center of each cake and it springs back. You can also insert a cake tester, and it should come out clean with at most a few crumbs clinging to it. (Note: The tops of your cakes may get a bit dark, but that's okay! We're trimming all that caramelization off).
Remove your cakes from the oven and allow to come to room temperature on a rack. Then, I like to wrap them up in plastic and put them in the fridge for at least half an hour, preferably overnight before I remove them from the pans.
Wrap each cake individually in plastic and put it in the refrigerator for at least 3-4 hours before stacking. Whether in the pan or just wrapped in plastic, these cakes should rest in the fridge for at least 8 hours total before stacking.
Make Your Buttercream.
Whip up some Milkmoon Meringue Buttercream (recipe #536136), you'll need 2.5x the amount listed in the recipe. Reserve 5 cups of this buttercream for your filling, and set the rest aside. Take your dehydrated fruit and put it in a food processor or high-powered blender that is completely dry on the inside. Blitz on medium-high speed to create a fine fruity powder. Simply fold this powder into your 5 cups of buttercream, add the optional lemon extract, and you've got strawberry-mango deliciousness!
Now scoop out 6 cups from the remaining buttercream and color it a vivid blue. I used a combination of Chefmaster Royal Blue and CK Teal.
Set the remaining white buttercream aside for now.
Prep Your Layers.
Start by trimming the domes off your cakes. We want flat disks of cake so we can accomplish a tall build!
Now torte your layers out. Torting is the process of cutting a large chunk of cake into smaller layers, and it's kind of my jam. I torted ten very thin layers of blue and four of orange cake for Frida's birthday cake, and even trimmed the brown bottom off each cake too. You can choose to just trim the domes and leave as-is, or torte each cake in half. The most important thing is that pretty color, so don't sweat it if you don't have time to torte like crazy.
Build Your Cakes.
Alright, all that leveling of your layers finally pays off! Stack your layers on a 7" or 8" round cake drum with a small dab of buttercream in the middle to anchor the cake. Spread roughly 1/4 cup of Strawberry-Mango Buttercream on top of each layer before adding the next. Refer to my image up top to create the same layering pattern I did, or create your own!
Now refrigerate your stack until firm, at least an hour.
Remove from the refrigerator when the cake doesn't wiggle when you shake it, and place it on a turntable on the counter. Using a serrated knife, go around the cake trimming off those crusty sides. Wrap the nude cake in plastic, and put it back in the refrigerator.
Frost Your Cake.
Using the blue you created earlier, frost your cake and smooth with an extra-tall scraper, or you can opt to diy it like I do with a 14" quilting ruler! Frost as cleanly as you can—you want your canvas looking smooth and beautiful. Put the cake back in the refrigerator to firm up.
Pipe Your Flowers.
Take your remaining white buttercream and divide it into three equal portions. Color one portion pink with Chefmaster Rose Pink or whatever you have, and color the next portion orange with CK Orange and maybe a touch of CK Red.
For the remaining buttercream, split it into three parts. Color one part green using any Leaf Green gel color, and another part yellow using a very small amount of CK Egg Yellow. Leave the remaining third white.
Using a medium petal tip (like an Ateco #126), pipe your pink buttercream onto a small square of parchment paper affixed to a piping nail to create a base as if you were going to pipe a rose. Using an Ateco #2 tip, pipe little yellow stamens onto the top of the base. Then, use your pink buttercream to pipe petals like you're piping a rose, but give your wrist a wiggle as you pipe to create frilled petals. Repeat with your orange buttercream for orange flowers. Place your flowers in the freezer to firm up.
Using leftover Strawberry-Mango Buttercream, build up a base on the top of your cake that the flowers will sit on, higher on the left side and lower on the right. Place your flowers in a cascade on this base, not worrying about the fruity buttercream showing through—we'll cover this with foliage.
Place your green buttercream in a piping back outfitted with a coupler, and attach a medium round tip (like an Ateco #10-12) and pipe small clusters of bulbs in between the flowers to make buds. Use your white buttercream to pipe a smaller white spot on top of each bud using the same size tip or one slightly smaller.
Finally, exchange your round tip on the green for a medium leaf tip (like an Ateco #352) and fill in any extra gaps you see with leaves.
Paint Your Cake.
Grab a paintbrush, preferably medium sized and flat, and use it to dab remaining pink and orange buttercream onto the base of your cake. You can refer to my image as a guide, or you can let inspiration strike and create your own design!
Drumroll, Please!
Alright! You did it! You built an epic cake, and it's time for the most gratifying part—the slice reveal! Using a non-serrated knife, line the point up with the middle of the cake and, holding the knife completely level, slice down in a clean, confident motion until you hit the board. Remove the knife, wipe with a paper towel, and repeat to cut a slice that is perhaps 1/4-1/5 of the entire cake if you want it to be able to stand freely. Then, push an offset spatula under the slice, and lift up, using your other hand to stabilize the top of the slice. Pop the slice out from the bottom up, and remove to reveal… a piece of cake fit for a famed artist!
Enjoy!
Questions & Replies

Got a question?
Share it with the community!
Reviews
Have any thoughts about this recipe?
Share it with the community!