Fresh Pumpkin (Canned, Puree, Frozen)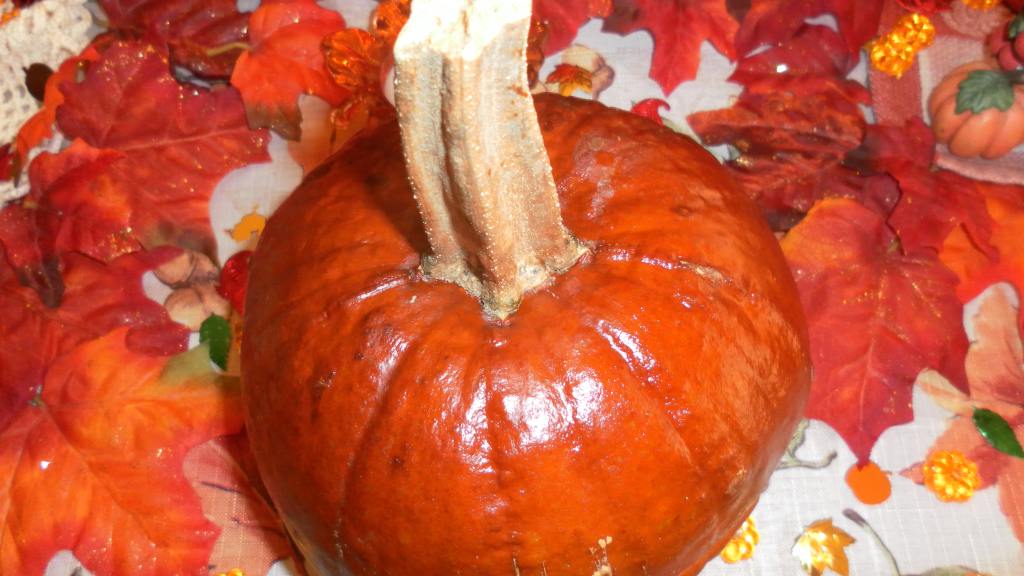 Ready In:

4hrs

Ingredients:

2

Serves:

16
ingredients
1

pumpkin (pie pumpkins taste best, but a carving pumpkin works fine too)

pumpkin juice, if needed (reserved from cooking process)
directions
Wash the outside of your pumpkin. DO NOT POKE HOLES IN THE PUMPKIN, PLACE IN THE OVEN WHOLE! Take your pumpkin and place in a cake pan in the oven at 300* F until it slumps in (will look rather disgusting at this point). For a big pumpkin, this will take about 3-3.5 hours. Smaller pumpkins will take less time.
After pumpkin has slumped and is very tender to poke with a fork, remove from the oven.
Allow to cool until it is still very warm, but cool enough to handle.
Cut the top of the pumpkin off as you would for a jack-o-lantern.
Scoop out the seeds and "guts" and set aside. Reserve pumpkin juice.
Start a section at a time and cut your pumpkin into pieces. Scoop the cooked pumpkin off the skin and place in the blender on "puree". Puree until it looks like applesauce. If your puree looks drier than apple sauce, add some of the pumpkin juice from the seeding step until it resembles the right consistency.
Place in freezer bags (2 cup aliquots work well) and freeze until time to use. I like to freeze mine in vacuum seal bags and then vacuum seal after frozen for longer storage.
Join The Conversation
Fresh pumpkins are packed full of antioxidants and vitamins A, C, and E that are unfortunately lost during the canning process. Baking the pumpkin whole keeps the flesh moist by trapping in the juices which also preserves its nutrients. My small three and a half pound sugar pumpkin needed to bake for the whole 3 1/2 hours to get fully cooked. Not only do I use pumpkin puree for pies, tarts, breads, cookies, and cheesecakes, but also I like to eat it as a savory side dish. Instead of freezing the puree, I tossed the creamy pumpkin with dried cranberries and served it as a sweet and tart side dish for roasted goose. Thank you, wyojess, for a recipe that provides clear, step-by-step directions, which could not be any easier, producing a puree that has endless possibilities!