Fresh Papaya Seed Dressing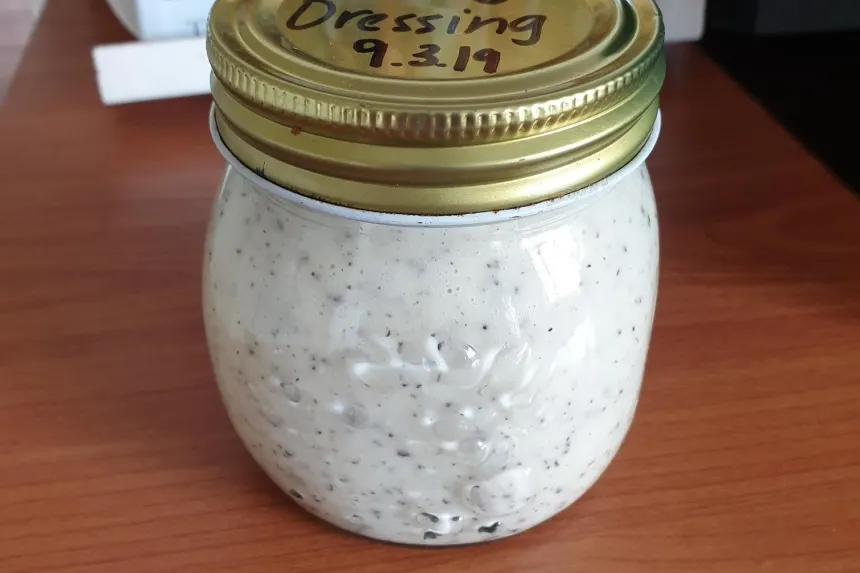 photo by Amy C.
Ready In:

5mins

Ingredients:

7
directions
In a food processor, whir together the papaya seeds and onion until finely chopped.
Add the vinegar, sugar, salt, and mustard and pulse 3 or 4 times.
With the processor running, gradually add the oil in a thin stream until dressing emulsifies.
Use on your favorite salad greens.
Good with a bit of crumbled feta added, too!
Source: Cathy Z at Gail's Recipe Swap.
Reviews
Again...another update: I use this dressing primarily when we go to Hawaii as I can get lots of fresh papaya. I have used all the seeds...used different vinegars/lemon juice...Dijon musard...half water and oil. All have come out extremely well. Used leftover dressing over cold pasta was a huge hit with the family. Very flexable recipe to use up the ingredients you have on hand!!! Highly recommend! Update August 2008: I been playing around with this recipe and have come up with a couple of changes to make it a little more low cal. I have done: 1/4 cup water, 1/4 cup oil (grapeseed preferably), 2 T white wine vinegar and 2 T seasoned vinegar (raspberry, blueberry) and about 3 T of the papaya seeds. Watch the amount of onion as some are very strong in taste. June 2007 Very, very good...in fact, I was suprised on how nice this dressing was!!! There was a nice harmony between the flavours. I used Splenda for the sugar and Grapeseed oil for the vegetable oil (which gave it a light taste I enjoyed). Next time I will play around with the oil ratio and see what I come up with. I served this with baby romaine lettuce and tomatoe with a bit of parmesan grated on top. I think this dressing could be also used in a cold pasta dish. As I am on a papaya and mango kick lately....this is going to be my dressing for the summer. I would highly recommend this recipe. Thanks Julesong...this is a winner!

 

I doubled the recipe, used red wine vinegar, used a mixture of honey and sugar instead of all sugar, and replaced some of the veg oil with olive oil. It is wonderful! I was surprised by how sweet it turned out, but it was a good kind of surprise! I also don't have a food processor, so I used a mixer. Pretty messy, but I don't think it spoiled the outcome.

 
RECIPE SUBMITTED BY
<p>It's simply this: I love to cook! :) <br /><br />I've been hanging out on the internet since the early days and have collected loads of recipes. I've tried to keep the best of them (and often the more unusual) and look forward to sharing them with you, here. <br /><br />I am proud to say that I have several family members who are also on RecipeZaar! <br /><br />My husband, here as <a href=http://www.recipezaar.com/member/39857>Steingrim</a>, is an excellent cook. He rarely uses recipes, though, so often after he's made dinner I sit down at the computer and talk him through how he made the dishes so that I can get it down on paper. Some of these recipes are in his account, some of them in mine - he rarely uses his account, though, so we'll probably usually post them to mine in the future. <br /><br />My sister <a href=http://www.recipezaar.com/member/65957>Cathy is here as cxstitcher</a> and <a href=http://www.recipezaar.com/member/62727>my mom is Juliesmom</a> - say hi to them, eh? <br /><br />Our <a href=http://www.recipezaar.com/member/379862>friend Darrell is here as Uncle Dobo</a>, too! I've been typing in his recipes for him and entering them on R'Zaar. We're hoping that his sisters will soon show up with their own accounts, as well. :) <br /><br />I collect cookbooks (to slow myself down I've limited myself to purchasing them at thrift stores, although I occasionally buy an especially good one at full price), and - yes, I admit it - I love FoodTV. My favorite chefs on the Food Network are Alton Brown, Rachel Ray, Mario Batali, and Giada De Laurentiis. I'm not fond over fakey, over-enthusiastic performance chefs... Emeril drives me up the wall. I appreciate honesty. Of non-celebrity chefs, I've gotta say that that the greatest influences on my cooking have been my mother, Julia Child, and my cooking instructor Chef Gabriel Claycamp at Seattle's Culinary Communion. <br /><br />In the last couple of years I've been typing up all the recipes my grandparents and my mother collected over the years, and am posting them here. Some of them are quite nostalgic and are higher in fat and processed ingredients than recipes I normally collect, but it's really neat to see the different kinds of foods they were interested in... to see them either typewritten oh-so-carefully by my grandfather, in my grandmother's spidery handwriting, or - in some cases - written by my mother years ago in fountain pen ink. It's like time travel. <br /><br />Cooking peeve: food/cooking snobbery. <br /><br />Regarding my black and white icon (which may or may not be the one I'm currently using): it the sea-dragon tattoo that is on the inside of my right ankle. It's also my personal logo.</p>
View Full Profile