Fresh Homemade Organic Raw Milk Mozzarella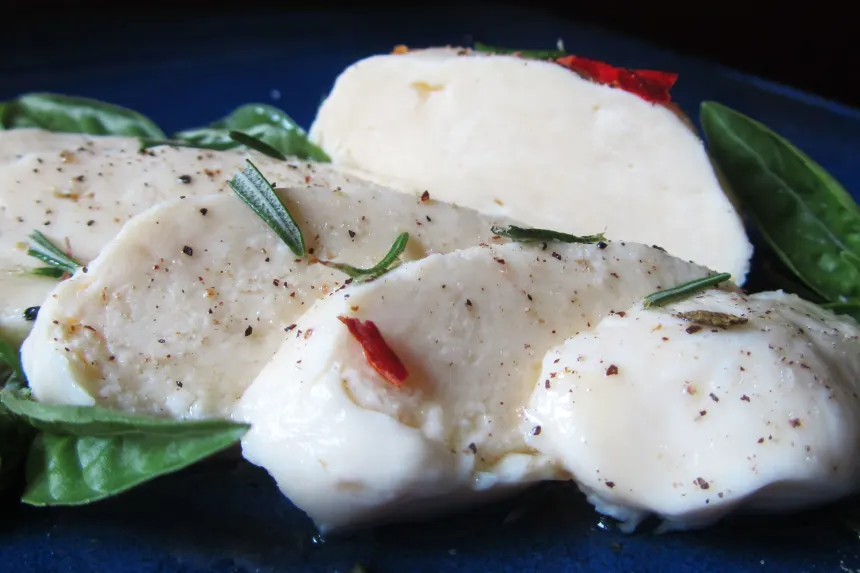 photo by Rita1652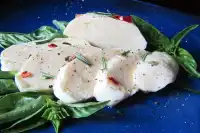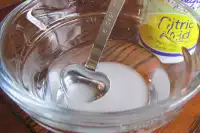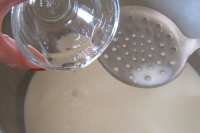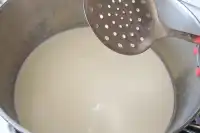 Ready In:

2hrs 20mins

Ingredients:

4
ingredients
1 1⁄2

teaspoons citric acid, powder

6

quarts raw grass fed organic whole milk

1⁄4

teaspoon liquid rennet

2 -3

tablespoons kosher salt
directions
Wash thoroughly all equipment in hot soapy water and rinse well. Dish washer is good using the sani rinse cycle.
In a small glass bowl or measuring cup, dissolve citric acid powder in 1/4 cup lukewarm water, stirring with a stainless-steel spoon.
In a large stainless steel pot, combine raw grass fed milk and dissolved citric acid, stirring to blend well with an up and down motion.
Place pot over medium heat and warm milk mixture to 90ºF, stirring gently to prevent scorching. Remove from heat.
Dilute rennet in 1/4 cup cool water. Add to milk and using up and down motion, draw rennet down into milk until well blended. Cover and let set for 45 minutes. Check for a clean break. It will look like a block of tofu. If the curd is still too fragile, cover and let set for another 15 minutes or until a clean break is achieved.
Using a long-bladed knife cut curd into 1/2 inch cubes. Let stand for 5 minutes to firm up the curds.
Place pot over low heat and slowly warm curds to 106ºF, stirring gently and continuously, adjusting the heat as necessary to make sure it takes 15 minutes to do so. As the curds warm try not to break them up too much. The curds will eventually clump together and separate more completely from the yellow whey.
Remove when temperature reaches 106. Stir for 5 more minutes of the heat.
Let stand for 5 minutes.
Meanwhile, in another pot, bring 2-4 quarts water to a low boil.
Turn off the heat.
Drain off whey through colander. Let drain for 15 minutes.
Meanwhile place 2-3 tablespoons kosher salt into a cup of hot water to dissolve then add 1 quart of cool water.
Set up three bowls one with the hot water, one with cool water and one with the brine mixture.
Place 1/6 of the curd mass in bowl of the hot water just to cover.
Wearing heat resistant gloves or using a long handled wooden spoon, work curds under the hot water (the cheese will become very soft), lightly stretching them. The curd will begin to stretch. Pulling the cheese and folding it back on itself and stretching again until it is smooth and shiny.
Adding more hot water to the curds to to help the cheese stretch.
The more you work the curd at this point the drier the Mozzarella will be.
Use your hands to shape the cheese into the single ball or pinch off pieces for small bocconcini size cheeses.
When the cheese turns smooth and shiny place the cheese in a bowl of cool water not cold water for 5 minutes.
Then add to the brine for a couple minutes.
Remove and drain on paper towel. Use immediately or wrap and refrigerate.
Reviews
Have any thoughts about this recipe?
Share it with the community!