Focaccia Genoese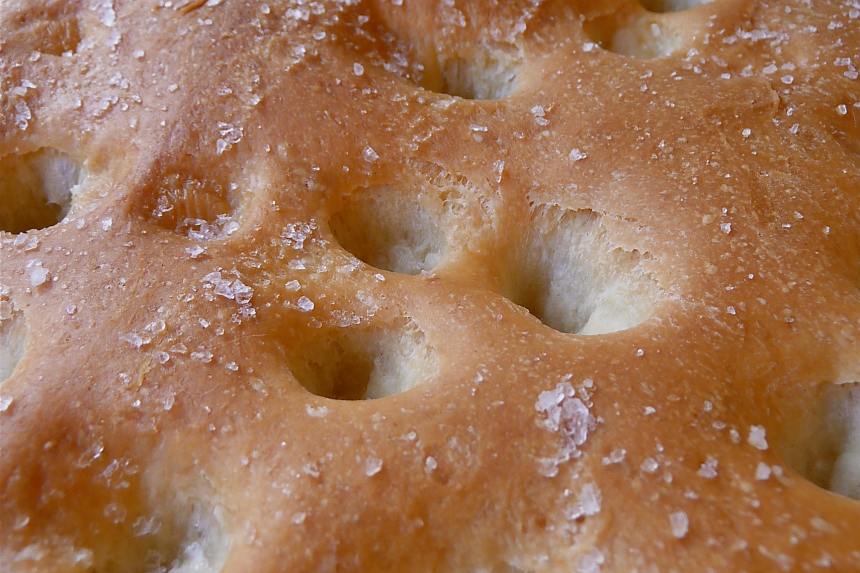 photo by COOKGIRl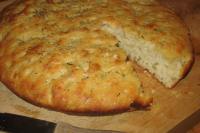 Ready In:

1hr 25mins

Ingredients:

8
directions
Note: I used a KitchenAid stand up mixer to prepare this recipe.
Sprinkle the yeast over the warm water in a large mixing bowl, stir it in and set aside until creamy, about 10 minutes.
Stir in the flour and beat until smooth. Cover tightly with plastic wrap and set aside to rise until puffy and bubbling, about 30 minutes.
To the sponge in the large bowl, add the water, wine and 1/3 cup olive oil, and stir to combine.
If mixing by hand, whisk in 1 cup of flour and 2 teaspoons salt, then beat in the rest of the flour until you have a dough that is very soft and very sticky.
Knead on a lightly floured board with the help of a dough scraper and 1 to 2 additional tablespoons of flour until the dough comes together nicely and is silky and shiny, 6 to 8 minutes; it should remain soft but not wet.
If mixing with a mixer, using the *paddle attachment* beat together the water, wine, 1/3 cup olive oil and sponge.
Add the flour and 2 teaspoons salt and mix until the dough comes together (it will be very soft).
Change to the *dough hook* and knead for 3 minutes at medium speed, stopping once or twice to press the dough into a ball to aid in the kneading.
Remove the dough from the bowl and knead by hand using the 1 to 2 additional tablespoons of flour to finish, 6 to 8 turns at most. It should remain soft but not wet.
Place the dough in a large, lightly oiled container, cover it tightly with plastic wrap, and set aside until doubled, about 1 hour.
The dough should be soft and full of air bubbles and should stretch easily.
Press it into a well-oiled (17-by-12-inch) jelly roll pan (I used parchment paper-fyi), dimple it well with your fingertips or knuckles (I used the end of a wooden spoon), cover with a tea towel and let rise until puffy and doubled, about 45 minutes.
If the dough springs back before it is completely stretched, set it aside to "relax" the dough for a few minutes, then stretch again; the dough will stretch more easily after it is rested.
At least 30 minutes before you plan to bake, heat the oven to 425 degrees with a baking stone inside on the lowest shelf.
Once again, dimple the top of the dough with your fingertips or knuckles, drizzle the remaining 2 tablespoons of olive oil so it pools in the little indentations and sprinkle with the remaining salt.
Place the pan directly on the stone and immediately reduce the temperature to 400 degrees. Place a shallow metal container of water on the floor of the oven to make steam.
Bake until the focaccia is golden (lift the bread to check underneath as well), 25 to 30 minutes (25 minutes for my loaf).
Immediately remove from the oven and cool briefly on a rack. Serve warm or at room temperature.
Questions & Replies

Got a question?
Share it with the community!
Reviews
This is excellent focaccia. Very simple and straightforward to make. As to whether the wine really gives flavor to the bread--I don't think very much, but I do think it effecrts the texture--this focaccia has real crust but is very soft inside, which I think may be at least partly due to the wine. I followed instructions and added only oil and salt to the top, but I think some herbs and garlic would not go amiss.

 

Hi CG! We enjoyed the wonderful focaccia and I now I now that next time I will use white wine agai! Thanks a lot for this recipe and the wonderful suggestion: it was amazing! I prepared 2 smaller focaccias and I topped them with some rosemary from the garden.I replaced 200 g unbleached flour with 200 whole wheat flour per mistake as I wanted to replace it with 200 g bread flour. A I realized that it was the wrong package it was too late and I had already added to the recipe.The result was incredible good, no problem at all with the flour and I can't say I would have liked it better with bread flour! My son did not think twice to take the rest and set aside for himself for the next day for lunch at school! :)

 

I too couldn't taste the wine, however, it just be one of those ingredients that just blends in with the rest. And like Chef Kate suggested, it is an ingredient to keep the bread light and fluffy inside. I also opted to add crushed dried thyme and rosemary to the bread. I baked it on rather than adding it afterward. Bread is delicious I might add too! Made for Veg 'N Swap tag.

 
Tweaks
Hi CG! We enjoyed the wonderful focaccia and I now I now that next time I will use white wine agai! Thanks a lot for this recipe and the wonderful suggestion: it was amazing! I prepared 2 smaller focaccias and I topped them with some rosemary from the garden.I replaced 200 g unbleached flour with 200 whole wheat flour per mistake as I wanted to replace it with 200 g bread flour. A I realized that it was the wrong package it was too late and I had already added to the recipe.The result was incredible good, no problem at all with the flour and I can't say I would have liked it better with bread flour! My son did not think twice to take the rest and set aside for himself for the next day for lunch at school! :)