Fluffy Frosting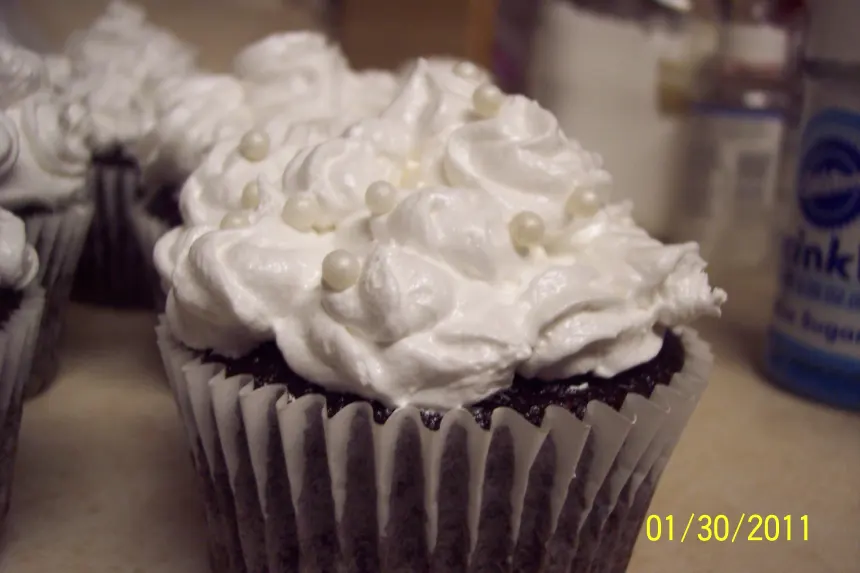 photo by Sugar Fairy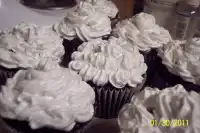 Ready In:

15mins

Ingredients:

5

Yields:

24

cupcakes, or 2 9-inch layers frosted and filled

Serves:

12
directions
Combine the sugar, water and cream of tartar in a saucepan. Cook the mixture over medium-high heat until the sugar is completely dissolved and the mixture starts to bubble.
Whip the egg whites and vanilla extract in a mixing bowl until soft peaks form. Slowly drizzle the hot sugar syrup mixture into the egg whites while whipping constantly at medium-high speed until stiff peaks form and frosting is very glossy, around 8-10 minutes.
Reviews
I love this frosting. It taste just like a better Fluff. I doubled the batch b/c I iced both cookies and a 9x13 cake with it. It stays "tacky" so I couldn't stack the cookies but it was fine. I drew a figure on the cake with canned writing frosting and the color did bleed a little bit. Sprinkles stick to it wonderfully. I would recommend making it, using it and eating it all the same day. It doesn't keep well. I had a little left so I put it in a container in the fridge and it started "melting" pretty quick. If you use it on sugar cookies be aware that if they sit even just 1 day the cookies will get really soft. They will taste fine but they will be smooshy. It is very simple to make-it takes a lot of beating time to get it to the right consistency, but that could be b/c I doubled the batch. Be patient and keep beating it will get there. Very yummy!!!

 

I'm so excited to find this recipe! I remember my mom making it when I was a kid but could never find the recipe. I think it has to be lower calories than most, too. I'll use it tonight for my granddaughter's dark chocolate birthday cupcakes, here's hoping it's still good tomorrow afternoon. I know I ate it at least a few days old as a child.

 

I made this yesterday and it was perfect!!! I was a bit scared because the other review said it didn't keep well and that it started melting, but that wasn't the case for me. I had some leftover and it still looks the same. It did get a little stiff but that's normal with any frosting! I hive this an A !!

 

My nine year old daughter wanted to try this 'by herself.' She was able to do 95% of it (I put the hot sugar water into a measuring cup for her to drizzle in the mixing bowl) and it turned out perfectly. The taste and texture were perfect on top of her strawberry cupcakes!<br/>After two days the frosting was still good on the last cupcake! I put some in the fridge and left some on the counter, both were still delicious.