Flourless Chocolate-Walnut Cookies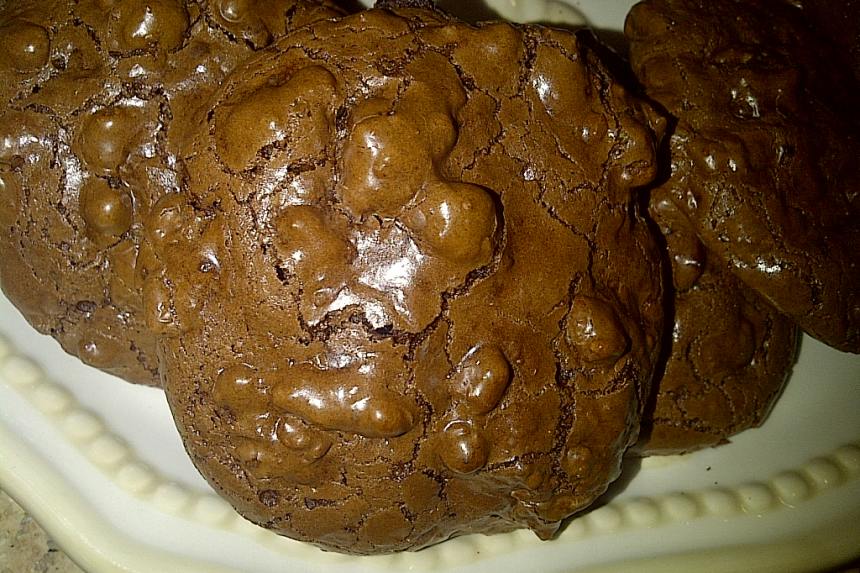 photo by Shaunacity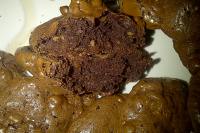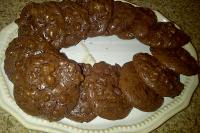 Ready In:

29mins

Ingredients:

7
directions
Preheat oven to 350. Spread the walnut halves on a large-rimmed baking sheet and toast in the oven for about 9 minutes, until they are golden and fragrant. Let cool slightly, then transfer the walnut halves to a work surface and coarsely chop them.
Position two racks in the upper and lower thirds of the oven and lower temperature to 320. Line two large-rimmed baking sheets with parchment paper.
In a large bowl, whisk (or combine in an electric mixer on low speed) the confectioners' sugar with the cocoa powder and salt followed by the chopped walnuts. While whisking (or once you change the speed to medium), add the egg whites and vanilla extract and beat just until the batter is moistened (do not overbeat or it will stiffen).
Spoon the batter onto the baking sheets in 12 evenly spaced mounds, and bake for 14 to 16 minutes, until the tops are glossy and lightly cracked; shift the pans from front to back and top to bottom halfway through to ensure even baking. Slide the parchment paper (with the cookies) onto 2 wire racks. Let cookies cool completely, and store in an airtight container for up to 3 days.
Questions & Replies

Got a question?
Share it with the community!
Reviews
About a month ago I discovered the most delicious "Chewy Chocolate Cookies" in a cute little neighborhood in North Long Beach called Bixby Knolls. Alsace Lorraine Pastries, a European bakery, bakes up these cookies along with a staggering variety of specialty items, though these cookies somehow "take the cake" so to speak. <br/><br/>So, I started scheming ways to get a hold of this recipe and it dawned on me-I should just "Google" it! This led me to the Payard recipe which after viewing the photos and description I was convinced was the coveted "Chewy Chocolate Cookie". I had suspected powdered sugar and egg whites were key to the recipe-but flourless and no added fat? So, I gave the recipe here and try after reading the internet & food.com reviews and suggestions. Bingo! While a bit more dense, which we actually like, they have all the same attributes and were quite satisfying. <br/><br/>I did make a few changes...<br/><br/>1. I followed advice fro the Payard baking kitchen recommendations and adjusted my egg whites "This recipe completely depends on your egg whites. If your using Large eggs, medium eggs, etc. It will make a huge difference. Start with using 2 egg whites, and then slowly add the rest. The mix should look like thick brownie mix, that can be scooped. Depending on the day...how, cold, humid, not humid, your product will change a lot, as do all pastry recipes. Dont add all your whites at once, and check for the consistency first, if your dont use all the whites, it is OKAY." -AlessandraNicole<br/><br/>2. I accidentally added 1/2 tsp. salt and used Kosher. So glad I didn't use any less, because I think it could have used a bit more salt.<br/><br/>3. Don't let them fully cool after moving them onto the racks. About two-five minutes is plenty. They should be set, but pliable. Carefull remove them with a small spatula and place back onto the cooling rack.<br/><br/>I will say these were pricey to make as the walnut ratio is high. Also, the parchment cannot be re-used. I highly recommend this recipe, its simple, but be sure to follow it carefully. Also, using top quality ingredients such as premium walnuts (cheap ones can be bitter) and gourmet cocoa powder is preferable. I used walnuts from Trader Joes and Ghiradelli Cocoa powder. Happy baking! (see photos)

 

These cookies were a real hit. I have a friend who is gluten intolerant so I am always looking for gluten free recipes. The only suggestion I would make is to bak them several minutes longer than is suggested. They tasted great, but were difficult to get off the parchment paper because they were still gooey.