flat bread or khoubiz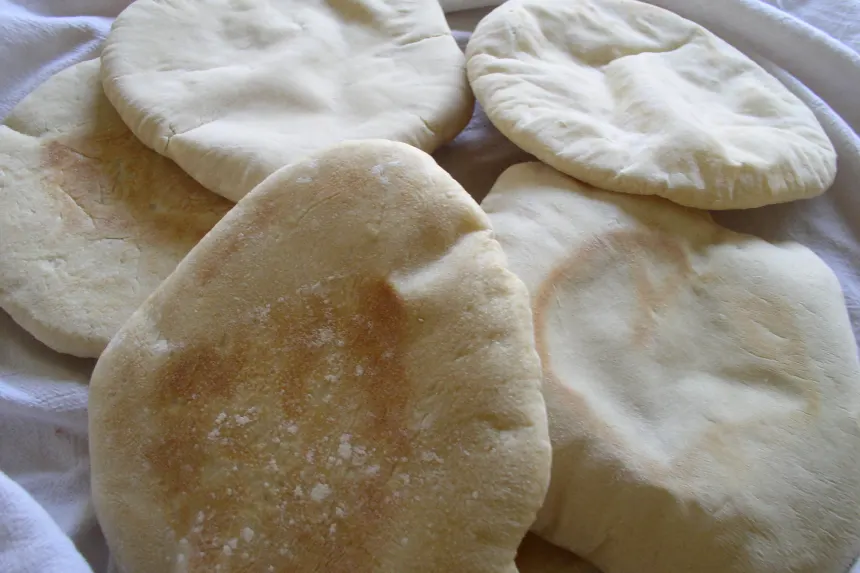 photo by Leahs Kitchen

Ready In:

1hr 5mins

Ingredients:

6
directions
Sift the flour into a large mixing bowl, and warm in oven on low heat.
Dissolve yeast in 1/4 cup warm water, add remaining water and stir in salt and sugar.
Remove about 2 cups of the flour from the bowl, set aside.
Pour yeast liquid into centre and stir in some flour to make a thick liquid.
Cover with a cloth and leave in warm place till frothy.
Stir in the rest of the flour, adding oil gradually, then beat till smooth, either by hand for 10 min, or with electric mixer using dough hook for 5 min.
Sprinkle some of the reserved flour onto a board, turn out dough and knead for 10 min, using more flour as required.
Dough is ready when it's smooth, satiny with a slightly wrinkled texture.
Shape dough into a ball.
Oil bowl, put dough in smooth side down, then turn to coat with oil.
Cover and let rise till doubled in bulk, about 1-1 1/2 hours.
Preheat oven at 500 F (260 C).
Punch down the dough and turn out onto lightly floured board.
Knead for a min or so, then divide into 8 equal pieces, rolling each into a ball.
Roll each piece into a 25 cm (10 in) round and place on a lightly floured cloth.
Cover with another cloth and leave about 20 min.
Heat large baking sheet or flat griddle on the lowest shelf on electric oven, in a gas oven select the section with the most even heat.
Place a round on a lightly floured baking sheet with one flat edge or on a piece of plywood, spreading it evenly.
Shake to ensure that it will slide off easily.
Rub heated baking sheet or riddle with wad of paper towel dipped in oil then slide dough onto it.
Bake in hot oven for 4-5 min till it puffs like a balloon.
If you'd like it browned on top, turn quickly and leave for a min.
Remove bread and wrap in cloth to keep warm and soft.
Rep with rem loaves.
(note) If desired, you can use an electric fry pan.
Preheat it on the highest setting with lid on, vent closed.
When heated, oil base quickly& slide dough onto base.
Cover& cook for 3 min, turn bread, recover and cook another 2 min, about.
Questions & Replies

Got a question?
Share it with the community!
Reviews
(A PAC Spring '09 review) Very good! We liked it a lot! I liked how big they were and how they puffed up very nicely. I didn't heat up my oven to 500F- I did 425F instead. I also don't have any stone to place them on in the oven so I flipped two cast iron skillet pans upside down and placed the rounds on them. Turned out great! Thanks for posting!

 
RECIPE SUBMITTED BY
Ok. I started learning to cook at age 8. My first teacher was my grandmother, who had been born in 1917 (I was born late in everyone's life), and who taught me the basics the old fashioned way. Hence I'm happy to say I can cook anything, but still I love searching as well as sharing new ideas, while retaining the old tried and true ways with food. As for interests I've too many to list here, but will say most are in the creativity genre. What else is there to say?
View Full Profile