Fish Tacos With Mango Avocado Salsa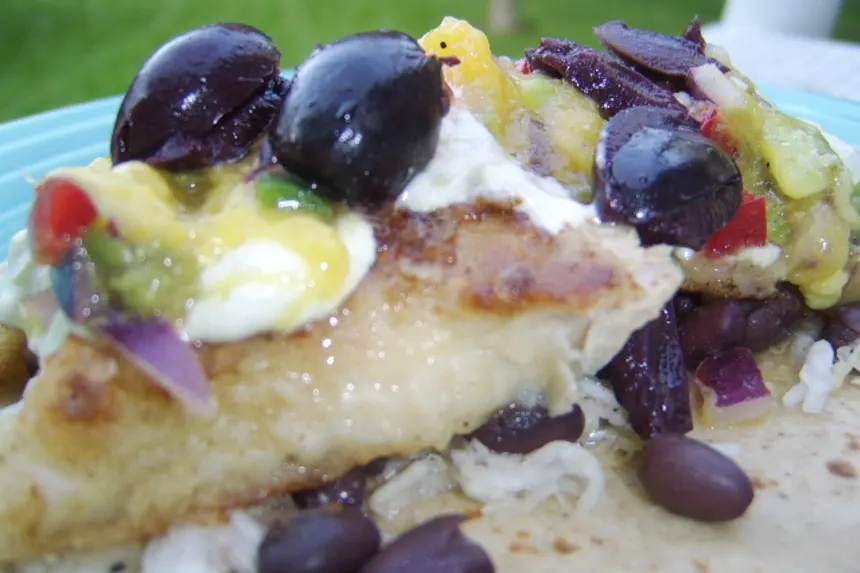 photo by LifeIsGood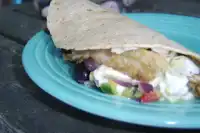 Ready In:

1hr 30mins

Ingredients:

24
directions
Salsa -- now I won't go into the whole avacado and mango peel routine. I am sure most people have seen it. And if you haven't there are enough sites on the web to tell you how to do that. So I will skip that. So -- that aside -- Salsa -- after chopping all the fruit and vegetables, mix the mango, avocado, onion, jalapeno, cilantro, red pepper, oil, garlic, seasoning, lime juice, and just set to the side covered well with plastic wrap.
Avocado Creme -- just a dash of salt if needed, I don't add more than just a pinch, sour cream and avocado. I just mash wish a fork. Honestly guys and gals -- just add to a baggie and squeeze. Save the bowl and fork. Why not. I like to add it to a small bowl when I serve it but for a quick make -- it works just fine.
Take a couple of cups of the cabbage -- right out of the bag. Just hit it with salt and pepper. Nothing more. Like a pinch. It just reduces the juice. Put in a serving bowl and set to the side. Cover with plastic wrap. Nothing more.
The garnish -- open can, drain and put in bowl -- I think we can all handle that. I will never be offended if someone doesn't like them. Black olives to me just work well with mango and avocado and fish, so. I like them as a topping.
Now -- the salsa is made and all the flavors are mixing together. The avocado cream is chilling, And now the fish -- We are all done. Five (5) minutes and taco time.
Fish -- in a large baggie mix the salt, pepper and flour. Then just lightly toss fish fish to coat lightly. Now in a large frying pan non stick I prefer for this, add the oil and heat to medium heat. Just pan saute the fish until lightly brown on each side. It only takes 2 or so minutes per side. Once done -- just remove the fish and drain on a paper towel.
Beans -- just heat up in a measuring cup in the microwave. Nothing more for this -- ok some time a squirt some lime in it if if had some left. not a big deal. Enough big flavors for this dish.
Tortillas -- I wrap my tortillas in foil and just warm up in the oven as I cook the fish. They just take 10 minutes. is all. Nothing much. They can also be heated up on a grill too.
Dinner -- Just serve all the ingredients so everyone can put them together them selves. Taco Bar Style. A bowl of the fresh fish, just broken up, the cabbage, beans, the sauce, olives and the salsa. Now, if you want to add some salsa, tomato based you can. To me NO WAY.
Ok - Tortilla warm, then -- Cabbage chilled, then -- Warm beans, then -- Fish warm, then -- Sauce chilled, then -- Salsa chilled, -- Now -- everyone has the best fish taco around trust me. I have a taco party every year. I make this and also make the traditional and then a chicken one. This is by far the requested one.
If you want cheese, I prefer a provolone or monterey jack, bland, but I don't for this dish.
That taco bar is worthy or any party. If I add the beans to the dish I don't add as a side. but a nice green salad and some rice is such a easy thing to add. This is one of my OH SO INEXPENSIVE MEALS. with summer prices for fruit and Tilapia so cheap. This easily feeds 6-8 and is worth entertaining with.
Remember to make in steps. There are a lot, but nothing is hard.
Questions & Replies

Got a question?
Share it with the community!
Reviews
Originally rated on 9/28/09 - This recipe made it into my book#266453. Oh, am I ever glad I chose this recipe. It was fantastic! The fish was simple and very delicious with the crispy coating...yum. I enjoyed ALL of the topping options and used them all for my fish tacos. However, I love how they are all optional and your family/guests can pick and chose how to make their own fish taco. I didn't change a thing to this recipe and I thought it was perfect. This recipe would be great for entertaining - prep all toppings in advance and it would be a snap to prepare. ~Made for Fall Pick-A-Chef~

 

I had already made chicken taco meat, but I used this recipe to make the avocado cream and mango salsa. I topped my tacos with the suggested cabbage. My BF really liked this! When I first suggested mango/avocado salsa he was not interested, but this recipe was delicious. I followed the recipe as written except that I did add more crushed garlic and a sprinkle of cumin into my salsa. Thank you for this wonderful recipe. (I loved the avocado cream too!)