Fesenjan (Iranian Special Occasion Dish)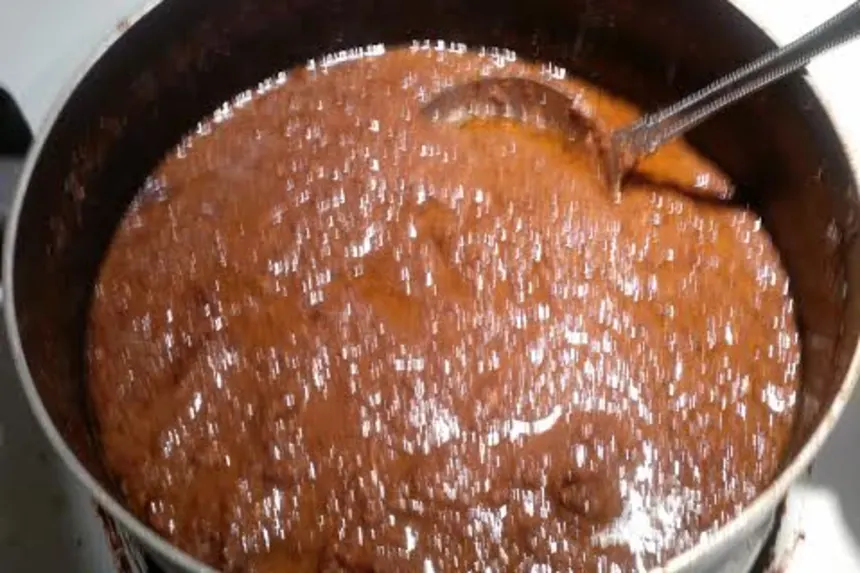 photo by Anonymous

Ready In:

1hr 15mins

Ingredients:

14
directions
Heat butter or oil over medium heat in a large Dutch oven.
Add onions and sauté until wilted and translucent.
Add garlic, cinnamon and nutmeg and sauté, stirring, for another 1-2 minutes.
Stir in walnuts, pomegranate syrup, stock, sugar, salt, pepper and saffron.
Adjust sugar and salt to taste.
Bring to a low boil and simmer 1/2 hour.
Add chicken and simmer on low heat another 30-60 minutes.
Halfway through the cooking time, add the lime juice to taste.
The sauce will thicken and darken during this cooking time, and the oil will begin to render out of the walnuts.
Add water or stock if necessary to prevent the sauce from thickening too much and scorching.
Serve with plain white rice.
NOTES Fesenjan is special occasion food in Iran.
It is traditionally made with duck or pheasant in the north of the country along the Caspian sea.
It is a thick, rich, sweet-sour dish that improves in flavor the next day.
Pomegranate syrup is available in most Middle Eastern and health food stores.
If it is unavailable, you can use an equal amount of frozen, concentrated cranberry juice.
The flavor is roughly the same.
You can use a whole bone-in chicken if you like.
Cut it into 8 serving pieces and remove most of the skin.
The bones will give the dish a richer flavor.
Questions & Replies

Got a question?
Share it with the community!
Reviews
only thing i would recommend as a persian is do not finely chop the walnuts, the give a burnt taste after that long of simmering, you whatever method to get the walnuts into 1/4in pieces/<br/><br/>besides that its a good recipe from the looks and also i want to say for the persian grandma comment that you sound more arab than persian. grandmas is the best and grandam doesnt share with grandchild...that sounds like no persian culture i know. the owner sharing the recipe with the guest review is the persians i know. this does not deserve one star by any means.<br/><br/>also i would like to thank all non persians for trying out persian food which seem to always bring people closer, if youre open minded and hearted. <br/><br/>cheers for sharing!

 

This was soooo good! I did omit the garlic though as it really isn't authentic to the dish. The leftovers today were even better! I had the pomegranate syrup in the house and hadn't used it yet in a dish. I am so buying more syrup so I can make this again! I also don't think the saffron is necessary as the other flavours are so bold they drown out it's delicate influence.

 

Please omit the garlic, it does not go in this dish. Only north iranian dishes include garlic. I know only to use salt, pepper, cinnamon on this dish and I think saffaron is a waist on this dish unless you use it to decorate the rice.This dish and Khoresht-e-Ghorme-sabzi will always be served when you visit an iranian family. It is a special dish just like our american potroast for example.Those iranian dishes used to be quite labor intensive. Today we can buy many ingredients ready and have a food processor. Imagine shelling and grounding walnuts in your kitchen. As someone mentioned before if you think the dish is too sour add more sugar.There is no right or wrong way to cook it too sour or too sweet. Every iranian has a different opinion about this dish in regards to and sour or sweet. So eat it the way you like it. Serve it with a sugar bowl on the table for those sweet toothed folks.Cook it slowly over medium heat long enough ( ca. 2 hrs or more) until the oil seperates from the sauce and swims on top. Yes this is a heavy dish. I usually cook it in cooler month.

 
Tweaks
My husband and I used to go to a wonderful Persian/Italian (really Persian) restaurant near our house. We moved, mourned the loss of our wonderful restaurant, and used to stop by anytime we were within an hour of the town it was in. A couple of years later, a restaurant opened in our city, run by the same wonderful people, and we were happy again. Sad to say, the restaurant didn't make it, but the owner gave us a recipe for Fesenjan, which we lost when we moved again. Much sorrow -- until we found this one on the 'Zaar!!! It's the same dish!!! It's perfect!!! We haven't been able to find pomegranate syrup or molasses anywhere here, so we substituted the cranberry juice concentrate and used pure pomegranate juice as the liquid in place of the water or stock. The recipe is fantastic, the directions easy to follow and very clear. The only thing I would do slightly differently next time is to see if I can find unsweetened cranberry juice concentrate, and probably add a little more lime juice -- we like it really tart. The other thing I have to do is see if I can find a way to reduce the total sugar in this (I'm prediabetic) and maybe a way to skim off some of the walnut oil (not all, but those walnuts really produce a lot of oil through the cooking process). It is fabulous, fabulous, fabulous, and completely perfect with properly cooked basmati rice, saffron, and a roasted plum tomato -- just the way our favorite restauarant served it up! Thank you so much KerryBnTx!!!

 
RECIPE SUBMITTED BY
I am a middled aged female, wife & mother of one teen aged boy. (Wife of one middle aged man, LOL). I work part time as a manicurist specializing in Gel nails. I think some of my favorite recipes are from the cook books you buy from Church or charity groups. I also really like my Texas State Fair cookbook. These seem to have recipes that people eat every day with ingredients that are readily available. I like to cook, but my favorite past-time is going to Vegas Baby!
View Full Profile