Fat Free Cinnamon Rolls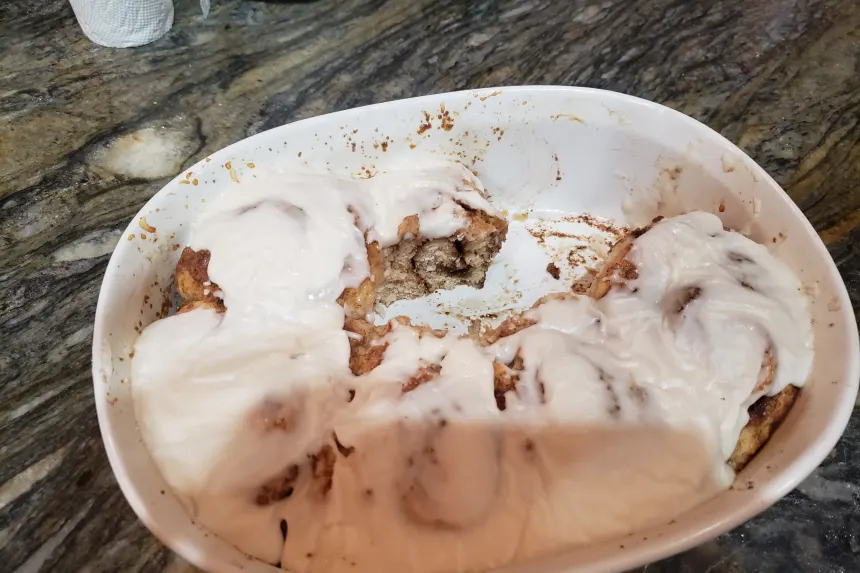 photo by julie_gouv

Ready In:

1hr 10mins

Ingredients:

13

Serves:

12
directions
In a large bowl, combine the 1 cup lukewarm milk and the yeast. Add the 1/4 cup sugar, 1 1/2 cups of the flour and the 2 egg whites. Mix well. Cover bowl with kitchen towel and let sit 30 minutes on the counter. Now add the salt and the other 1 1/2 cups flour. Knead dough 5 minutes, adding enough extra flour to keep dough from sticking to counter. Roll out the dough into a rectangle shape, probably 12" by 9". Mix the 1 cup brown sugar with the ground cinnamon and sprinkle over dough, saving a little to sprinkle over top. Roll up dough, lengthwise and cut into approximately 1" slices. Place in greased baking pan. Beat togeather the egg white and the 1 tablespoon skim milk, brush over the tops of cut rolls and sprinkle with the reserved cinnamon/sugar mix. Preheat oven to 375 degrees and bake the rolls uncovered for 20-25 minutes. In a small bowl combine powdered sugar, the 3 tablespoons skim milk and the vanilla. Cool rolls slightly and drizzle icing over.
Reviews
Thanks so much for sharing this. this was my 1st attempt at yeast-based cinn rolls for hubby. I Thought the directions were so helpful & make a big difference for a 1st-timer! I warmed my milk up in the micro for about 30 sec, which made it warm. I did have a litle trouble w/ the rolling, but next time will use more flour &/or nonstick spray on the cutting board! Baking time was only about 15 min. I kind of improvised on the icing amounts; made about 2/3 of the recipe but it worked fine & was easy to drizzle. I only got about 8 rolls out of this. Next time I'll make sure to pinch the ends of the rolls b/c one didn't hold together very well. My husband thought they tasted fabulous, but said they were a bit "chewy" since there wasn't any butter/fat. I'm not sure if he'll request them again--but he was surprised they were fat free so am hoping that will encourage another request! I sure had fun making them :-)

 

As someone on a restricted low fat diet, I hugely appreciative this recipe!!! I'm giving it a 5, but as a veteran bread maker and low fat eater, I gave your recipe some slight tweaks. To ensure i got fluffy dough, i added my sugar to 100 degree mill, stirred the sugar, then sprinkled in the yeast. Covered it with plastic, and let it sit for 10 minutes to rise (proof). After stirring in the 1 1/2 cups flour, I again covered with plastic, put it in the oven with the light on, and let it rise for 30 minutes. I added 2 tblspns of Molly McButter to the cinnamon sugar mix, to give it a buttery flavor. And after slicing up the buns, I again covered with plastic and put the pan in the oven withight on for 30 minutes to let them rise some more, filling the entire pan. I also only used 2 tblspns of milk instead of three in the icing and put it on when they were cool. Since theres no fat, these are way better warm. This way when you microwave it for 20 seconds, you have a nice pool of icing on your bun. Thanks again!!