Falafel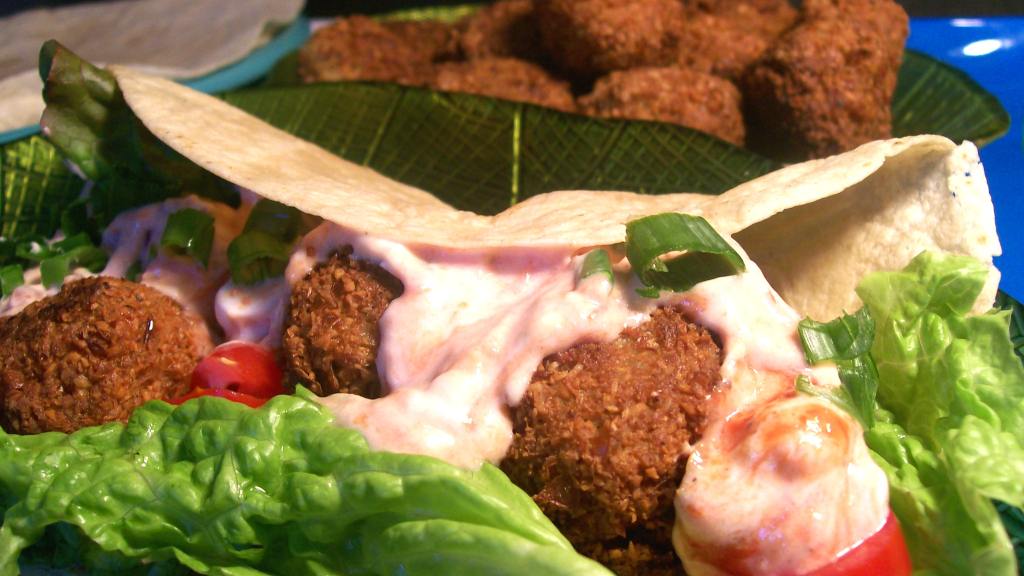 Ready In:

40mins

Serves:

Yields:

Units:
Nutrition Information
directions
Place dried chickpeas in a bowl and cover with cold water.
Soak for at least 15 hours.
Then drain the chickpeas and place them in a food processor with the scallions, garlic, parsley, mint, chili, salt, cumin, and coriander.
Mix baking with the warm water and add mixture to food processor. Process until smooth. Transfer mixture into a small bowl, cover, and refrigerate for 30 minutes.
Meanwhile heat about 2 inches of oil in a heavy pan to 375 degrees F.
When falafel mixture is chilled, roll into golf-sized balls.
Carefully place a few at a time into the hot oil, making sure they don't stick to the bottom. Cook, turning, for about 6 minutes, or until the balls are a dark, even brown on all sides. Remove with slotted spoon and drain on paper towels. Serve either in sandwiches or as a falafel first course.
Serve with a yogurt sauce.
Submit a Recipe Correction
Join The Conversation
Colossal failure. The dough mixed up nicely in my food processor, and had great flavor, but the balls disintegrated in my hot oil, even without me touching them. SOOO disappointed. Any ideas what I did wrong? Followed directions and used fresh baking powder, although waited a few hours to actually fry them. Maybe that was the problem.

Ha! That's what I get for substitution in a pinch...used 1/4 c dried garbanzos - then ran out! Replaced with black beans, let soak overnight, and then pressure cooked and let the dongle dangle for about 25 minutes. (whatever the terminology is. The weight over the hole jiggle/dances or whatever.) I then followed the rest of the recipe, until during the first fry, it dissipated into nothing - so I then baked them, and ended up with some quite delicious refried beans. I had to dismiss the coriander, upon inspection I deemed the coriander to smell like paint and threw it away. (I never use coriander anyway.) *Very delicious* refried beans, and a fruitful Adventures in Yum adventure.

This dish had my friends raving and hungry for more. However, this dish took a while to make. Is there a way to made the balls so that they don't disintegrate in the oil? Also, I found it pretty hard to blend the chickpeas in the blender without pouring in water, which resulted in the balls being cooked pretty slow. Any suggestions? But overall, this dish was a success. Must be tried with Yogurt with Tahini sauce.

This falafel was pretty good. I did omit the chile because I was serving it to my 2 boys. I also used only 1 clove of garlic as Dh doesn't care for it. I'm introducing the boys to Middle Eastern foods and only one of them liked these, so I had plenty of leftovers, which I'll store in the freezer for myself! Thanks Rita!