Fajitas - Arrachera - Grilled Skirt Steak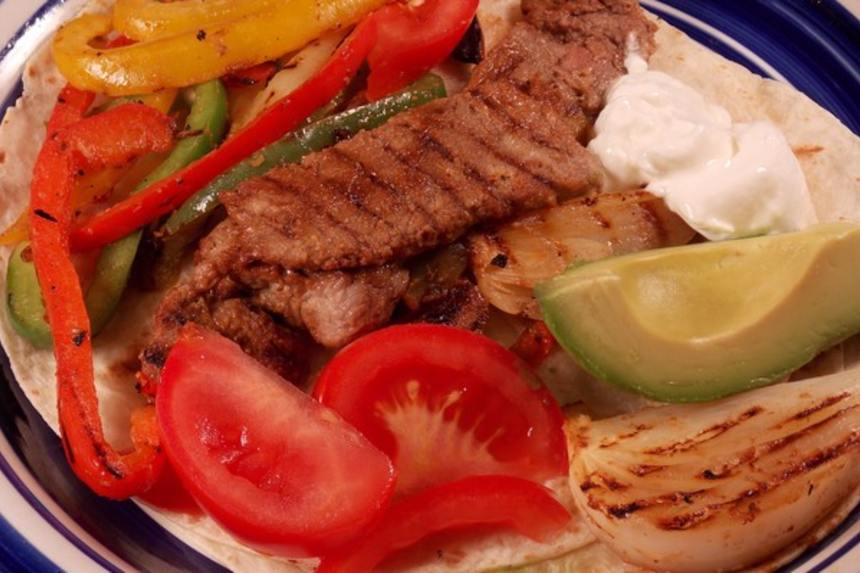 photo by Lavender Lynn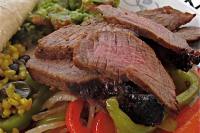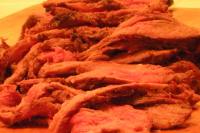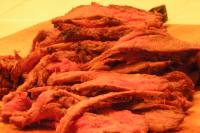 Ready In:

27mins

Ingredients:

21
ingredients
2

lbs skirt steaks, tenderized

Marinade

1⁄2 cup olive oil
1⁄3 cup soy sauce

1

large onion, quartered (for less pronounced onion flavor save some for grilling later)

4

large garlic cloves, minced

2

limes, juice of, reserve flesh and rind

1

guajillo chilies, dried, torn in pieces or 1 chipotle chili, from a can of chipotles in adobo
1⁄2 teaspoon ground cumin

2

tablespoons dark brown sugar, packed (originally asked for 1/4 cup)
1⁄2 teaspoon salt

Veggies

tomatoes, quartered (optional)
onion, quartered (optional)

summer squash, quartered (optional)

zucchini, quartered (optional)
bell pepper, any color, quartered (optional)

Garnish

crema (optional)

sour cream (optional)
cheese, grated (optional)
pico de gallo (optional)
salsa (optional)
directions
In a blender, whir together oil, soy sauce, onion, garlic, lime juice, red pepper or chili/red pepper/chipotle, cumin, salt and sugar until there are no chunks- liquefied. If you do not want to blend them combine all the wet until the sugar is dissolved then add the other ingredients and proceed.
Place steak in a ziploc bag and pour in marinade. Toss in the squeezed limes that were juiced and reserved.
Seal bag, removing as much air as possible. Allow steak to marinate for at least 1 hour in refrigerator. We do it overnight.
Remove steak from bag and pat dry with paper towels. Toss out marinade.
Heat charcoal, preferably natural chunk, until gray ash appears. Daddy uses B & B brand.
You want the steak to fit nicely on the coals. You may need to cut the steak so that it fits nicely on the coals. You want the entire surface of the steak in DIRECT contact with the coals.
Using a blow dryer, YES A BLOW DRYER! Blow charcoal clean of ash. You could also use a fireplace bellows or something heavy and just 'fan' them until the ashes are off the coals.
Once clean of ash lay steaks directly onto hot coals for 1 minute per side. That is all. ONE MINUTE PER SIDE! (If you prefer NOT to use that method you CAN place them on the grill SEE NOTE BELOW!
Now place meat in double thickness of aluminum foil, wrap tightly to trap in all the heat and allow to sit for 15 minutes.
Want veggies too? While the meat is resting, place a cast iron skillet right on the coals and heat until really scorching HOT. You could use a grill basket instead if you like. Add a little olive oil to coat the pan so that your veggies don't stick. Toss in the veggies and stir (or shake basket a bit) to cook evenly. Remove from skillet when they have reached the desired degree of done-ness!
Remove meat from foil, reserving foil and juices. Slice thinly across the grain of the meat. Brush off any ash or coals that may have stuck to the meat.
Note: You can do this the GRINGO way and cook on a grill over a very hot fire. You want the meat to sear. Just cook about 3 minutes per side instead of 1 minute directly on the coals. The grill rack MUST be placed as close to the coals as possible and the grill rack has been preheated to HOT HOT HOT! You want to sear the heck outta that meat! Then just follow the regular steps! Remember, if you want the meat more DONE you can pop it under the broiler in the house for a minute or two BUT you cannot UNcook the meat! So err on the side of RARE rather than DONE here.).
Return to foil pouch (REPEAT AFTER MAMA- NO DISH TO WASH! YEA) and toss with the reserved juice.
Fix a taco! We like to heat lots of yummy tortillas right along side the coals. Just wrap the desired amount of tortillas- it is best to keep it 10 or under so that the ones in the middle get nice and yummy too! Anyway, wrap them in a double thickness of aluminum foil and place near the coals. They can hang out and get toasty warm and will be waiting for you!
Take a hot, steamy tortilla (authentically corn but use what you want) and add meat and veggies or whatever you like. Fold and eat!
ENJOY!
Oh ANOTHER Note: Some people like a little more sweetness to their fajita meat- If you are one try adding some 7-up or sprite to the marinade. mmmmm.
Questions & Replies

Got a question?
Share it with the community!
Reviews
I am rating the marinade and not the cooking method as we used a gas grill instead of charcoal. The marinade is so delicious and the aroma told of good things to come. I did grill some onions and bell peppers in a grill basket to serve with the steak which was thinly sliced after a 5 to 10 minute standing time. Fresh guacamole was served as an accompaniment along with corn tortillas and Recipe #178494. Thank you for a wonderful recipe that I will use again and again.

 

This recipe was muy delicioso! I tasted the marinade before pouring it over the steak and I was in heaven. I made a second batch to pour over the fajitas later and to serve with chips. Perfecto! Marinated the skirt steak for four hours in the fridge in three separate plastic bags. I piled charcoal in a mound on one side of my grill and seared the steak on the grill over the red-hot coals, then transferred to a foil pouch. I also heated sliced onions and green peppers in a foil pouch over the coals. I moved both to the center of the grill, tossed foil-wrapped tortillas on the top, and cooked for another 15 minutes. My wife and three sons begged me to make this again. They won't have to wait long.

 

I marinated the steak overnight with just a meat tenderizer not knowing what to use when I found this recipe the next day. I used about 1T of chipotles in adobo (I open the can and whirl in a mini food processor and store in the fridge for when I need it) I used the 2T brown sugar and about 1-2T honey. I ended up only marinating for about 1 1/2 hours and it was great. Can't wait to make again and marinate overnight. Thank you so much for this recipe, it's exactly what we've been looking for.

 

Outstanding technique for cooking the steak. Couldn't have been easier. Steak was tender and juicy with a great smokiness. Definitely something I will do again. The flavor was not like any fajitas I've had before. I thought the onion flavor was too pronounced. I had a hard time tasting the other flavors. I don't think I would liquefy the marinade again. That would subdue the onion flavor a lot. I'd also cut back on the sugar. Given those changes, I think the flavor would be spot on for me. Enjoyed the assortment of veggies. I used all of them except mushrooms. The tortillas were jam packed with good stuff. A filling meal.