Fagioli Pasta (Not Pasta Fazool Soup)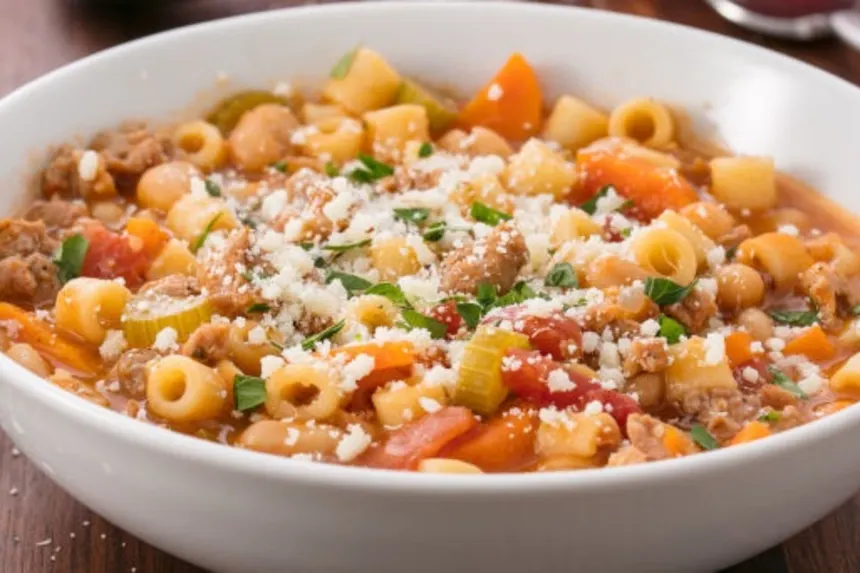 photo by soveria

Ready In:

35mins

Ingredients:

13
directions
Start boiling salted water in large pot. Cook pasta until al dente (slightly firm).
While pasta cooks, saute onion and garlic, and generous amount of salt and fresh ground black pepper, in olive oil until soft. Add tomato sauce and remaining spices, and simmer on medium-low heat for 20-minutes, stirring frequently.
When pasta is done cooking, drain the water and return the pasta to the pot. Add the hot tomato sauce (be careful), broth, beans, and season with more salt and pepper, if needed. Mix thoroughly, continuing to heat on medium-low heat until desired temperature.
Serve immediately, topping with generous amount of shredded cheese. Buon Appetito!
Questions & Replies

I find the name of the recipe a bit confusing the part that says (Not Pasta Fazool Soup) If you are only talking about the dialect name Fagioli vs Fazool, OK. But no matter how you spell it your recipe is still a soup? My family used the terms Fagioli and Fazool both. My mother's family were from Sicily and said Fazool. My Neapolitan grandmother on my father's side said Fagioli. In any case For us the term was not used for a soup. It was small pasta, usually elbow or small shells, or ditalini, made with beans and garlic and oil. It was fairly dry only the tiny bit of water to make the garlic and oil sauce and the pasta pretty much absorbed that (sort of like a hot macaroni salad). We made this at Lent . Sometimes Mom would substitute lentils instead, and then she called it Pasta Lendique.(that's how it sounds, not sure how to spell it. Some of us sprinkled cheese on it, but that was optional.

 
Reviews
I have been making this exact recipe for years ever since I saw it made waaay back by an Italian-American chef on 'Regis and Kathie Lee'-- (an 80's-90's morning show). It is really delicious, healthy (for those who are trying to do more plant based eating) and stick to the ribs comforting on a cold night. I was wondering if any Italians actually ate it as pasta instead of soup, and that is how I found this page. Thanks for sharing what area of Italy it comes from!