Evelyn's Pickled Okra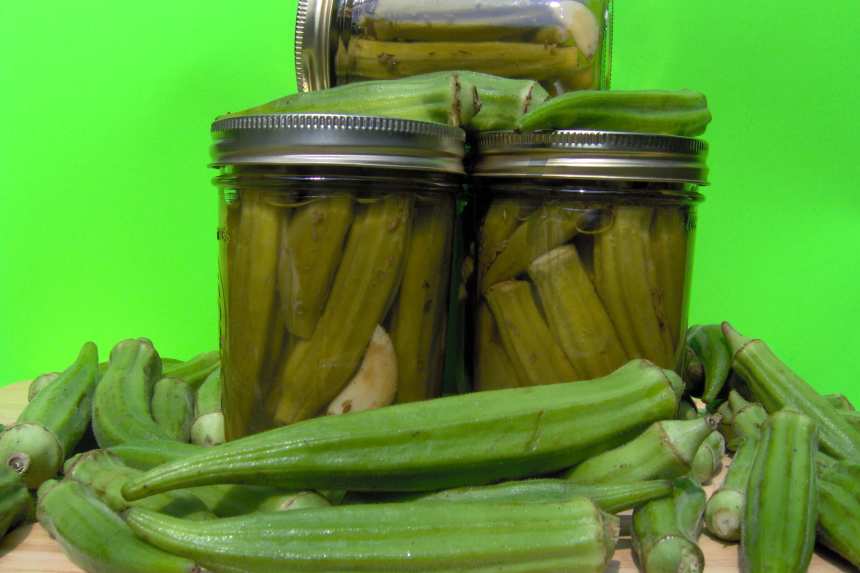 photo by Sharon123

Ready In:

25mins

Ingredients:

8
directions
In each of 9 pint size hot jars (I prefer wide mouth jars), put 1 pepper, 2 cloves garlic, and 1 tsp dill seed.
Pack washed okra into jars to within 1/2" from the top of the jar.
Boil vinegar, water, canning salt, and sugar.
Pour vinegar mixture over okra, again filling to within 1/2" from the top of the jar.
Remove any air bubbles.
Wipe rim of jar clean and put on lids and screw bands.
Process in hot water bath canner for 10 minutes.
*Instead of using whole peppers, you can use 2 pieces of pepper cut into about 1 1/2 to 2 inch pieces.
**Instead of using 2 small cloves of garlic for each jar, you can use 1 large clove.
Reviews
I made these last year and everyone in my family has been begging me to make them again. They even went so far as to buy me cases of okra! My husband said they were too garlicky, but my Uncle said they needed more garlic. I thought they were yummy and wonderfully crunchy! Thanks so much for this recipe. I'm about to start on my first batch of the year in about 10 mins! (2010)<br/><br/>Update: It's now several years later (2013), and my friends and family are still after me to make these all the time. This will be a recipie I use 'till my dying day.

 

I am going to preface my review by saying I don't like okra. I planted some in the garden for my husband, tried one raw, just to be fair to the okra and I hated the slime. I made okra patties - liked the flavor but couldn't get past the slime. As the okra plant has been prolific and since I don't eat it and my husband won't cook it any time soon, I thought I'd pickle some instead of continuing to fill the freezer with more and more containers of okra. I asked my husband if he was going to try them, he said sooner or later. Because I wanted to review this recipe, I braved eating one. Then I ate two more. These are good! I don't know if the pickling process somehow cuts down on the slime or makes it less noticeable somehow or if it's just because the flavor of the brine is so darn good, but this recipe has made me an okra eater. Thank you ~kdp! Now I know what to do with a lot of the extra okra!<br/><br/>I have also used this brine recipe to make pickled green beans. Also delicious.