English Toffee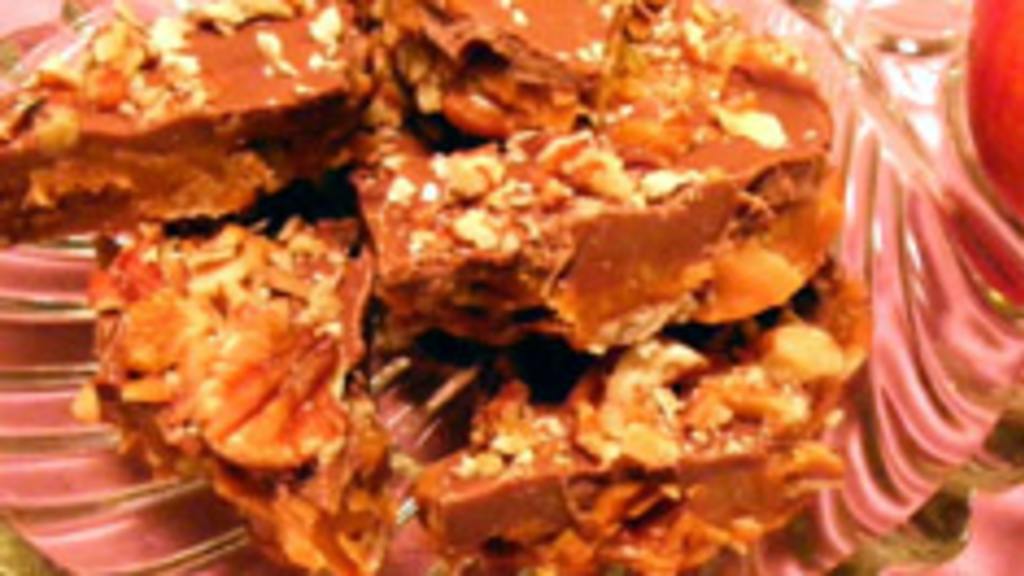 Ready In:

30mins

Ingredients:

8
directions
Place a piece of foil that is big enough to cover a 9 X 13 jelly roll pan (like a cookie sheet with sides).
Spray the foil with cooking spray.
Sprinkle pecan pieces evenly on foil.
Melt butter, sugar (both the two cups and 1 tablespoon of sugar), Karo syrup, and water in pan on stovetop.
Bring the mixture to a boil.
Turn to medium heat and stir continuously until a candy thermometer says between 290 and 300 degrees or caramel in color.
Pour mixture over the pecans.
Spread evenly over the pecans.
Evenly distribute chocolate chips over toffee.
Let the chocolate chips melt on toffee for 5 to 10 minutes.
Use fork or spoon to spread melted chocolate chips over toffee.
Sprinkle 1 cup chopped walnuts on top of chocolate mixture.
Refrigerate until chocolate is firm.
Break toffee into pieces.
Store in an airtight container.
30 minutes preparation and cooking time does not include the time it takes to cool and the chocolate to harden on top.
Join The Conversation
OMG!!!!! THIS IS UTTERLY AMAAAAAAAAAAAZING!!! SIMPLY SCRUMDIDDLYUMPTIOUS!!! I've NEVER reviewed a recipe on here before.... & although I'm quite an experienced cook, this is the FIRSTTIME I'VE MADE CANDY.....BUT, I felt I HAD to review this one!!! I chose this particular English Toffee recipe BECAUSE it was the easiest, with the LEAST amount of ingredients. I was soon to discover that I'd made a VERY WISE DECISION!!! Over the past week, I've made EIGHTEEN+ BATCHES (a 'first go,' a taster for family & 16 batches - out of the 18 I need for a cookie exchange tomorrow night....2 more to go!!!) & EVERYONE HAS JUST LOOOOOOOVED IT AND BEGGED FOR MORE!! I've only done ONE batch without using the candy thermometer & I'd advise against it. It turned out fine & tasted as delicious as the others, but the color was off once it cooled. So I'd suggest ALWAYS using the candy thermometer. I WAS going to say that you cook until 5 minutes AFTER / LONGER THAN you feel like your arm will fall off but I actually timed it in the 2 batches I've just made & both reached the listed temperature after a few seconds more than 15 minutes.....I started timing once the mixture came to a full boil. As someone who's from England (& whose family is as well), I can tell you that this is AS GOOD as any I've / we've had there. There's absolutely NO NEED for a more difficult recipe OR one with a bunch more ingredients, time or clean up. This is JUST PERFECT, RIGHT AS IT IS!!!!!! Thank you SOOOOOO MUCH FOR POSTING, JAUNESSA!!!