Empanadas - Antioquia, Colombia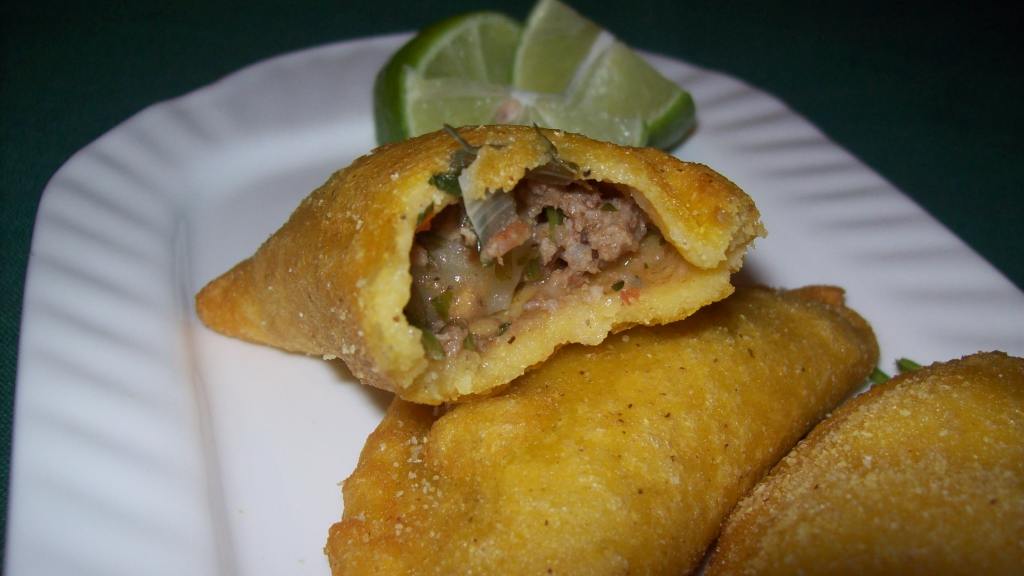 Ready In:

2hrs 30mins

Serves:

Yields:

Units:
Nutrition Information
directions
The Dough.
Mix all the dry ingredients together in a large bowl and begin to add the chicken broth until you have a smooth, humid, easy to work dough. Cover the bowl and let the "masa" rest for about one hour.
The Filling.
In a frying pan, heat the butter, margarine or oil over medium heat and partially fry the onions and tomatoes. Add the hamburger meat and brown thoroughly. Drain.
In a large bowl, combine the browned meat mixture with the rice, potatoes, chopped cilantro and spices.
The Empanada.
Now, if you have a tortilla press, you're sitting pretty for the next step. If you don't have one, two pieces of 1" wood about 8" square will do just fine. Lacking that, anything flat and a counter top will work. Or, if you feel adventurous, you can use your own two little hands!
Roll the "masa" (dough) into little balls about 1" in diameter. Place the masa ball on top of a piece of plastic wrap or wax paper. Cover with another piece of plastic or wax paper and press it into a flat circle (depending on the size of the original masa ball, the flat circle will turn out to be about 3 to 4 inches in diameter). Remove the top piece of plastic. Now add about one rounded tablespoon of the filling to the middle of the circle leaving about 1/2" of space on the sides. Using the plastic, fold the circle in half and press the edges together so it forms a half-moon. Remove from the plastic and, using your fingers, press the edges firmly together so the empanada is sealed. I like to make them pretty so, after the empanada is sealed, I take the tip of my finger and fold the edges at small intervals so that the empanada has a "scalloped" look to the edges.
Cook them in bunches but don't prepare too many at a time and let them sit while the others cook since this tends to dry out the masa too much. Also, as you are cooking, keep the bowl of masa covered with a humid towel to keep it from getting too dry.
Cooking.
The traditional method, of course, is to fry the empanadas in a large, iron cauldron (approximately 50 years old), on top of a wood fire, outdoors, in about twenty pounds of pork lard that was used to fry the empanadas for the last month and a half.
However, tradition does not always mean that it is right. Most of the time tradition simply means "lack of technology and alternate methods.".
I use a deep-fat fryer filled with Canola or Peanut oil. For even healthier empanadas, they can be baked in the oven at 350 degrees F on a greased cookie sheet. Baking them, of course, takes longer and you will have to turn the empanadas once. Bake or fry until golden brown.
If you fry them (the best method because they turn out nice and crunchy), make sure you place the finished empanadas on a cookie sheet whose bottom you have lined with a thick layer of paper towels. This will allow the excess oil to drain.
The tradition in Colombia is to have an empanada in one hand and a wedge of lemon in the other. As you take a bite, you squeeze a few drops of lemon juice inside. A bowl of your favorite salsa and a teaspoon will also do the job quite well. This recipe should yield approximately 4 to 5 dozen empanadas.
Waste not, want not.
I made a bunch of empanadas the other day and found that I had mad way too much masa for the amount of filling I had. I did not want to waste the masa nor did I want to put it in the refrigerator until the next time I made empanadas. So, I thought about it for a while. I had about two pounds of masa left so I added a large package of shredded Monterey Jack cheese, a whole lot more cumin, some more onion powder and garlic powder and a little more salt. I then browned one pound of ground sausage and added it to the mixture.
I rolled the mixture into 1" balls and deep fried them. They were great! I love it when my weird experiments turn into new recipes!
Submit a Recipe Correction
Join The Conversation
Ok, DH couldn't stop saying "These are soooo goooood!!!". And they are. The empanadas are very easy to make (especially since I DO have a tortilla press). They fry up nice and light, not greasy at all. The filling is amazing, we can think of so many other ways to use it (burritos, tacos, baked potatoes). The first few empanadas were tricky (had to throw two away) but it's easy to get the hang of it. The trick, I found, is to place the filling in the center, then bring up two opposite edges so it looks like a taco and press edges together. I broke them when trying to just fold over on the plate. Thanks for posting! Made for Fall PAC 2012.