Overnight Empanada Dough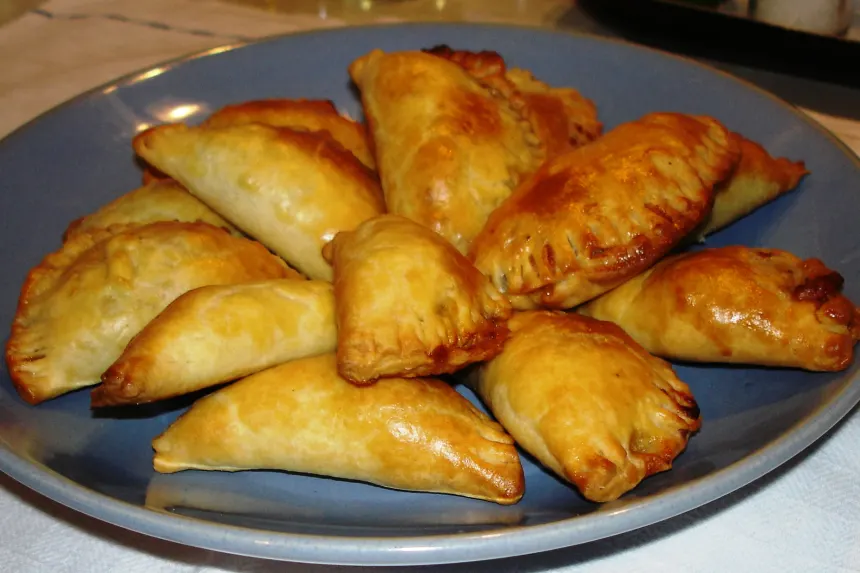 photo by Hanka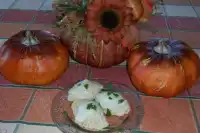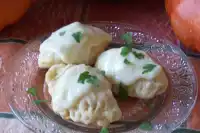 Ready In:

25mins

Ingredients:

3
directions
DAY BEFORE:

Cream butter and cream cheese together until smoothly blended.
Beat in the flour.
Shape dough into a smooth ball; wrap in foil or cling wrap, and refrigerate overnight or up to a week.

AT BAKING TIME:

Remove dough from refrigerator 30 minutes before using.
Start heating oven to 375 degrees Fahrenheit.
Roll chilled dough thin.
Cut with 3 or 4 inch round cookie cutter.
Place small spoonful of filling in center of each round, moisten edges with water.
Fold round over and press edges together.
Bake on ungreased cookie sheet 15 to 20 minutes.
Reviews
This is the recipe I was looking for.The dough is nice and crispy, buttery and has a great texture and flavor. I used light Philadelphia cream cheese and 1/4 tsp. salt. I had 15 4-inch small empanadas filled with sauted mixture of onion,zucchini,red bell pepper,carrot,bacon and cheese. This dough would be great for chicken pot pie or apple pie as well. Next time I will double the recipe. Thank you

 

I used whole wheat flour instead of the regular flour. Next time, I will add 1/2 tspn of salt to the recipe. And, I also doubled the recipe. So, this made nine 5" empanadas and six 4" empanadas. I probably could've made another four 4" empanadas with the leftover dough, but I didn't have time to roll these out.<br/><br/>The dough turned out well, nice and crisp flaky. I didn't remember the baking instructions as I did this from memory and my memory said 400 F for 30 min. It would've been better at 375 F for 20 min.<br/><br/>Oh, I refrigerated the dough overnight, but I guess I have a really cold frig as leaving it out for 30 min. wasn't enough, rather I had to leave it out several hours for it to be okay for me to roll out the dough. I floured the surface and my rolling pin, which made it easier to roll out as it wasn't sticking.<br/><br/>I had 4 sizes of empanada makers (6", 5", 4", 3.5") that as I bought as a kit at Bed, Bath & Beyond. Used the 5" and 4", which are good sizes, but if you want more appetizer empanadas, then use the 3.5", which I will be this weekend. If you used this size, maybe you could get 25-30 empanadas from this doubling the recipe. I don't know how you would get that many with the recipe just as is.<br/><br/>The filling I used for the first time was a curried pork dish I made in the crockpot 2 days ago. I will be making another mixture of pineapple, ham & cheese; and one of plantains & guava paste for this weekend.<br/><br/>This is a wonderful dough recipe for empanadas, especially for first timers. Very easy.<br/><br/>Ok, I've now made this recipe twice. I added the salt, plus onion powder, garlic powder, and cayenne pepper. This made it nice & spicy. Filled it with pineapple, sausage, and Mexican cheese (queso). Tripled the recipe, to make 5 dozen 3.5" empanadas.

 

I doubled the recipe and made 16 empanadas about six-inches in size. Very nice, flaky dough. I also used light cream cheese. I did sprinkle in some salt since I was using unsalted butter, but it could have used a little more. My bake time was closer to 30-40 minutes. The dough seemed too sticky before refrigeration so I added some flour but given how hard it was by the next day, I probably didn't need to.

 
RECIPE SUBMITTED BY
I don't think there's anything better than spending time with family and friends and enjoying delicious food together. I just love food. I love reading about food, writing about food, cooking food and.. not surprisingly, eating food. My latest passion is food-photography! I'm still learning a lot, but I'm trying to post photos with all my recipes and reviews. I read recipe books, magazines and food blogs like novels. I get such satisfaction when someone enjoys a meal or dessert that I have prepared. It is the biggest compliment to me when my family and friends rave about my cooking. There are so many terrific recipes on this site. If I'm looking for something, I'm sure to find it here. I do have stacks of my own favorite recipes which I am slowly but surely getting in my cookbooks here . I have had so many awesome reviews and fabulous photos taken of my recipes... I try to thank everyone personally .. I sincerely appreciate each and every review and or comment left. I know it takes time to photograph and upload photos - So I want to say thank you from the bottom of my heart for finding and trying my recipes and taking the extra effort...
View Full Profile