Emeril Lagasse's Delmonico Potatoes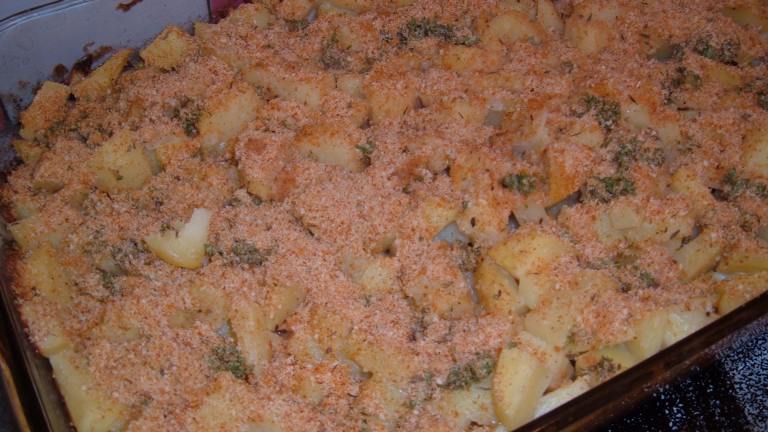 This recipe was posted in answer to a message board request. It was taken from the Emeril Lagasse recipe web site (http://www.emerils.com/recipe/167/delmonico-potatoes). Feb 25, 2011 - An Update - Re: Micks' posting: First: Thank you for posting the recipe for "Emeril's Essence/Emeril's Creole Seasoning" :-) Second: No one is claiming this is the recipe for the potatoes served at the "Original (since 1837) Delmonico's Restaurant" in New York City. A restaurant that I have personally had the pleasure of eating in many times (I was born/raised in NYC). I have had the "Classic Delmonico Potatoes" there on many occasions. The potatoes served at the "Original Delmonico's Steakhouse" in NYC are different from the ones that are served at Emeril's restaurant ("Emeril's Delmonico Steakhouse" in New Orleans, La.) Again, I have personally eaten the "Delmonico Potatoes" at Emeril's restaurant when I was in New Orleans. The recipe that is posted is the same as the recipe he uses in HIS restaurant. I hope this clarifies any confusion. :-)
Ready In:

40mins

Serves:

Units:
directions
Preheat the oven to 400°F.
In a large sauté pan, melt the butter.
Add the onions.
Season with salt and pepper.
Sauté for 1 minute.
Add the garlic.
Stir in the flour and cook for 1 minute.
Stir in the milk and bring the liquid to a boil.
Remove from the heat and stir in the potatoes.
Season with salt and pepper.
Pour into a greased 6 cup baking dish.
In a mixing bowl, add the bread crumbs and a drizzle of oil.
Mix thoroughly.
Season with Essence.
Stir in the parsley.
Spread the crumb mixture evenly over the potatoes.
Place in the oven and bake until golden brown, about 10 to 12 minutes.
Remove from the heat and serve.
Submit a Recipe Correction
RECIPE MADE WITH LOVE BY
"This recipe was posted in answer to a message board request. It was taken from the Emeril Lagasse recipe web site (http://www.emerils.com/recipe/167/delmonico-potatoes). Feb 25, 2011 - An Update - Re: Micks' posting: First: Thank you for posting the recipe for "Emeril's Essence/Emeril's Creole Seasoning" :-) Second: No one is claiming this is the recipe for the potatoes served at the "Original (since 1837) Delmonico's Restaurant" in New York City. A restaurant that I have personally had the pleasure of eating in many times (I was born/raised in NYC). I have had the "Classic Delmonico Potatoes" there on many occasions. The potatoes served at the "Original Delmonico's Steakhouse" in NYC are different from the ones that are served at Emeril's restaurant ("Emeril's Delmonico Steakhouse" in New Orleans, La.) Again, I have personally eaten the "Delmonico Potatoes" at Emeril's restaurant when I was in New Orleans. The recipe that is posted is the same as the recipe he uses in HIS restaurant. I hope this clarifies any confusion. :-)"
On the foodnetwork site, Emeril lists the ingredients for his Essence as:<br/>Essence (Emeril's Creole Seasoning):<br/> * 2 1/2 tablespoons paprika<br/> * 2 tablespoons salt<br/> * 2 tablespoons garlic powder<br/> * 1 tablespoon black pepper<br/> * 1 tablespoon onion powder<br/> * 1 tablespoon cayenne pepper<br/> * 1 tablespoon dried leaf oregano<br/> * 1 tablespoon dried thyme<br/>Combine all ingredients thoroughly and store in an airtight jar or container.<br/>Yield: about 2/3 cup<br/><br/>Note that Emeril's recipe is NOT Delmonico Potatoes and not even close. The original 1830 recipe is debated, but there's no question it contained grated parmesan cheese and nutmeg. Most of today's recipes use bechamel (white) sauce [butter, flour, milk], with nutmeg, parmesan or cheddar blended into it, poured over cubed or shredded/frozen hash brown potatoes. A former Delmonico's chef published such a recipe, plus chicken broth, in the 1890's with cubed potatoes on the bottom and shredded on top.

I thought these potatoes tasted good, although they were a bit dry. I even sprinkled a little of the olive oil directly on the potatoes. I wasn't sure how much olive oil or Essence to use in this. I tossed in a tablespoon of the Essence, but it could have used more. I baked them about 10 extra minutes to try to crisp them up a bit (personal taste).I sprinkled some freshly grated Parmesan cheese on top. I may make these again, but will probably cut the recipe in half, and add more oil and Essence.

This recipe was posted in answer to a message board request. It was taken from the Emeril Lagasse recipe web site (http://www.emerils.com/recipe/167/delmonico-potatoes). Feb 25, 2011 - An Update - Re: Micks' posting: First: Thank you for posting the recipe for "Emeril's Essence/Emeril's Creole Seasoning" :-) Second: No one is claiming this is the recipe for the potatoes served at the "Original (since 1837) Delmonico's Restaurant" in New York City. A restaurant that I have personally had the pleasure of eating in many times (I was born/raised in NYC). I have had the "Classic Delmonico Potatoes" there on many occasions. The potatoes served at the "Original Delmonico's Steakhouse" in NYC are different from the ones that are served at Emeril's restaurant ("Emeril's Delmonico Steakhouse" in New Orleans, La.) Again, I have personally eaten the "Delmonico Potatoes" at Emeril's restaurant when I was in New Orleans. The recipe that is posted is the same as the recipe he uses in HIS restaurant. I hope this clarifies any confusion. :-)