Eggplant (Aubergine) Parmesan Stacks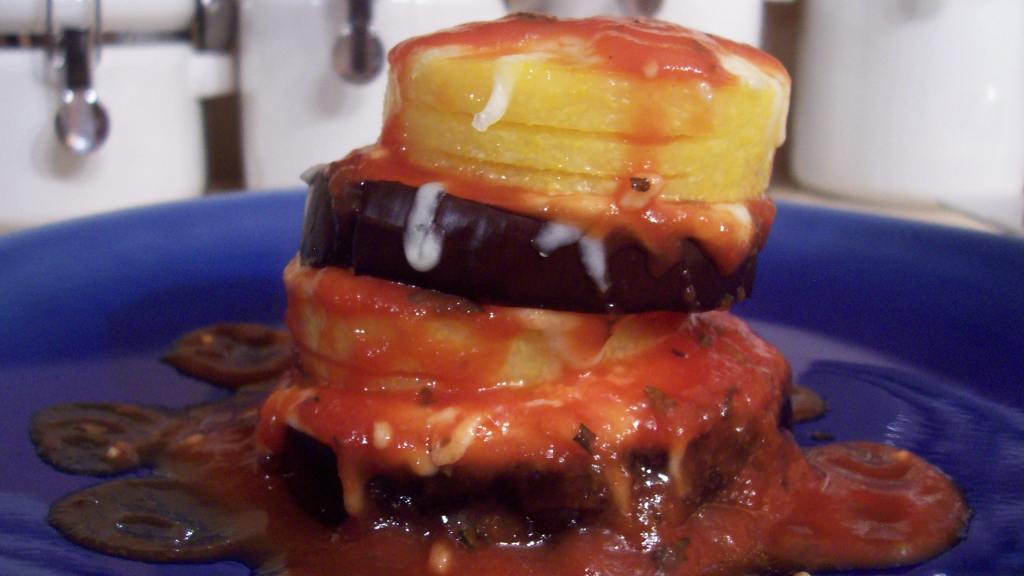 Ready In:

40mins

Ingredients:

11
directions
Rinse eggplant and trim off and discard both ends.
Cut eggplant crosswise into 8 equally thick slices.
Cut Polenta crosswise into 8 equal rounds.
Lightly coat a 14- by 17-inch baking sheet with olive oil spray or brush with olive oil.
Arrange eggplant and polenta slices in a single layer on sheet.
Lightly coat slices with more olive oil.
Bake in a 425 degree regular or convection oven until eggplant is soft when pressed and polenta is heated through, 20 to 25 minutes.
Meanwhile, in a 8-to 10 inch nonstick frying pan over medium-high heat, stir onion, garlic, and basil occasionally until onoin is lightly browned, 4 to 5 minutes.
Add tomato puree and 1/4 cup water; simmer uncovered, stirring occasionally, until flavors are blended, 5 to 10 minutes.
Add salt and pepper to taste.
Cover and keep warm over low heat,stirring occasionally,until eggplant is done.
When eggplant is soft, sprinkle mozzarella and Parmesan cheeses equally over eggplant and polenta.
Return to oven and bake until cheese is melted, about 2 minutes.
On each of 4 dinner plates, place 1 slice eggplant (use larges sizes first) and drizzle with 1 tablespoon sauce; top with 1 slice polenta and 1 tablespoon sauce, Repeat until all slices are used.
If desired garnish with rosemary sprigs.
Spoon remaining sauce around base of eggplant stacks, Serve.