Eggplant (Aubergine) Meatballs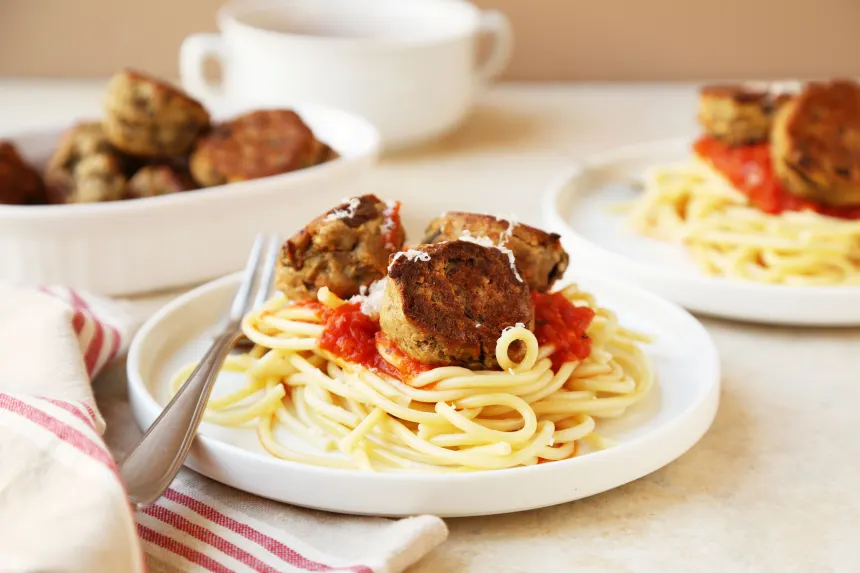 photo by Jonathan Melendez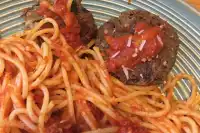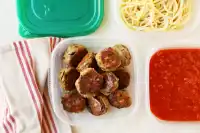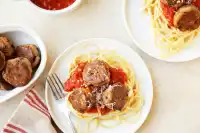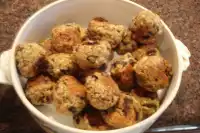 Ready In:

1hr 20mins

Ingredients:

9
directions
Slice eggplant and sprinkle with salt.
Let sit 10 minutes to draw out water.
Rinse and pat dry.
Saute on stovetop with a splash of olive oil and about 1/4 cup water until eggplant is soft.
Remove and chop finely.
Mix everything but the breadcrumbs when eggplant is cool.
Then add breadcrumbs and mix until you get the consistency you want to form the balls.
Place in a generously olive oiled pan about l inch apart and bake at 400 degrees until golden brown, about 40 60 minutes.
Turn halfway through baking to ensure even browning.
Reviews
You would never be able to tell these werent made with beef if they were in a pot of spaghetti sauce. They were really good, I had mine on the side with a little sauce. I used fresh bread crumbs, ran out and threw in about 8 crushed crackers to top up. I rolled them when they were really moist but could form a ball and they were nice and moist after cooking too.

 

First, I must say that I never met a eggplant that I didn't fall in love with at first taste! I have made this recipe twice now and the first time(completely following recipe) it was good but not worth making again. This surprised me as the other reviews are rather glowing. Since I have made this writers other eggplant recipes, I remade this recipe two days later with some tweaking...1.I used freshly grated cheese. 2. I finely minced fresh onion and garlic. 3. I increased the italian herbs another 1/2tsp and did not add any salt. So you see, I really didn't change the recipe, just enhanced it. I also had to cut down the baking time. The second time around was a charm!UPDATE: 02/01/10----made these again today, for the 100th time (well, maybe not that much) but this time I left out the cheese. Did this to cut the sodium and cholesterol down. Di not even miss it! They were just as good as before and better for me.

 

These were AWESOME!! I used the food processor for the eggplant after sauteing, as several people mentioned. Very, very good, and I have tried my share of non-meat meatballs. They would be good enough to patent if they were a little more dry and not quite so fragile. Next time I will try a lower oven temp and longer cooking time, and maybe fresh garlic and onion. Amazing flavor as it though!

 

These were yummy! Better then other eggplant balls I've tried with cheese in them. My Fiance hates eggplant. When I picked it up at the store he made "the face" and was all "you know I won't eat eggplant right"?. So I told him it was just for me. Made these tonight with pasta, didn't mention what they were made with (he is used to me making all kinds of vegetarian meatballs) He went back for seconds! I had to hold back a laugh. I used 2 smaller eggplant, nutritional yeast in place of parmesan and a vegan egg sub of 1 heaping tbsp bean flour 1 tbsp water per egg - worked like a charm. Baked for 40 minutes and then tossed in my sauce for another 20. With my subs it was more of a 4, but as written I'm sure it's a 5. Thanks! I'll use this one again!

 
Tweaks
So yummy! I didn't have onion or garlic powder, so instead I boiled homemade tomato sauce with olive oil and freshly chopped garlic (then later served the eggplant meatballs with the homemade sauce). To the meatballs, I substituted the dried italian herbs for plenty of fresh thyme and basil-- about a third or fourth cup of leaves.