Egg Rolls Recipe: an Asian Goodness That's Worth Rolling In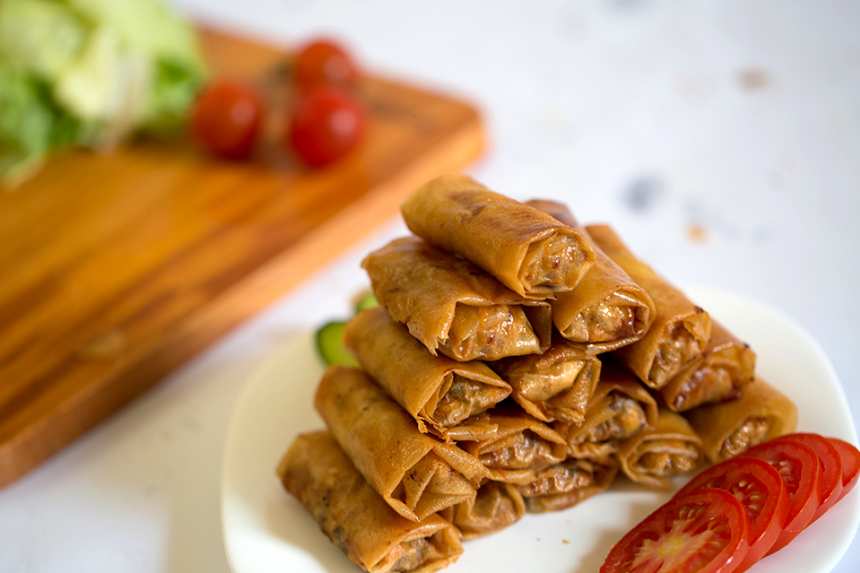 photo by Luna Regina
Ready In:

40mins

Ingredients:

7

Serves:

2
directions
STEP 1: Make the filling.
1. Finely shred wood ear mushroom, carrot and taro.
2. Beat the egg and separate the york from the white. Save both for later.
3. Mix together ground pork, taro, egg yolk and carrot in a bowl.
Add peppers and salt and marinate them in 10 minutes by hands until perfectly mingled.
STEP 2: Wrap the rolls.
1. Place a rice paper on a dry, flat surface. Rotate it a bit so you look at it in a diamond shape.
2. Use a pastry brush or simply your fingers to brush egg whites all over the wrapper. This helps soften its texture for easier rolling.
3. Scoop a tablespoon of filling near the bottom of the nearest corner to you. Lift the bottom up and start rolling until it covers up all the filling.
4. Fold over the left side and the right side one after another, towards the center. Remember to pull both sides tightly, but not too tight, because the paper could be torn into small holes (which will make it messy once you bring your rolls to fry).
5. Keep folding it up to the other corner, and carefully tuck the wrapper as you're rolling to keep it tight enough.
6. Once finished, lay it side down and let chill. The seam will seal itself as the egg white wash begins to dry.
STEP 3: Fry.
1. Fill the frying pan with an inch of high-heat cooking oil. Heat the oil to 350°F (175°C).
2. Gently slide the raw egg rolls in, seam-side down.
Fry each side for 2 minutes and keep turning occasionally until they're golden brown and crispy.
3. Put them out on wire rack or paper towels to drain oil.
STEP 4: Serve.
Serve the rolls onto plate immediately when they're still hot. Occasionally, put on some slices of cucumber and tomato for an appealing display.
NOTE.
- Use only one wrapper for each roll if you desire the best crispiness. The more layers you add, the more chewy they'll get.
- Roll small and tight. Don't stuff in too much filling, and try to spread them evenly according to the wrapper's size. Also, try not to leave spare sections of the wrappers afterwards. This way, either your filling will fall out while frying or your final result will come out just grittily weird.
- You can totally freeze the unfried rolls to preserve them overnight. But once taken out of the fridge, these frozen rolls need to get back on the fry pan right away. Don't let them unfreezed naturally beforehand, because it'll just gross.
Questions & Replies

Got a question?
Share it with the community!
Reviews
Have any thoughts about this recipe?
Share it with the community!