Egg Custard Pie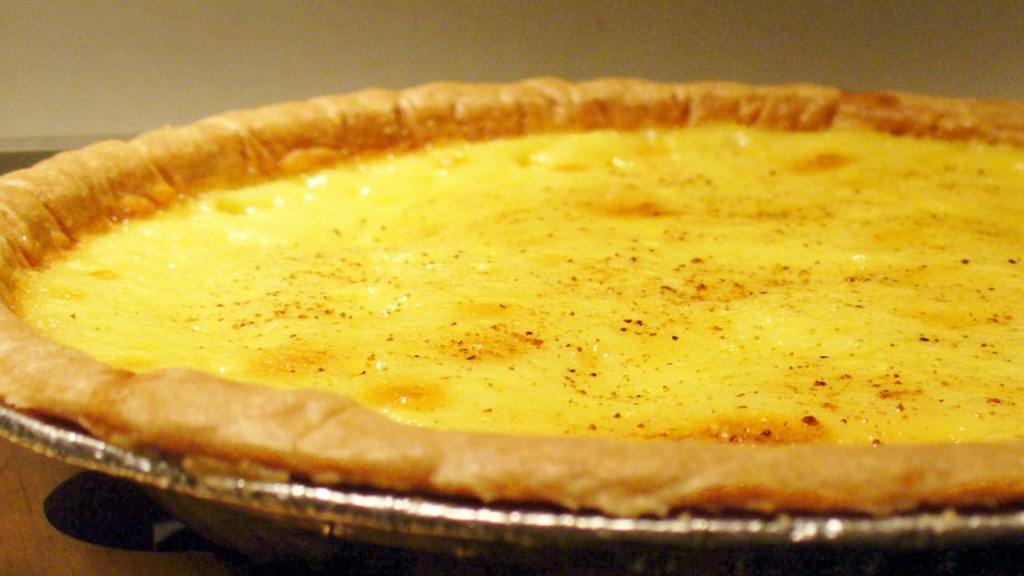 Ready In:

40mins

Ingredients:

7
directions
Beat eggs well.
Heat milk and butter to just before boiling.
Add the milk mixture to sugar, butter, salt and vanilla.
Add the eggs.
Pour into unbaked shell.
Bake at 350 degrees until top is a golden brown color.
Join The Conversation
I don't use hot milk. Just cold straight out of the fridge. I've been making these pies for decades, and have been using both types of recipes - hot milk "tempered" to the eggs, and cold milk blended into the pre-whipped eggs, and I get the same results of both kinds. The rest of the recipe ingredients are fairly similar, except I don't use butter in either kind. Seems to make it a little more "greasy" with the butter in it, but if that's the result that you wish, never use anything other than real, grade AA, genuine butter. No margarine. But, thats my own preference. I prefer "real" ingredients, as opposed to artificial ingredients. If you must use margarine in the filling, use the stick type, instead of the tub type, because the softer the kind you use, the more water there is in it, and it just makes it runny. Pie is a dessert that doesn't generally find its way to everyone's table, these days - it's a special thing that only comes up every so often, even only on holidays. So, if you're going to go to the special effort to put it on your dessert table for family members and guests, then make it the real deal. Don't waste your effort, expense, and results by buying artificial ingredients. If there are dietary restrictions regarding calories, then just serve smaller portions of the real thing, instead of larger portions of "artificial" results. It's rarely worth all the troubles. If there are other ingredients that can cause food sensitivities, then do pre-mealtime tests with various substitutes, for taste-test results to make sure the results are acceptable. Or, make sure you have a variety of desserts that will cover a variety of needs. One of the "hazards" of being a hostess during the Holiday season!