Ecuadorean Shrimp Ceviche with Oranges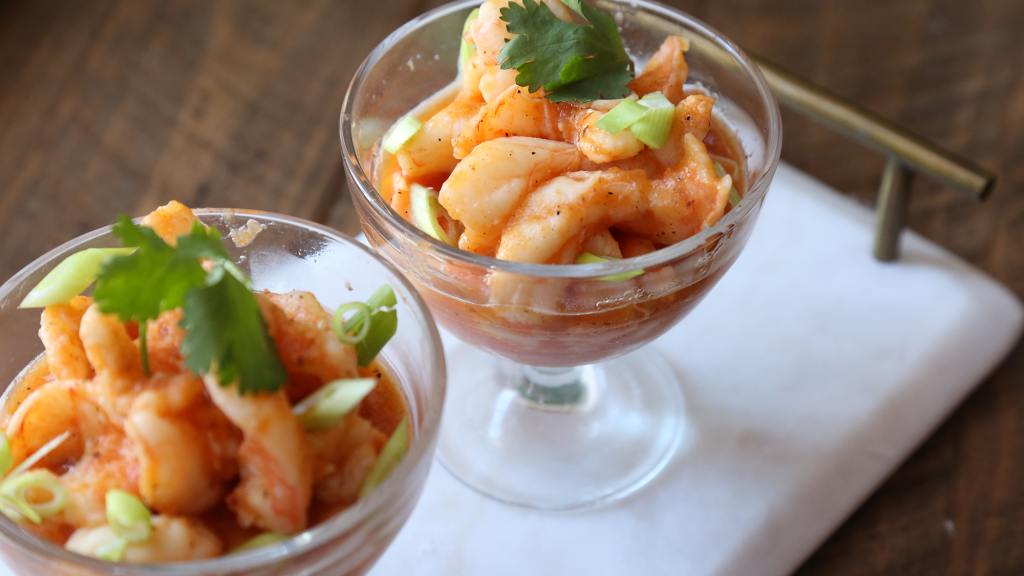 ingredients
1

large tomatoes, halved, seeds removed

2

jalapeno peppers, halved, seeds removed

1

red bell pepper, halved, seeds removed
1⁄2 yellow onion, peeled

1

lb medium shrimp, deveined, peeled, halved lengthwise
3⁄4 cup lime juice, freshly squeezed
1⁄2

cup orange juice, freshly squeezed

1⁄4 cup tomato juice

1

tablespoon sugar
1 1⁄2 teaspoons kosher salt, plus more (or to taste)

2

tablespoons chives, chopped

2

tablespoons scallions, finely sliced
1⁄4 cup cilantro, chopped
directions
Preheat the oven to 500 degrees.
Line a baking tray with aluminum foil.
Place the tomato, jalapenos, bell pepper and onion, cut sides down, on the pan.
Bake until charred, about 30 minutes.
Set aside to cool.
Meanwhile, bring a large saucepan of lightly salted water to a boil.
Add the shrimp and immediately turn off the heat. Allow the shrimp to sit in the water 1 1/2 minutes.
Remove the shrimp from the pot, place in a colander and run very cold water over the shrimp.
When cool, drain the shrimp on paper toweling.
Place shrimp to a large, non-reactive bowl and set aside. Slip the skins off the tomato and peppers.
Place the tomato, peppers and onion in a blender along with the lime juice, orange juice, tomato juice, sugar and salt. Blend until smooth.
Taste and season with Tabasco and salt to taste. Pour the sauce over the shrimp and toss.
Chill until ready to serve. Serve in small bowls garnished with chives, scallions, and cilantro.