Eating Healthy Game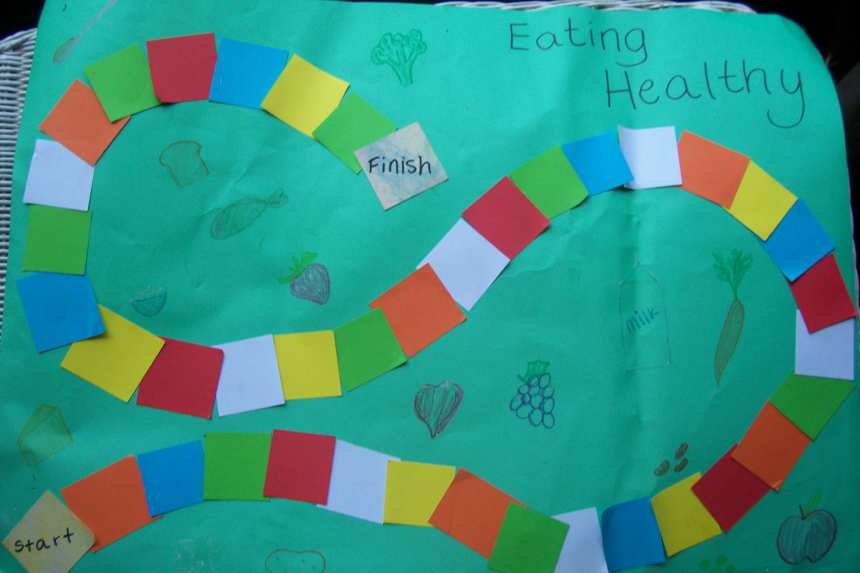 photo by Elaniemay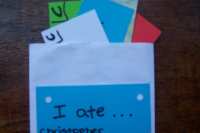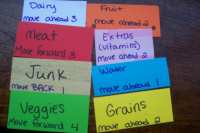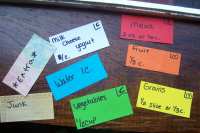 Ready In:

35mins

Ingredients:

3

Serves:

1
ingredients
1

large paper, board (poster-any color)

8

different colors of card stock (or construction paper)

1

long paper, envelope (for each kid)
directions
Decide on how you want the game "path" to go from start to finish.
Decide which color you will use for each food category ( ie. green for veggies, white for dairy, etc.).
Cut out ( for each kid) 5 rectangles for the veggies (all the same color) 4 for fruits, 6 for the grains, 3 for dairy, 3 for the meat, 4 for water, 1 for vitamins and 2 for Junk food.
Label each rectangle with the category and serving size ( Veggies-1/2 c.).
Serving sizes for a 1-3 year old:Grains-5 a day 1/2 slice or 1/4 cup, veggies-3-5 a day 1/4 c., Fruits-2-4 a day 1/4c., Dairy- 2-3 a day 1/2 c., Meat/eggs-2-3 a day 1 oz. or 1/4c.
Serving sizes for a 4-5 year old: Grains-1/2 slice or 1/3c., Veggies.-1/3c.,Fruits-1/3 c.,Dairy 3/4 c., Meat-1 1/2oz. or 1/3c.
Serving sizes for a 6-12 year old:Grains-1 slice or 1/2 c., Veggies.- 1/2 c., Fruit- 1/2 c., Dairy- 1 c., Meat-2 oz. or a 1/2 Celsius.
Water 4 cups a day.
Cut out 1 extra rectangle for each category. These are the game pieces. Label them with the food category that corresponds with the color. On the back you will write the points. I used move ahead 2 for grains,4 for veggies,2 for fruits, 3 for dairy, for meat,1 for water, 2 for vitamins and move back 1 for junk food.
The hard part is making sure that they have to eat well to win but making it so they don't lose all the time either. It has to be reasonable or they won't try at all.
Cut squares of each color of card stock. (how many will depend on how you will set up the game board). I used 30 I think. You will have to make sure that your point system allows them to reach the finish.
Glue the squares in a path on the poster board. Decorate the board as desired.
Seal each envelope and cut in in 1/2 width wise.
Label 1 1/2 with their name and put their cards inside(I put their initial in the corner to keep track).
Label the other 1/2 with name and I Ate --
To play: start new every morning. They get to put a card in their "I ate"pocket every time they finish a serving. After dinner they take a small toy or game piece and move it forward or backwards according to the game cards(ex. they take a card out of their "I ate" pocket and check the game cards to see how many spaces they move.) You could also just write the points on the backs of each card instead, but it will be more trouble to change if you realize your point system isn't working,.
Play and good luck!
Questions & Replies

Got a question?
Share it with the community!
Reviews
Usually staying away from long recipes,but this I had to try. I got other ideas,like making the little squares out of pieces of fruits or veggies.My kids are too small to care if they ate grains or proteins,but there are many ways to turn a game into making your kid eat the right things. Thanks for sharing.

 
RECIPE SUBMITTED BY
My Family and I moved to South Africa at the beginning of 2007 to be missionaries. My Husband is the Pastor of a church in Eden Park, a township in the Jo'burg area. We are having a great time. My kids love it (3 of them, 1 born here). We have got to do many exciting things( pet lion cubs, feed giraffes, eat Zebra(gross!)and other meats(Warthog was surprisingly the best, go figure) and swim on a beach with penguins, to name a few). I have always loved to bake but just got into cooking since moving over here. There were a lot of things I couldn't find over here(and still can't) that we were wanting so I started searching for good recipes for everything from sausage, salad dressing and root beer,to enchilada sauce, Macayo's baja sauce(posted), and Applebees hot wings! A fellow missionary turned me on to this site and My husband got me a membership for this last birthday. I am loving it!
View Full Profile