Eat Your Heart Out, Cinnabon: Cinnamon Rolls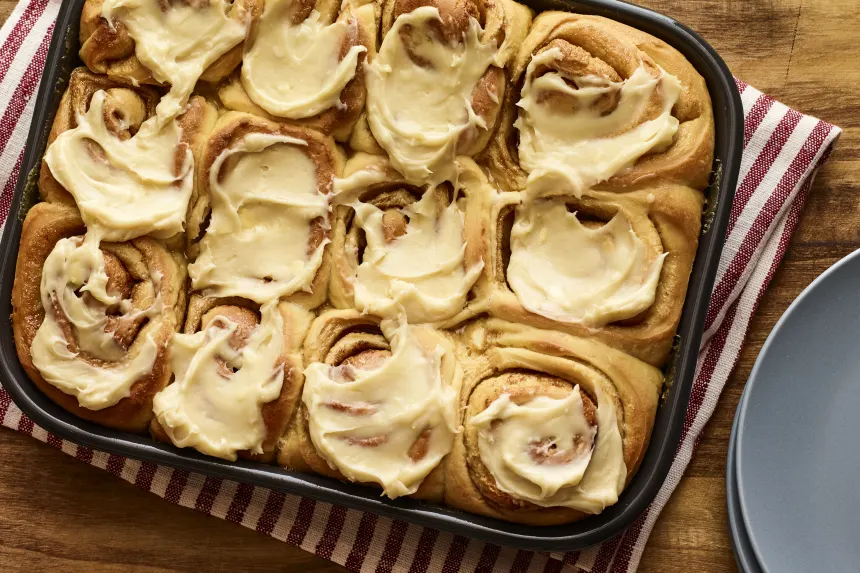 photo by Andrew Purcell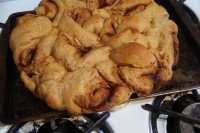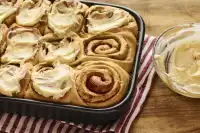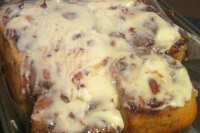 Ready In:

3hrs 25mins

Ingredients:

19
directions
Preheat the oven to 200 degrees.
Cook milk over med heat till a skin forms on top. Make sure not to boil the milk though!
Pour the hot milk over the 7 oz. packet of active dry yeast. Dissolve the yeast completely by stirring constantly. Make sure it is fully dissolved though before moving on to next step.
Put this mixture of yeast and milk into mixer with the paddle attachment. Add butter, then add sugar, salt, and pudding mix and mix till combined, Add both eggs 1 at a time, mixing for 30 sec or till just fully combined. Add flour 1 cup at a time, mix well- the dough is ready when it forms a ball around the paddle attachment and the sides of the bowl are almost fully free of any dough. If it is so sticky that you can't get it off your fingers, then add more flour- 1 tbsp at a time, until the dough is smooth, but still a little sticky. Put this ball of dough into a slightly oiled casserole dish and cover it with a damp paper towel. Put into preheated oven and turn oven off. Let double in size (about an hour).
While the dough is rising, mix together the melted butter, brown sugar and vanilla ice cream in a pot over med heat. Stir constantly so it doesn't burn. When the mixture thickens and is bubbling, remove from heat and pour into a 9 x 13 GLASS pan (slightly greased).
When dough has doubled, (1 hour) put dough onto lightly floured surface and roll out to approximately 16 x 21. Have the filling ready (melted butter in one bowl and the cinnamon and brow sugar mixed together in a separate bowl) and spoon melted butter over entire surface of the top of the rolled out dough. Make sure the entire surface is covered. Crumble the cinnamon/brown sugar mix over top evenly. Start on edge of one of the longest sides and start to roll fairly tightly. Cut into 12 rolls and place them 1" apart in the prepared 9 x 13 pan with the caramel sauce already in the bottom. Place back in oven for 1 hour to let double again. (I usually re-heat to 200 and turn off again when I replace the rolls into the oven to double for the second time)It may take more than an hour, but it needs to double in size to get the fluffy texture.
At this point place into oven at 350 degrees for 20 to 30 minutes. Make sure to check the middle rolls though before taking them out of the oven. Sometimes the middle ones don't cook as evenly as the exterior ones do -- raw middle rolls are icky.
As the rolls are baking -- make the frosting and frost the rolls when you are ready to serve (WARM) (serve shortly after you remove them from the oven) -- enjoy- these are sinful.
PS- You don't want to refrigerate these overnight in my opinion- I tried that and was disappointed in the lack of fluffiness. They still tasted wonderful, but just weren't as fluffy as I wanted them.
Questions & Replies

I also didn't get a good rise from my dough. I did use bread flour as stated , however I did not heat the milk to the point of forming a skin...I have made bread several times and use 45 degree celsius water so wondering if milk was too hot and killed the yeast. Also I wish there were instructions included for the icing, I had to look at other recipes but measurements were completely different (not the same ratio at all). Still tasted very good despite lack of fluffiness.

 

Re faux Cinnabon Cinnamon Rolls: "Hot Milk" - never! Biggest issue, before I begin is list of ingredients. One ingredient in particular: 1 (1/4 ounce) package active dry yeast, then over to instructions which state, "Pour the hot milk over the 7 [yes, 7] oz. packet of active dry yeast..." So, folks and/or author of recipe, what is it??? 1 package (1/4 oz) or the "7 oz package?" This error is so ridiculous I'm exceedingly surprised it has not been corrected.

 
Reviews
An amazing recipe. Good thing that I have deviated from my diet recently! These were decadently delicious – a lot of work to make but the rewards were worth it! I added a teaspoon of cinnamon to the caramel mixture that was spread at the bottom of the pan for an extra cinnamon kick. There is one thing that I will do differently next time – after baking, I will invert the pan onto a platter and then ice the rolls. I think it would be better to put the cream cheese frosting on top of the caramel instead of having the caramel at the bottom and frosting on top. I really enjoyed making (and eating!) these. Thanks so much for posting this. I am really impressed with this recipe and I plan to try out more of Megan's recipes soon – she is obviously a very talented lady!

 

Made these for my family, 7 of us, absolutely fabulous. Won't be waiting for Christmas to make them again either. Not sure what the pudding mix is but I used Angel Delight, an instant just whisk with cold milk maple flavoured one. It did the trick and we had enough topping the heap on afterwards. We can't get Cinnabons over here in the UK, not to worry these were great.

 
RECIPE SUBMITTED BY
Air Force Medic, Military wife, I love to cook and bake and am (mostly- I did work as a recipe developer for a large food-science company once upon a time) a self-taught baker and chef! I love love LOVE to travel- my husband and I currently live in Germany with the US military. Great way to travel on the cheap and try foods from all across the world! :)
View Full Profile