Easy Pizza Dough from Scratch-Fine Cooking Magazine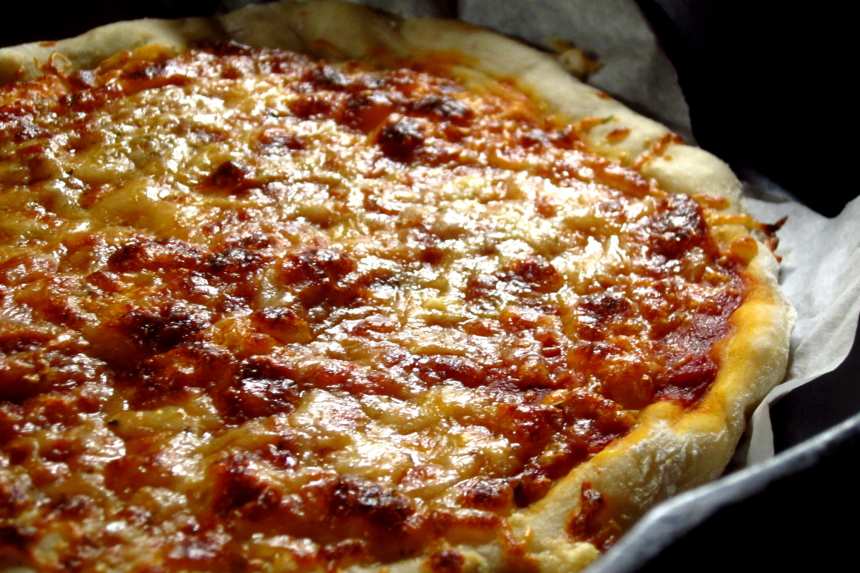 photo by gailanng

Ready In:

25mins

Ingredients:

6

Serves:

2-6
directions
Pour water into a 3 quart bowl, or large lidded plastic food container.
Using a wooden spoon, mix in the oil, salt, yeast, and sugar.
Don't worry about dissolving all of the ingredients; just stir well to combine. Don't bother proofing the yeast either-it shouldn't fail if used before it's expiration date.
Add the flour and mix until uniformly moist. The dough will be quite wet. No kneading is necessary.
Cove the bowl with plastic wrap, or partially cover. Leave the lid open a bit to let gases escape. Let the dough rise for two hours at room temperature. The dough will fully expand and may even begin to collapse by this time.
Do not punch down the dough. It will collapse on its own and later shrink while it chills in the refrigerator. It will never regain it's height, and that's OK. Chill for at least 3 hours before using. After 2 days, tightly cover the bowl to keep the surface of the dough from drying out. It will keep in the refrigerator for up to 2 weeks. After that, tightly wrap into 1/2 pound balls and freeze for up to 3 weeks.
On a floured board, roll, and use your fingers to stretch the dough to your liking. If the dough continues to contract, let it rest for 10 to 15 minutes, covered, then stretch some more. Add your favorite pizza toppings.
Bake in the bottom third of the oven using a pizza stone or baking sheet. I use parchment paper so the dough does not stick. Turn the pizza half way through baking.
Depending on how thick or thin you like your pizza crusts, the amount varies. I make two large pizzas with very thin crusts, about 12X18". Prep times are approximate.
For thin crusts (1/16th of an inch thick), bake at 550 for 10 to 15 minutes.
For regular style crust (1/8 inch thick) bake at 550 for 8 to 10 minutes.
For a thick crust (1/2" thick) bake at 500 for 20 to 25 minutes.
Let pizza sit for a minute or two before cutting.

Variations:

Whole wheat dough: subsitute one cup of whole wheat flour for the same amount of all purpose flour, and add 2 tablespoons of extra water.
Cornmeal dough: substitute 1 cup of stone ground yellow cornmeal for the same amount of all purpose flour and add 1 tablespoon of extra water.
Questions & Replies

Got a question?
Share it with the community!