Easy Pasta With Eggs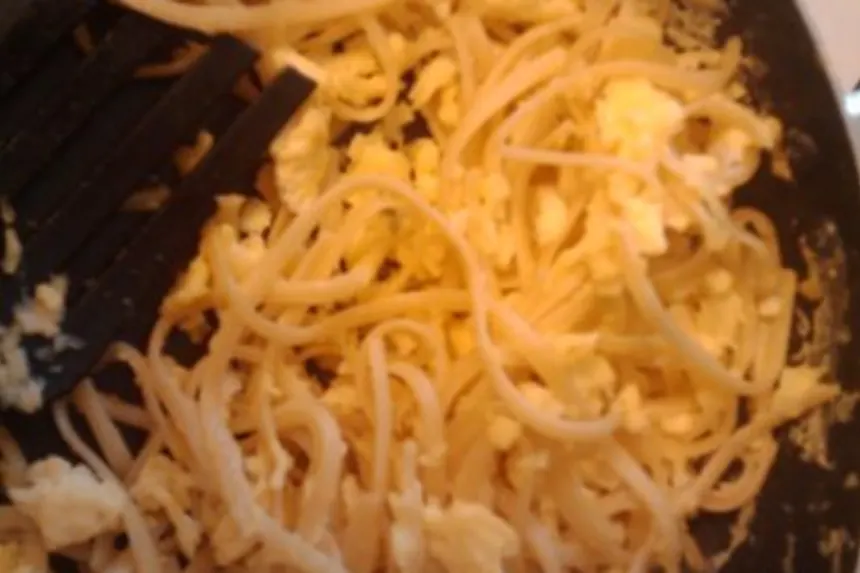 photo by meli531

Ready In:

20mins

Ingredients:

3
directions
Cook pasta to al dente, according to package directions.
Drain well.
Add butter to pan, and allow to melt.
Return drained pasta and mix well with butter.
In a separate bowl, beat eggs well.
Add the eggs to pan, and mix well.
Return to med heat, and stir CONTINUOUSLY, scraping egg from bottom, until eggs are scrambled well and cling to pasta. This step goes very quickly, so watch pot closely.
Serve immediately.
To easily clean pan, rinse with COLD water. Empty pan of water, and add a generous portion of SALT, and a dot of dish detergent to pan. Scrub with a scrubbie under cold water until clean. Finish by running under hot water or place pan in dishwasher to disinfect.
Questions & Replies

Got a question?
Share it with the community!
Reviews
This really qualifies as a totally different recipe, but I warmed up some leftover elbow mac while I fried chopped onion, green pepper and bits of kielbasa. When the kielbasa started to brown and the onions and peppers were soft, I tossed in the macaroni and stirred, just enough to mix it. Next I added finely grated Parmesan and cheddar, stirring that for a moment before adding 2 beaten eggs. I seasoned it with pepper, parsley, a bit of dried basil, and some Italian seasoning - all to taste, . After stirring it a bit more, I turned down the heat and covered the pan for a while. Now I wish I'd added maybe just a sprinkle of Cayenne pepper, too. Don't ask for measurements... that takes all the fun out of it! Ooh...and an afterthought... I ate some as soon as I felt the eggs had set and the cheese melted, then covered the pan with the remainder and let it sit on the cooling burner. My second helping had a very nice, lightly browned crust on the bottom.

 

My family has made a similar recipe for years! Ours uses macaroni noodles, and I prefer this because of the firmer nature of the noodle. It also makes it less like a frittata and it's easier to see when the egg is done. I season mine with salt, black pepper, and occasionally a dash of garlic. I also don't use much butter; just enough to prevent the egg from sticking to the pan. Since I'm usually making this solo, I usually only make enough noodles for myself and use one to two eggs. I like the pasta to be the star. A previous reviewer mentioned the college vibe of this recipe. For my family, I did some research and found out that this was a Depression Era recipe that my grandmother learned from her parents. They lived on a farm where eggs (and butter) were 'free', and pasta was cheap. I guess that does lend some credibility to the college vibe of this recipe, but I like the history better! :)