Easy No Salt Garlic Croutons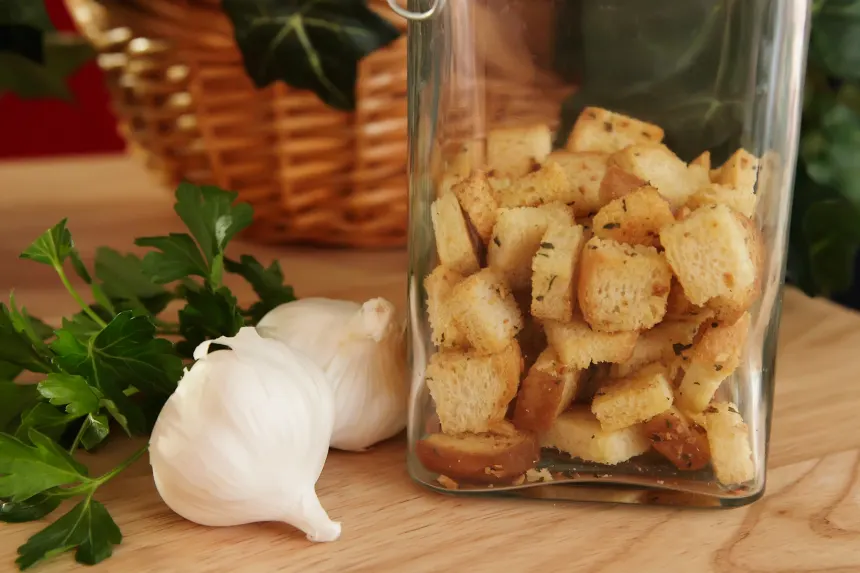 photo by CulinaryExplorer

Ready In:

23mins

Ingredients:

4
directions
Preheat oven to 325F degrees.
Cut bread into dice-size cubes.
Toss into medium size bowl.
Mix oil into melted butter in small, separate bowl.
Drizzle oil/butter over cubes, while tossing them around in the bowl.
Keep tossing, while adding garlic.
When evenly coated, place in single layer on ungreased cookie sheet.
Bake for 6 to 8 minutes, or until browned.
Cool.
Store in airtight container or zip lock bag.
Questions & Replies

Got a question?
Share it with the community!
Reviews
I love homemade croutons and these were so easy to make. I did add a little more seasoning to them with using some greek seasoning, I used 1 large tablespoon of minced garlic and a dash of Recipe#63812. I also used left over french bread. I like to use real butter as the taste seems to be better to us. I lefted the bread cubes in oven 12 minutes as I felt they wasn't done in 8 minutes. Thanks for sharing a easy recipe for croutons.

 

I was a bit concerned that they wouldn't have enough of a garlic taste since most of the garlic was still in the bowl at the end, but they ended up tasting great! Super easy to make, and such a nice buttery garlic flavor. I especially like that they are crispy without being rock hard like you often find with store bought ones. I used 3 cloves of garlic and added a bit of dry parsley and basil. I also used margarine for allergy reasons. Can't wait to try more herb/spice combinations!

 
RECIPE SUBMITTED BY
Middle-aged Southern California transplant from the Midwest. You sure can't beat the weather here!!! After 22 years of being a nomad exploring the world, I finally retired from the Navy (aviation branch). I really miss traveling and experiencing new cultures; it's been quite an adjustment to stay in one place for more than 2 or 3 years, but I LOVE SoCal! The only place better would be Hawaii and we all know how expensive it is to live there, so that's out for now :-( Maybe someday when I win the lottery! When I was a very young adult, I honestly didn't know a THING about cooking. Even the simplest thing required a specific recipe that I wouldn't DREAM of deviating from! But I've picked up a few things along the way and now I can whip up a tasty, satisfying, well-balanced meal even when the cupboard and fridge are practically empty! Since I'm older and (hopefully!) wiser now, I've become incredibly more health conscious and much more concerned about what I introduce into my body, and that of my family's. We have cut out about 99% of the GMO and even though our food bill is much higher now that we buy organic, I wouldn't even consider going back. Ok, now I'm going to get on my soapbox about the food supply. I apologize, in advance, but I feel very passionately about this subject and I think if I have an opportunity to educate even one person, I should take it, so here goes: Food should be completely safe and GOOD for your body...It shouldn't be a "wait and see if it turns out to be bad for you 20 years down the road" kind of thing. Tinkering around with nature bothers me. Splicing human, spider, or cockroach genes into our plants is just plain WRONG. I believe the "Roundup-Ready" crops have destroyed our honey bee populations. Very sad, indeed, what Big Agra is allowed to do to nature (and to us!) But that's exactly what the Monsanto's, Dow's, Novartis's and other huge food corporations are doing - perverting our natural, God-given gifts of life. Europe has OUTLAWED GMO and I can't get my head around why the citizens of North America have not demanded the same. Until then, I'll stick with whatever organic products I can get. Why eat ground beef, which has been inundated with hormones, vaccines and antibiotics, when you can eat organically grain-fed ground bison without all that garbage? It's a lot more flavorful, having a natural sweetness to it, nothing being injected into it, grazed on pesticide-free grasses, and essential vitamins and amino acids that are not even present in ground beef! The food supply has been poisoned by corporate greed and most of the population is completely unaware in the U.S. How sad for us and for future generations. Have you ever tasted an organic potato? I promise - You'll NEVER GO BACK! The first time I had one, the very first bite took me back to my childhood...Before GMO had become the "norm". The flavor was INCREDIBLE! No "dirt" smell or taste...just a clean, clear, unadulterated potato taste. AWESOME! I'm done now, (thanks for enduring that), so onto a little more about me: For the last 6 months, I've taken to baking my own bread and rolls. No longer do I have to get up to the store to buy bread...It's really nice! Being ever short on time, the bread maker machine has become my best friend for the kneading and first rise. I've really enjoyed making my own bread and trying out different recipes. Bread has been called the "Staff of Life" and I believe it now...Protein, vitamins and minerals. Yes, you really CAN survive on just bread and water! (Hopefully, you won't ever have to!) Still, it's like a little miracle food. Recently, I've been doing my homework, so to speak, on "superfoods" and I found quinoa. It's very tasty and certainly much more wholesome for us than white rice. After seeing all the tabouleh recipes using quinoa, I can't wait to whip up a batch!
View Full Profile