Easy "no Peek" Prime Rib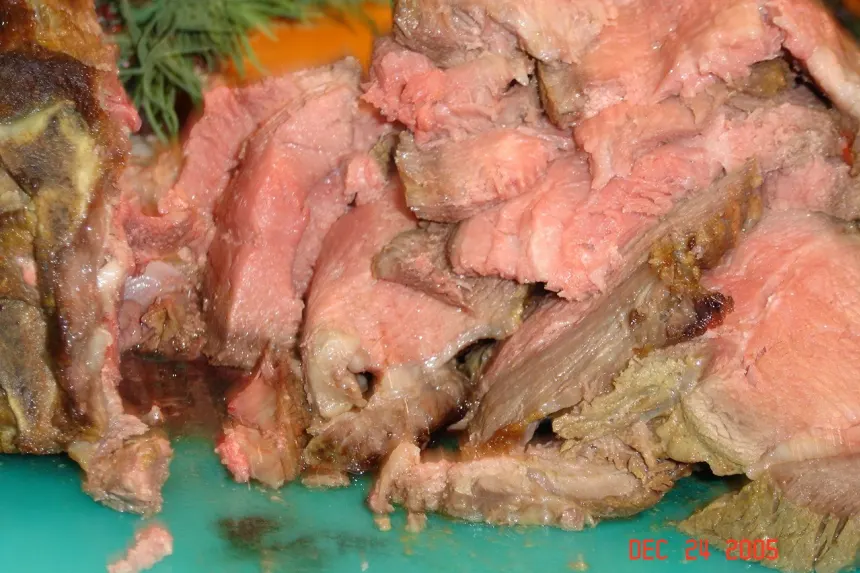 photo by lets.eat

Ready In:

2hrs 15mins

Ingredients:

4
directions
Preheat oven to 500º.
Mix seasonings together and pat all over the roast.
It probably won't stick very well to the fat side but that's ok.
Put the roast in a Dutch oven, preferably on a small rack to lift it off the bottom of the pot.
Bone side up (fat side down).
Place a meat thermometer in the middle of the roast being careful not to get too close to the bone.
Cover with lid (you need a fairly large Dutch oven so the lid will fit on properly).
Cook the roast in the oven for 5-6 minutes per pound, then shut off the oven.
DO NOT OPEN THE OVEN DOOR FOR TWO HOURS, UNDER PENALTY OF DEATH!
****The 2 hours starts as soon as the roast is put in the oven****.
After two hours, take it out and check the temperature.
If it's 140º, it's perfect!
If it's cooler, put back in oven at 375º until it reaches 140º.
This procedure will yield a PERFECT MEDIUM RARE PRIME RIB.
Don't ask how to do medium or well done because cooking prime rib past medium rare is a felony.
Reviews
This recipe is FABULOUS! I had a 4.7 lb roast that - on the night before I cooked it - I covered with olive oil and seasoned with McCormick's Steakhouse Grill seasoning. I took the roast out of the frig for about 45 min, and preheated the oven to 500 for about 30 minutes. Cooked the roast uncovered for 35 minutes, cut the oven off, and 1 hour & 25 minutes later (no peeking), I had a medium but more rare roast. I put it back in the oven at 375 for about 10 minutes, and when I took it out and let it rest for 20 minutes, it was perfect - medium, juicy, and really tender. This recipe is a keeper!

 

This was the most tender Prime Rib I have ever eaten! Didn't need a knife. But, my oven must be too hot because it was medium to well, not medium rare. I mixed kosher salt, seasoned salt, thyme, garlic powder, and seasoned pepper with homemade garlic oil to make a paste. Spread that over the roast and it was wonderful!