Easy Hungarian Soup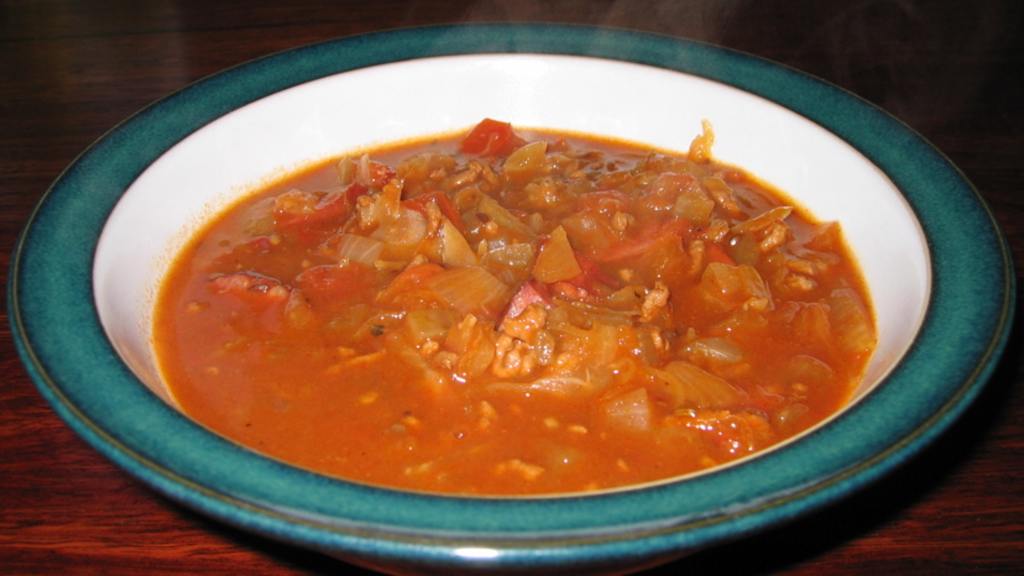 Ready In:

35mins

Ingredients:

12
directions
In a large saucepan or stockpot, heat oil then cook onions over a medium heat until soft and transparent.
Add pepperoni and cook, stirring, for about 1 minute or until fragrant.
Add mince and cook, stirring, until the meat is just coloured.
Add paprika and caraway seeds and cook, stirring, for 1 minute.
Add flour, stir well and cook for 1 minute before removing saucepan from heat.
Slowly stir in beef stock, scraping up any bits from the base of the saucepan.
Add canned tomatoes (including their juice), red wine, and fresh, diced tomatoes.
Return saucepan to heat and bring the soup to a boil.
Reduce heat and add sauerkraut.
Simmer gently, stirring occasionally, for 20 minutes before serving.
May be served with a dollop of sour cream, if desired, but it's a pity to dilute the strong taste of this soup.
(This makes a fairly salty soup, so use reduced salt beef stock if this is an issue for you).
Join The Conversation
I can't believe this has been sitting on Zaar for more than two years and has only had one other review! Scrumptious! My family and guest lapped it up and the recipe was requested. I used csabai rather than pepperoni as that is what I had on hand, and I think it was very apt, being an Hungarian smoked sausage with paprika. I used four cups of beef stock, but otherwise followed the recipe to the letter (though I did put a dollop of sour cream on each serving and a sprinkling of chopped chives). I had lots of sauerkraut left over (I had a large can) and I think more than a cup wouldn't go astray. Thank you Kooka for posting this wonderful recipe. It will certainly be one of our winter favourites.
RECIPE SUBMITTED BY
<p>Above: Slideshow of our garden at Avalon Slideshow of our recent holiday at Woodgate Beach, South-East Queensland, Australia. Hi! I'm Kookaburra, from Australia. First, a promise. I will only post recipes on this site which I've made myself and to which I would personally give a 5 star rating - what you give them is up to you ;-) I look forward to receiving your feedback. If you look at my reviews, they're all 5 stars. That doesn't mean I give 5 stars to every recipe I try. I'm just not interested in giving poor ratings to anyone else's recipe because I accept that different people have different tastes. So, I've decided that I'll only review those recipes which I really love and which I'd make again and recommend to friends. If a recipe meets that criteria - even if it needs a bit of 'tweaking' to match my tastes, I'll give it 5 stars. If not, I'll just delete it from my recipe book and no hard feelings. I'm not advocating this as the 'right' approach. I just decided I needed a consistent strategy for rating and this is mine. I'm passionate about cooking - and eating! What I look for in food is something that 'zings' in the mouth. I like lots of taste - I'm not a big fan of subtlety. I don't often cook recipes exactly as written. I like to experiment and adapt things to my own taste. A retired marketing executive and academic, I live with my elderly (but thoroughly modern) mother in a tiny mountain village at the edge of the rainforest. I'm female, happily single, in my mid-40s and boast the Rubenesque figure of a passionate cook! Avalon, our 'story-book' cottage, overlooks a small lake. As I sit at my computer or work in the kitchen, I'm serenaded by a cacophany of native birds - including a very fat family of kookaburras! We have quite a large property and are lucky to have vegetable gardens and a variety of fruit and nut trees. I look forward to sharing recipes on Recipezaar with family, friends and friends I've yet to meet. last minute flight</p>
View Full Profile