Easy Homemade Noodles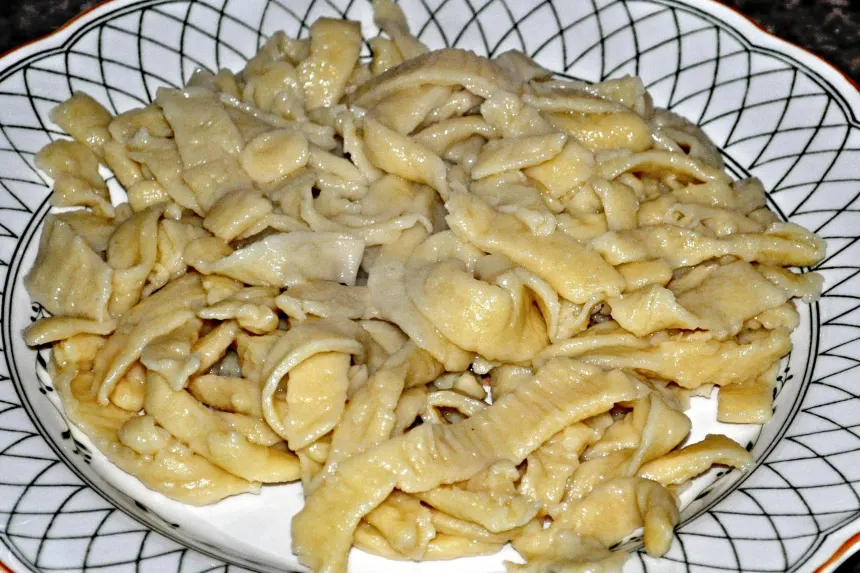 photo by KateL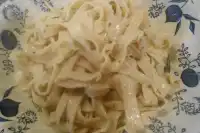 Ready In:

1hr 30mins

Ingredients:

4
directions
1. Mix all ingredients. Roll thin with flour, then roll like a jelly roll. Cut into 1/2 inch strips. Let dry.
2. The dough is very elastic, let it rest for 10-15 minutes before rolling it out and it will be easier to work with. -Roll dough out to a 12"x16" rectangle, let rest 20 minutes, dust with flour, roll it up loosely, slice through the roll with a sharp knife (I do thinner slices than 1/2 inch). -Spread cut noodles out on a flour dusted tea towel to dry for an hour or two before adding to broth.
3. Drop into hot chicken broth. Boil for 15 minutes.
My Note: I usually add 2 tablespoons of milk along with the lightly beaten egg.
I grew up with. My family is a homemade noodle family from at least 4 generations I am aware of. To make this recipe for a family of 4, I use 5 eggs, mix in enough flour to form a dough. Then I put the dough on a well floured counter, mix in enough flour to keep the dough from being sticky. I roll it out paper thin, in a circle. I cut the circle in half, put the right half on the left half, then cut it again. I then have a pie shaped piece of dough that is 4 layers thick, I roll it up jelly roll fashion, cut the noodles in thin strips. I shake the flour out of the little pinwheels, and place them on a cookie sheet. I set them aside to dry a little. (I never let them dry all the way, because generally they are made when I need them) Boil your broth, place a few noodles in the broth at a time, stir to keep them from sticking together. Pick the meat off the chickena, add at the very end. We serve this over mashed potatoes. This is a tradition that is almost religious in my family. Thank you for trying to put a recipe out here. It is not easy for people that have not seen the process. I am afraid it might be a dying tradition. We just spent a weekend with my nieces teaching them all to make noodles, the youngest was 6, she rolled and cut and did a fine job. Keep practicing if you have trouble, it is well worth the effort. There is really nothing wrong with this recipe. I never add any liquid to my noodles, I am 81 and have been making them. At home or my mom home town local cooks are judged by the quality of their noodles. The only problem I see with my recipe here is that there is not enough liquid. Try this: 3 egg yolks 1 egg beat until light 1 teaspoons salt 3 tblsp. half and half (or milk) beat again 2 cups flour This is a perfect dough for noodles. If you need more liquid, add egg yolks or half and half until it is the desired consistency. Noodles are weather sensitive, so don't be afraid to add more liquid or flour if needed. Hope this helps. Some time one thing I do differently is add a few drops of yellow food coloring to the beaten egg for a little more yellow color and then after they are dried I use a pizza cutter to cut the noodles - I think it is much easier than a knife! Will that it, now it is my nap time.
Reviews
Great flavor. Why not put the instructions in the order they should be done? It sounded so simple, so I followed the directions. Either I needed to let the dough rest longer and/or I needed to sift more flour over the dough before rolling; after the first layer, my dough stuck together. I cut my noodles thicker than usual so they might be easier to unroll. Next time I will use my pasta machine and linguine roller/cutter as I normally would. Made for Please Review My Recipe tag game.

 

I learned to read through the entire recipe previously with other recipes. The dough did come out a bit sticky before rolling but I wet my hands and had no problems taking it out of bowl to roll. I have made homemade noodles before but I learned to roll before cutting. Sharing her knowledge and experience was appreciated. My noodles were great tasting and so inexpensive. I've added the recipe with a how to paragraph to my recipes.