Easy Diet Feast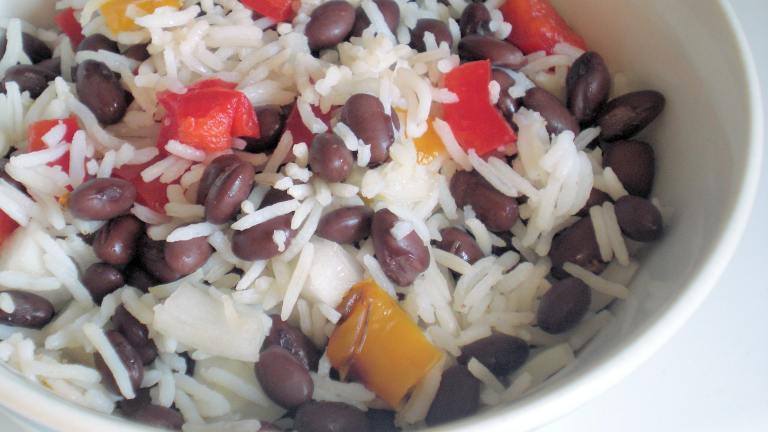 Note: I'm trying to tweak this. The calories are coming up WAY higher than they should (should be 400-500 depending on your salsa usage) This is something that I've worked up recently. The beans and rice should already be cooked. If I were to eat all of this at lunchtime, I would still feel full around dinner. You feel like you're stuffing yourself, but it's a modest amount of calories, low fat, low sodium (depends on the salsa), and an insane source of fiber. Very easy to throw together if you make larger batches of the beans and rice. I do NOT used canned beans because of the sodium. But if you use a pressure cooker, a whole bag of dry beans (not soaked) only takes 35-40 minutes to cook. I get the frozen pepper & onion mixture from Kroger. The salsa quantity is up to you, but you would save a few calories by reducing the amount (I like a lot). My preferences are Paul Newman's Pineapple or Sam's Choice Pineapple Peach Chipotle, because it adds a nice sweetness to the mixture
Ready In:

11mins

Serves:

Yields:

Units:
directions
Put the frozen pepper & onion mixture in a microwave safe bowl and microwave for 2-3 minutes until hot. Drain.
In a larger serving bowl (which I just use to eat out of ), stir together beans and rice, and microwave for 2-3 minutes.
Stir in peppers and onions, and salsa.
Submit a Recipe Correction
RECIPE MADE WITH LOVE BY
"Note: I'm trying to tweak this. The calories are coming up WAY higher than they should (should be 400-500 depending on your salsa usage) This is something that I've worked up recently. The beans and rice should already be cooked. If I were to eat all of this at lunchtime, I would still feel full around dinner. You feel like you're stuffing yourself, but it's a modest amount of calories, low fat, low sodium (depends on the salsa), and an insane source of fiber. Very easy to throw together if you make larger batches of the beans and rice. I do NOT used canned beans because of the sodium. But if you use a pressure cooker, a whole bag of dry beans (not soaked) only takes 35-40 minutes to cook. I get the frozen pepper & onion mixture from Kroger. The salsa quantity is up to you, but you would save a few calories by reducing the amount (I like a lot). My preferences are Paul Newman's Pineapple or Sam's Choice Pineapple Peach Chipotle, because it adds a nice sweetness to the mixture"
Tasty, fast and easy! The recipe does need some adjusting a bit to reflect that the beans and rice are already cooked rather than only listing it in the description. That will make the nutritional facts more accurate as well. I was unsure whether to drain the beans or not so I drained and rinsed them as that is what I prefer. I used a white rice rather than brown because I did not realize I was out. I used long grain basmati. This was a very colorful dish because the peppers I used were red and yellow frozen grilled peppers. Added a few tablespoons of some homemade salsa. Great lunch! Very filling. This easily would feed two people rather than just one. Thank you for sharing your recipe! Made for PAC.

Note: I'm trying to tweak this. The calories are coming up WAY higher than they should (should be 400-500 depending on your salsa usage) This is something that I've worked up recently. The beans and rice should already be cooked. If I were to eat all of this at lunchtime, I would still feel full around dinner. You feel like you're stuffing yourself, but it's a modest amount of calories, low fat, low sodium (depends on the salsa), and an insane source of fiber. Very easy to throw together if you make larger batches of the beans and rice. I do NOT used canned beans because of the sodium. But if you use a pressure cooker, a whole bag of dry beans (not soaked) only takes 35-40 minutes to cook. I get the frozen pepper & onion mixture from Kroger. The salsa quantity is up to you, but you would save a few calories by reducing the amount (I like a lot). My preferences are Paul Newman's Pineapple or Sam's Choice Pineapple Peach Chipotle, because it adds a nice sweetness to the mixture