Easy Crunchy Toffee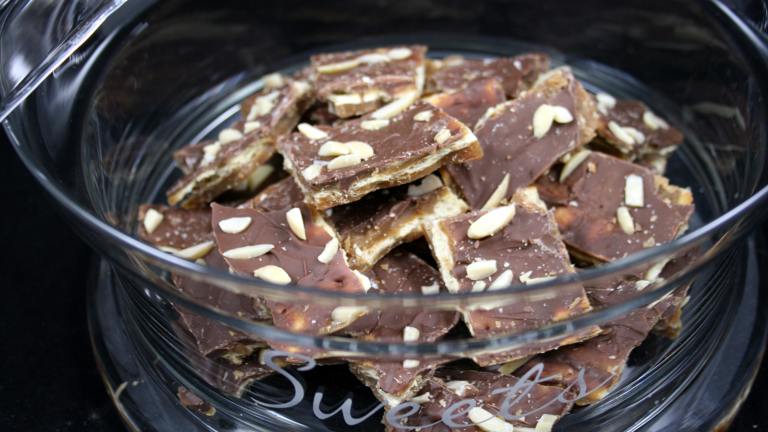 Ready In:

20mins

Serves:

Yields:

Units:
directions
Place the matzo crackers on a greased jellyroll pan, to cover the entire bottom.
Bring butter and brown sugar to a boil, boil for three minutes. Pour the mixture over the crackers. Bake in preheated 350 degree oven for 15 minutes. Remove, sprinkle chocolate chips evenly over the top. Wait five minutes, then spread the melted chips over the crackers. Sprinkle toasted almonds over the crackers, chill. Break apart, and enjoy!
You can adapt this with saltines, simply cover the pan with them. I have to say, I couldn't believe how good they were, and I'm not a sugary treat kind of girl!
Submit a Recipe Correction
November 15, 2013: I was so looking forward to this recipe, I just wish I had read Jude's review before making it myself. We aren't going to get to eat this batch, but I'll definitely try it again this weekend. The first change I'll have to make is not using my jelly roll pan. The crackers (I used Saltines, cause I liked the idea of having the salt and they were on hand) did not cover the whole pan, so they slid around and separated after pouring on the hot toffee. I put the pan in the oven for the 15 minutes, but will cut it way back next time, to check it first at 5 minutes and then probably continue to 10 total, but by 15 it smelled like it had burned. We couldn't tell however, because my jelly roll pan is black, so we put it in the refrigerator. We could hardly wait to try it, but when we took it out of the fridge it was rock hard and stuck to the greased pan. I had to use a metal dough scraper to try to cut through the toffee between some crackers that had separated and when it popped out it was burned black on the bottom. :( We were so bummed! I tried it anyway, but had to spit it out. I've got to buy more butter (used up 2.5 lbs baking today) and then we'll try it again with a smaller pan, probably lined with foil instead of greased, and adjusted timing for my oven. I have no doubt this will be a killer recipe once I get it right. Maybe I'll get the Matzo crackers while I'm at the store. UPDATE: November 17, 2013: Okay, I stuck with the Saltines, but tried this again with the following changes: 13x9 baking dish lined with foil greased with butter (instead of the non-stick spray), lowered the temperature on my oven to 325° and baked for 15 minutes. The results this time were perfect! I really like the salted caramel flavor from using the Saltines. I'm so glad I tried this again. Made during the Cookathon in Pammy's memory. You'll be missed, Pammy!

OK, to begin I want to say this toffee is absolutely delicious. However, the execution of the recipe was a bit difficult. I made this exactly as written and, after chilling in step #2, I had a pan full of rock solid crackers totally cemented into the pan. So, to salvage it, I put it back into the oven, in the residual heat leftover from baking it, and left it for five minutes to hopefully soften it enough to get the stuff out. That worked and I was then able to chisel out the crackers, which I then placed onto a wire rack so they could chill (again) so I could put them into a tin. My plan is to take them to work tomorrow at the library as a pre-Valentine's Day treat for our patrons.....I already know they will love them! I DO plan on making these again but will make the following changes....I'm going to use non-stick foil on the bottom of the pan because even though I greased the pan thoroughly, it still stuck like crazy. After baking and spreading the chocolate and sprinkling the nuts, just let them cool enough to handle and they're no longer sticky-dripping and then transfer them to another sheet of non-stick foil to cool completely. Also, I used unsalted saltines as I live in the northwoods of Wisconsin and there are no matzo crackers around, unless I order them from the internet. I think it would be interesting to make these with Salted crackers to get that salty-sweet goodness and I plan on trying that the next time. Thanks for posting this potentially easy recipe Pammyowl...I'm going to play around with it and make it work for me!