Easy Artisan Gluten-Free Dough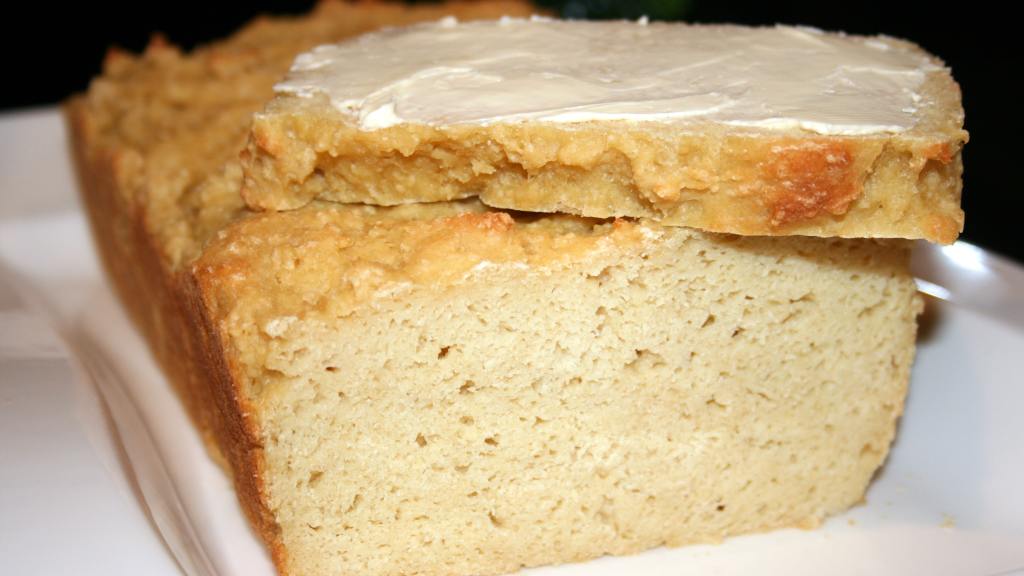 Ready In:

3hrs

Serves:

Yields:

Units:
Nutrition Information
directions
Measure flours and cornstarch into 16 cup bowl, whisk to combine well.
Whisk in xanthan gum, yeast & salt.
Lightly beat eggs in a separate bowl, add brown sugar, water, applesauce, oil & vinegar to the eggs. Whisk to combine.
Add wet ingredients to flour mixture, and whisk until a smooth, very loose, batter-like dough forms.
Cover bowl with plastic wrap (or a shower cap) & let rise at room temperature for 2 hours or until the dough has nearly risen to the top of the bowl & has a thick, golden, mashed potato-like appearance.
Use immediately, or refrigerate for up to 3 days before baking.
For 1/2 a recipe of dough grease a 9 x 5 loaf pan, or scoop about 1/3 cup of batter into each of 12 greased muffin cups, cover with a teatowel & let rest at room temp for 40 minutes.
For artisan baking, preheat oven to 350°. Heat baking stone on middle rack & broiler pan on lower rack for about 30 minutes while preheating oven.
Pour 2 cups hot water into broiler pan. Place loaf pan or muffin pan on hot stone. If making 2 loaves, place pans at least 3" apart on baking stone.
Bake rolls for 22 - 25 minutes, loaves for 27 - 30 minutes, till crust is medium dark brown. Instant read thermometer inserted in center should read at least 190° F, or 90°C.
Cool in pans on wire rack for 10 minutes. Remove from pans & let cool on rack.
.
Submit a Recipe Correction
Join The Conversation
January 20, 2011 - This is a great recipe! It's time consuming, but easy and it produces a soft, dense, closed crumb bread. I followed the recipe exactly, including using the baking stone and water in the broiler pan. After mixing, the dough was similar to a quick bread batter. After rising, it was a pliable texture, somewhat like thick pudding, that could be manipulated with a spatula. I spooned the dough into the pans with a large ice cream scoop and then smoothed the tops with a spatula. The rolls I didn't smooth out, baked in exactly the shape I put them in the oven with; little peaks and valleys and all. ;) This recipe made one 9x5 loaf, a 12-cup muffin tin and a 6-cup mini heart-shaped cake pan. I was having a bit of fun! ;) The bread was delicious with a bowl of homemade tomato basil soup and I think it'll make a great panzanella. The second day the bread smells a little more like a yeast dough, but I can also detect the slightest hint of applesauce. It's a great recipe to accompany soups and stews or to use for homemade croutons and breadcrumbs. Thanks so much for posting these gluten-free artisan bread recipes, Demelza. The hardest part of a gluten-free diet is missing the taste and texture of wheat flour breads. :) UPDATE: January 22, 2011 - I sliced up the loaf of this bread yesterday and made grilled cheese sandwiches for lunch. I was feeding 4 gluten-free eaters & two of them are very picky eaters. It took some convincing to get them to try the homemade bread, but one bite & they were ordering up two sandwiches each! Then they asked if they could take the rest of the loaf home with them; which of course, I gladly wrapped up and sent it. :) If you are newly gluten-free and feeling down about the loss of wheat breads, please give this recipe, and others posted by this chef, a try. You will quickly forget what you think you're missing! After 3 days the bread is still moist and soft. It doesn't fall apart and crumble in your hands like store-bought GF bread tends to. :)