Easter Bunny Cake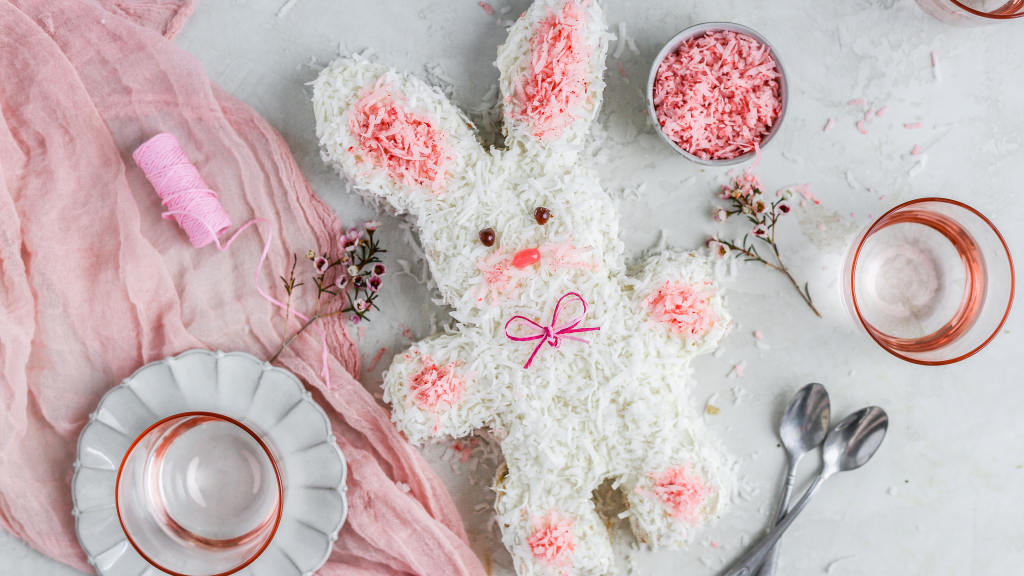 Ready In:

1hr

Ingredients:

9

Serves:

8-10
ingredients
1

(18 ounce) box white cake mix (white or yellow are best, or use your own imagination...)

3

eggs (or as called for by your cake mix)
1⁄3

cup oil (or as called for by your cake mix)

1 1⁄3 cups water (or as called for by your cake mix)

1

(16 ounce) can white frosting (or use your favorite recipe, "ready to spread" will do but I'm not sure how much it will take)

1

(14 ounce) package coconut (either flaked or shredded will work)
1⁄2

yard ribbon (approx., for bow)

food coloring

jelly beans (for decorations, eyes, nose, etc.) or gumdrop (for decorations, eyes, nose, etc.)
directions
Prepare cake mix according to directions on box for 2 round 9" layers.
Tint 1/4 cup of the coconut pink (I'm guessing at the amount) for the center of ears and feet.
Tint 2 tablespoons of the frosting brown for decorating face and feet ( or you can buy one of those prepared decorating icing tubes).
When cake is cool, cut layers as shown in diagram (see other photo).
Take 4 of the 8 outer ring pieces and frost the tops. Place 1 of the remaining 4 on top of each and frost top and sides. These will make the feet of the bunny.
Place round-cut center piece next to the top edge of the square, keeping them both flat, to form body and head.
Assemble the 4 side pieces in twos, flat sides together (you can use a little frosting to hold them together) to form the ears and arrange at the top of the head.
Frost entire cake and attach the completed feet, 2 on each side of the body.
Sprinkle coconut over entire cake and decorate with jelly beans/gumdrops for eyes, nose, etc. as desired, using pink-tinted coconut for center of ears and feet.
Here's where you can really have fun and get creative! You can tie the ribbon in a bow and place on the cake as a bowtie, make buttons out of the candy, add a hat, etc.
** Tip for using frosting to decorate without a pastry bag: Spoon the frosting into one corner of a small plastic sandwich baggie, twist tightly and snip off the tip of the corner. Voila!
Note: The finished cake is almost 2 feet long so be sure to have it on a large enough cookie sheet or platter!
Servings vary on how you decide to divide up the body (er, bunny) parts -- .
Join The Conversation
What a cute cake!! I noticed that this was going to be a really large cake and we didnt need it so big so I just scaled it down by using 6" cake pans instead of the 9". I still only used 2 cakes to make the bunny even thought the batter used 3 cake pans- I followed the diagram and it still came out perfect! The little kids got such a kick out of this guy! Perfect Easter activity.