Duonyte's No-Knead Sourdough Bread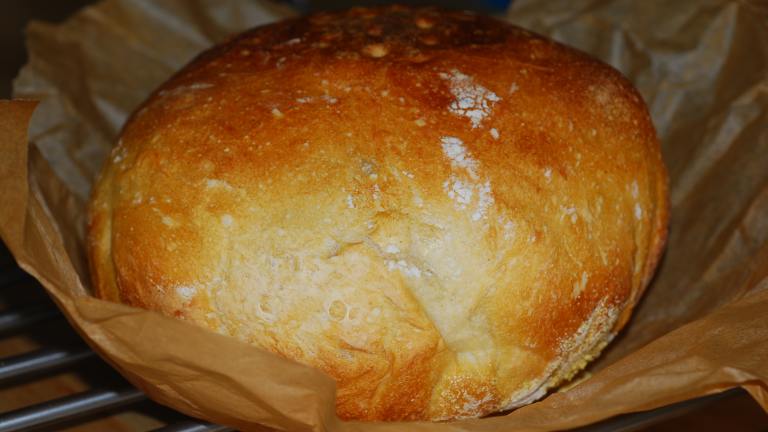 I baked many loaves until I finally came up with a successful sourdough version of the recent no-knead phenomenon. This is a great, beautiful loaf of bread.
Ready In:

21hrs 30mins

Serves:

Yields:

Units:
Nutrition Information
directions
Measure the flour and salt into a bowl.
Measure the sourdough into a cup, and add enough room temperature water to equal 1 1/2 cups. Stir the starter to dissolve it in the water.
Pour the starter-water mixture onto the flour. Stir together until all of the flour is incorporated. (I just mix with my hands). It's important to make sure all of the flour is incorporated.
Cover with plastic wrap and a towel, and leave overnight in a room at about 70 deg. F. for 12 to 18 hours.
At this point, the dough should be quite puffy. Lightly oil your hands. Without removing the dough from the bowl, fold the edges of the dough into the center. Once you've gone all around, pick up the dough, pull it to a rectangular shape and roughly fold one end over the other (like folding paper for an envelope). Do it again, pulling from the opposite edge. Now plop it back down into the bowl. Cover and let rise and additional two hours.
About 30 minutes before the two hours is up, place your pot with its lid (3 to 4 qt size) in the oven and heat your oven as hot as it can get. (Grease your pan if you feel it might stick).
When your dough is doubled, pull the pot from the oven and very carefully remove the lid. Tip the dough right into the pot (a silicone spatula helps tremendously), cover, and return to the oven. (Also, see Katzen's review for a great suggestion on using parchment paper to simplify transfer).
Reduce temperature to 450 deg. F. and bake for 30 minute Remove the lid and bake an additional 15-30 minutes.
Remove loaf from pot and allow to cool before slicing.
Note1: A plastic bowl or basin really works well. Get one that has a smallish flat area at the bottom - this will help shape your loaf.
Note2: Thanks, Zurie, for reminding me of the mix in the bowl technique - my late aunt first taught this to me, but I'd forgotten about it. It really works and you end up with much less cleanup.
Note3: Starters vary tremendously in how liquid they are. You may need to add a little water to get the right consistency. Remember, this dough is not going to look like a traditional dough in the first phase. It should be soft but not gloppy or liquid.
Note4: Substitute 6 ozs. of wheat flour for 6 ozs. of white flour for a heartier loaf.
Note5: It's sometimes difficult to visualize what a doubled loaf looks like. Remember that a 10" diameter ball has double the volume of an 8" diameter ball. Don't let your bread overrise.
Submit a Recipe Correction
RECIPE MADE WITH LOVE BY
"I baked many loaves until I finally came up with a successful sourdough version of the recent no-knead phenomenon. This is a great, beautiful loaf of bread."
Join The Conversation
I am new to sourdough baking, but I'm a huge fan of crusty bread, good sourdough, and I have been meaning to learn to bake a proper loaf for a long time now. I recently got a really nice Dutch kettle so I decided to get into baking bread at last. I got my sourdough starter fed up and ripe, found this recipe, and went to work. My kitchen is very cool right now, and the rise was very slow. I thought my very first batch was going to fail, but that was fine because you learn by failing, and I'm in this to learn. I pressed on with the second rise, and when the time had elapsed it still wasn't "riz" enough, so I decided to have a nap to give it an extra hour. Four hours later (heh) it went into the oven. Forty-five minutes after that, this was the insanely good result. What I was positive was going to be an inedible learning experience turned into my evening meal. This bread is utterly amazing, and so are you for posting this recipe. Thank you so, so much. I look forward to more failures like this one in the future, lol.

Since everyone else had a good experience with this recipe, I'm trying to figure out how things went wrong with mine. Perhaps a too young sourdough starter? It was 10 days old after daily feeding. But my dough just did NOT rise much at all. I followed the recipe up until the baking because one reviewer observed that wild yeast can shock easily and he had a good experience not pre-heating his cooking vessel and lowering the overall temperature, I thought I'd do that, too, to try to encourage SOME rising, but it was too little, too late. I will say that the flavor was good even though it was dense and super chewy. I'm moving on to a kneaded sourdough that I'm cheating on by adding a tsp. of commercial yeast.

I did a little variation and found that the bread turned out better if I didn't preheat my cast iron pan. I extended the cooking time to 35 minutes with the lid on and 10 ore with the lid off, all at 450. It also raised a little higher and the sourdough flavor seemed to stand out more. I think the natural yeast shocks easier and gradually raising the temp makes a difference.