Dragon Roll
photo by jpatel02004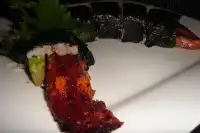 Ready In:

45mins

Ingredients:

13

Serves:

2-4
directions
Rinse the sushi rice in the rice cooker bowl three or four times until the water is nearly clear. Fill the rice with water until there is a layer of water that rests a fourth of an inch above the rice.
You can either sprinkle the top of the rice with salt and then add the vinegar or mix the two together in a small bowl before pouring it on top of the rice. Some people add a touch of sugar or mirin. Be sure to experiment to suit your tastes.
While the rice is cooking, make sure to cook the shrimp and eel. I buy eel at the local Japanese store. You can sometimes find eel in Chinatown. If you don't have a store that sells eel in the area, there are places that will ship frozen eel to your home. Bake and broil the eel at 350 degrees until it is warm. Make sure to coat the baking tray or pan with spray so that it is easy to remove once you're ready to roll.
In regards to cooking the shrimp, I always use a pan. If you prefer to not add tempura bits or cannot find any in stores, you can also prepare shrimp tempura separately. This is sometimes what I do when I am in the mood. Here is a link for the shrimp tempura recipe: http://www.food.com/recipe/shrimp-tempura-169444.
When the rice is finished cooking, fan the rice, and allow it to cool for five minutes. Unravel your rice mat until it is flat, and set one nori sheet on the mat. Use a wooden spoon to spread three fourths of the sheet thinly with rice. You do not want to spread the entire sheet, as the roll would be too thick and would not have a closing end. Make sure that the end of the sheet that is closest to your stomach is also very thinly spread with rice, as you will be piling ingredients horizontally across an imaginary row. Some people even leave a small row closest to the stomach entirely empty.
I always wait to cut the avocado, as it browns quickly. You can dab the avocado with lemon juice to slow down the process. Cut on the long side of the avocado so you have a thin slice. I often begin by starting with a very thin slice, so I do not waste the avocado and expose too much of it. You can get a fair amount of pieces from one thin layer. Use a spoon to cut pieces depending on how large you want them.
Use a small bowl of water to dip your fingers in, and glide them across the exposed nori sheet that does not have any rice on it. This will allow it to stick upon completion of rolling. You are now ready to begin the process. For the first layer, imagine four separate sections as you look from left to right. It is also helpful to have a mat with grooves/lines that will help form those sections. For each section, add a small piece of avocado, shrimp with tempura bits/shrimp tempura and a small piece of cream cheese. Repeat this three more times. You can leave a space or choose not to, but be aware of the sections until you're ready to cut.
For the second layer, you might have to slice along the broiled eel to create two thin strips. It depends on how much unagi you prefer. Be careful not to overload, as this makes it difficult to roll. When you are satisfied, gently place the eel on top of the first layer. Envision the head, so make sure that there is a piece of the roll that extends from outside of the mat. You may also have to add a bit more unagi to create your layer, depending on how long your strip is. What you should see down below are the two stacked layers closest to your stomach, a bed of rice just north of it and an exposed row of wet nori to the north of the rice.
To maintain stability, you might want to hold the two layers in place as you roll. Continue to roll and press as you move along. If you do have ridges on your mat, press against them to make it easier for cutting. Make sure you do not jam down too hard, as I have pancaked my maki a few times this way. You should be able to seal the roll thanks to the watery end.
Expose your roll that has the little unagi head sticking out. It's not the end of the world if it doesn't appear perfectly roll-like. You can use your mat to shape it a bit. Cut four pieces to make the four imaginary sections suddenly come to life. Sprinkle the top of the roll with roe. You can use pickled ginger to create a tongue or shrimp tempura to create a lovely tail. Feel free to experiment to create eyes and other parts.
Place 1/2 teaspoon of wasabi in a bowl and mix it with soy sauce. This can be used as your dipping sauce for each piece. Enjoy the dragon!
Questions & Replies

Got a question?
Share it with the community!
Reviews
Have any thoughts about this recipe?
Share it with the community!