Dottie's Zucchini, Chicken, and Rice Casserole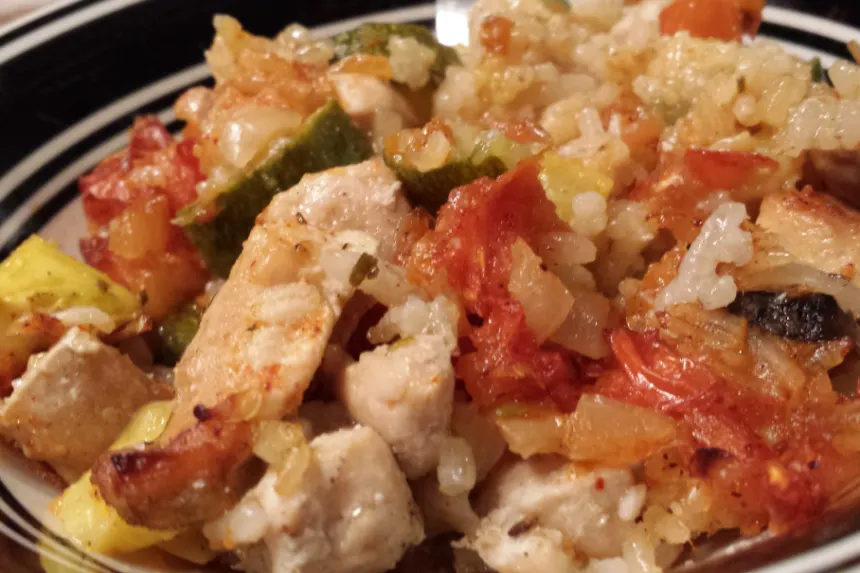 photo by Lynn L.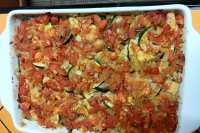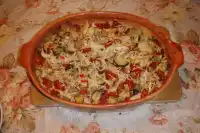 Ready In:

1hr 15mins

Ingredients:

14
directions
Preheat oven to 350*.
Heat 3 tablespoons of the oil in a large sautee pan and saute 1 cup of the onions with the garlic for 2 minutes.
Add the zucchini and mushrooms and saute for 3 minutes more.
Combine the vegtables with the cooked chicken, rice, broth, spices, and cheese. Mix and season to taste with salt and pepper.
Place mixture in a greased 9 x 13 baking dish.
Heat the remaining 1 tablespoon of oil and saute the remaining cup of onions for 3 minutes, then add the tomatoes and chili powder. Season to taste with salt and pepper.
Spoon the topping over the rice and chicken mixture.
Bake for 1 hour.
Questions & Replies

Got a question?
Share it with the community!
Reviews
I joined food.com specifically to write this review.<br/><br/>This casserole is *awesome*!<br/><br/>My wife made it, with a few modifications: she left out the mushrooms, added summer squash along with the zucchini, and cooked the rice for 20 min before adding it in.<br/><br/>Now, I'm not a fan of summer squash, and zucchini was put on earth to give to neighbors. So I wasn't looking forward to this.<br/><br/>But, being the dutiful husband and parental-example, I tried it. *Damn!* this stuff's *good*!<br/><br/>She made it a second time with fewer vegetables - I think it was better when it was chock-full of vegetables. (wait... that's chock full of *summer squash and zucchini*??? wow.....)

 

This dish is scrumptious, healthy, and so easy to make! I mostly stuck to the ingredients and portions listed. I used low-sodium chicken broth and wild rice & I also used a good bit more chili powder (mixed in with the chicken/veg portion as well as tomato topping) because we like things spicy. It definitely needed more time after 1 hour for the rice to finish cooking so I left it in another 30 minutes and it was perfect. The chicken is tender and juicy, the veggies were soft and highly flavorful, the rice wasn't mushy at all and we loved it! I highly recommend this recipe, thanks for sharing!

 

I am an experienced cook and this recipe took way too long. The results were overbearing flavor of thyme and rosemary which was not appealing. I ended up making a rhue of chicken stock, flour, parmesan, cheddar cheese and salt and pepper. I mix the rhue into the casserole, added some salsa to take away the unappealing spice flavor and topped with grated cheddar and panko breadcrumbs. After all the doctoring up, it tasted pretty good but I could have made another casserole in half the time and also make it less fattening. Defeated the purpose to trying to make a healthy meal.