Dion's Magical Tuscan Style Vegetarian Vegetable Soup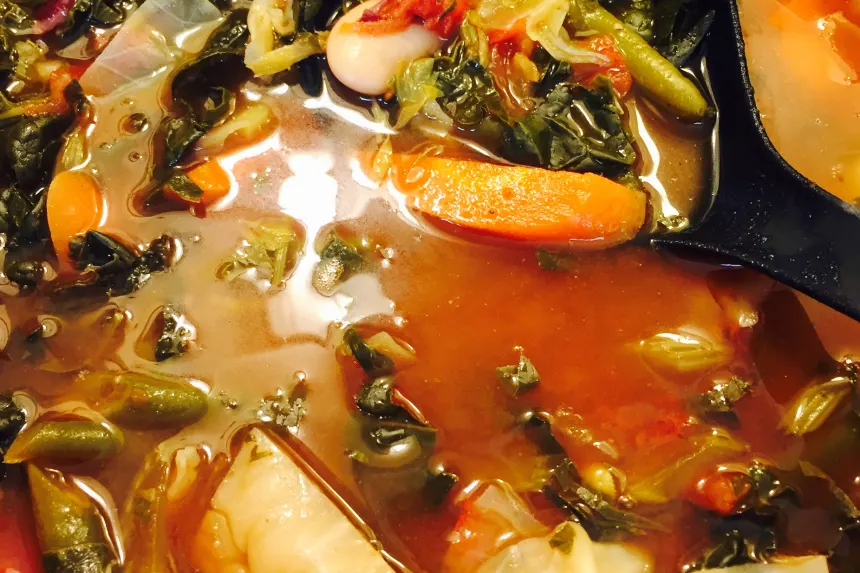 photo by DC_in_SF
Ready In:

1hr 30mins

Ingredients:

19

Serves:

10
directions
Start with at least a 6 quart pot.
Empty both cans of tomatoes, stewed and diced, into the pot, using a little tap water in each can to swish around and get everything out.
Use your bare hands to squash up the tomatoes a bit smaller than they already are, just so the chunks aren't giant.
Add water from the tap. Start with less than you think you need as you can always add more; you want plenty of room for vegetables. 8 cups is a rough estimate of what I usually use.
Turn burner to medium-high, add the can of tomato sauce, Italian seasoning (I use Trader Joe's 21 Seasoning Salute) bouillon (I use Better Than Bouillon) and the bay leaves. NOTE: If you are using a different type of broth/bouillon just follow the product instructions or your own taste to get about 8 cups of broth to start your soup.
Get out your favorite chef's knife and cutting board. Start with the carrots, celery, and onion. This is your mirepoix. Coarsely chop everything into large, bite sized pieces. A diagonal cut makes the carrots and celery extra pretty in the soup. (You may sauté these veggies first in olive oil or butter but in my experience it hasn't made a discernible difference so I just toss them into the soup and enjoy the ease and time saved.).
Once your mirapoix is in with the herbs and spices flavoring the broth, you can put on some music or a podcast and just start chopping things and throwing them into the soup at your leisure. Usually spinach goes in last, but at this point it matters very little in which order you add the ingredients to the soup.
NOTES ON CHOPPING THE VEGGIES: It's best to strip the kale leaves from their thick stalks before chopping the leaves up. Most of these veggies will be a pretty coarse chop--if you do a finer chop you may want to shorten the cooking time so they don't get mushy. Slice everything you can (green beans, carrots, celery) on the diagonal. It looks pretty and they cook up nicely without breaking apart.
Once all the veggies are in, adjust broth level as needed by adding water and bouillon if you need to. Simmer for 45 minutes or until veggies are tender but not mushy.
Add salt and pepper according to your taste. A little red pepper flakes or cayenne adds a nice kick too.
Keep an eye on the temperature. Once the soup starts bubbling you can turn it down to low and put a lid on the pot. I usually keep the lid cracked, propped open by a wooden spoon so it doesn't get too hot. You want to keep it at a calm simmer, not a boil.
Add rinsed kidney and butter beans. (Can be subbed out for almost any other canned beans. Even frozen lima beans are excellent in this.) Simmer another 10-15 minutes.
IF YOU ADD PASTA: cook the pasta in a separate pot when your soup is already about done. Get it al dente and drain it. Add it at the very end. This way it won't soak up your precious broth as it cooks.
You may serve this soup almost immediately but it definitely benefits from sitting out a while after it's done. I recommend letting it stand at least 20 minutes. Serve it topped with shaved/grated hard Italian cheese and cracked pepper and/or fresh parsley.
Questions & Replies

Got a question?
Share it with the community!
Reviews
Have any thoughts about this recipe?
Share it with the community!