Digestive Biscuits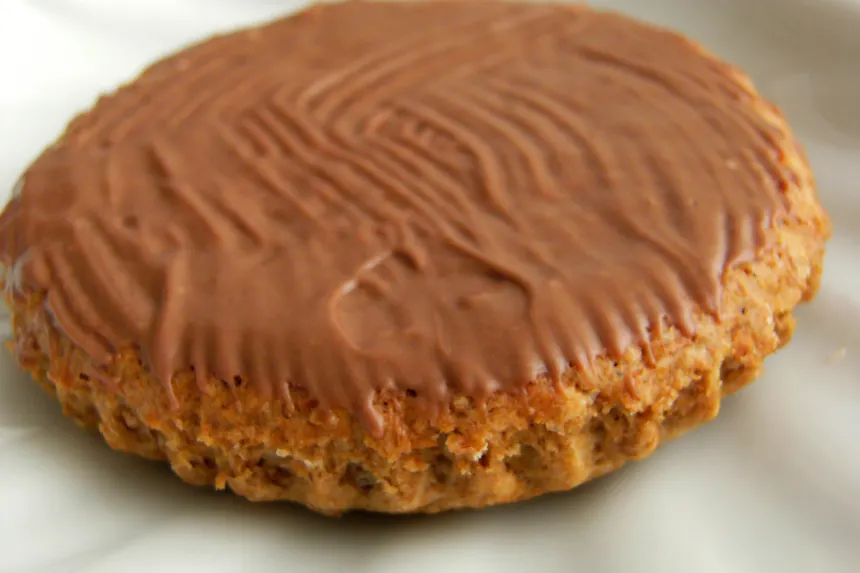 photo by Lalaloula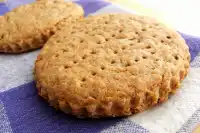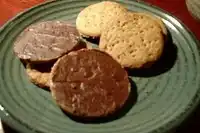 Ready In:

35mins

Ingredients:

11

Serves:

6-8
directions
Preheat oven to 350°F.
In a large bowl, mix together the flours, bran, baking powder, baking soda, and cream of tartar with a pastry blender. Mix in sugar with the pastry blender. Mix in fats with the pastry blender. The mix at this point should be crumbly and uniform. Mix the vanilla in the half-n-half and add to the mix. Mix with pastry blender until it is uniform and resembles really soft playdoh.
You can at this point refrigerate for 20 minutes to make the dough easier to handle, but it is not necessary. Be sure to roll out dough between two pieces of waxed paper! Roll to approximately 1/8" thickness. Cut into rounds with cookie cutter about 2 1/2 inches in diameter (I used the ring off one of my canning jars).
Transfer to cookie sheets or baking stone and prick with a fork. Bake 15 to 18 minutes (adjust the baking time up to dry them out more if the biscuits are too soft and fluffy), or until golden. Let cool on wire rack.
Optional: spread the backs of the cooled biscuits with melted semi-sweet chocolate (as in chips - almost everyone has these for chocolate chip cookies). Set the biscuits chocolate side up on the rack until chocolate hardens.
Store in an airtight tin -if storage is even necessary! They will go fast.
Questions & Replies

Got a question?
Share it with the community!
Reviews
WOW, these are truly awesome and you are my hero! :) I spent a year living in Ireland when I was in school and fell in love with McVities Digestives. However being from Germany, I cannot get them easily back home. Ive been wanting to duplicate them, but never found the perfect recipe until now. Yours truly is it! The biscuits came out nearly PERFECT! My only mistake was to roll out the dough too thick, so that my digestives ended up a bit on the poofy side. Next time Ill fix that, though. Also I think adding a tiny bit of salt to the dough would make them even better.<br/>As I didnt have it on hand, I left out the shortening and I also used milk instead of half and half. <br/>THANK YOU SO VERY MUCH for sharing this recipe with us, SerenaWeber!

 

Thank goodness for someone who has read the McVities packet.<br/>McVities Digestives are nothing like Graham Cookies !!<br/>This recipe is wonderful. I added 1/2 Teaspoon of salt and a also found them a bit too sweet<br/>The dough is very 'gloopy' and difficult to manage.<br/>But the taste is wonderful.<br/>Congratulations.

 

My husband was born and raised in Rhyl, Wales UK -- We have spent quite a bit of money on McVities at Cost Plus World Market over the years. :) I made a batch of Bara Brith (delicious fruit tea bread, Welsh) this morning and thought, "Wonder if I can find a good digestives recipe..." My resident Welshman just declared this to be "top shelf"! I appreciated the advice to add salt -- we will lower the amount to 1/4 tsp next time, but otherwise this is a wonderful, authentic recipe! Oh, one more thing... I did this by hand as the recipe called for. I would not recommend a mixer or food processor. I think that a delicate hand, and not over-mixing provided the delicate crumb and crispiness that we all adore in a McVities digestive.

 

This is the last digestives recipe I will ever have to try. They are perfect! Thank you so much for sharing this recipe. Rolled out perfectly and absolutely delicious. I reversed the measurements for the butter and shortening as I was low on butter. Made no difference at all. Also, I used 1-1/4 C graham flour (includes bran) and 1/4 tsp salt. I will be making these often...what diet?

 
Tweaks
I ended up here after futilely searching for a charcoal biscuit recipe. I found one for dogs, but I was looking for one for people. Then the idea to combine a digestive biscuit recipe with some charcoal dawned on me and I found myself here. There were other digestive biscuit recipes to consider but I liked this one the best. I will make this as is one day but for today I made some substitutions (because of what I had on hand) and some additions for personal taste. I also doubled this recipe, and I'm so glad I did! I did not have all the required butter, so I did half butter and half coconut oil and because I don't use Crisco, I used a coconut and palm oil shortening instead. I used wheat germ instead of wheat bran (what I could find) and I completely omitted the white flour and instead (because I doubled the recipe) did 1/4 C of ground flax seed with about 2 tsp of ground anise seed. And for the other 1/4 C I did activated charcoal powder, in place of the white flour since by doubling the recipe it would have called for a 1/2 C of AP white flour. And per some other suggestions I added a 1/4 tsp of salt. I used the half and half and the brown sugar and otherwise followed the recipe, but in addition to the vanilla extract I added a bit of anise seed extract as well. Charcoal is a bit messy to work with, but it is a great digestive aid (for upset stomach, gas and bloating) and also a detoxifier. Of course my digestive biscuits are completely black with a hint of anise seed flavor to it. And they are delicious. Not the prettiest to eat because of course as you are chewing it it makes black crumbs in your teeth. But they were delicious with my tea and I'm very pleased with how they turned out. And will make them again, just as I did and I will try making them with some cardamom in the future as well. Thank you so much for sharing this recipe!