Deviled Eggs With Candied Bacon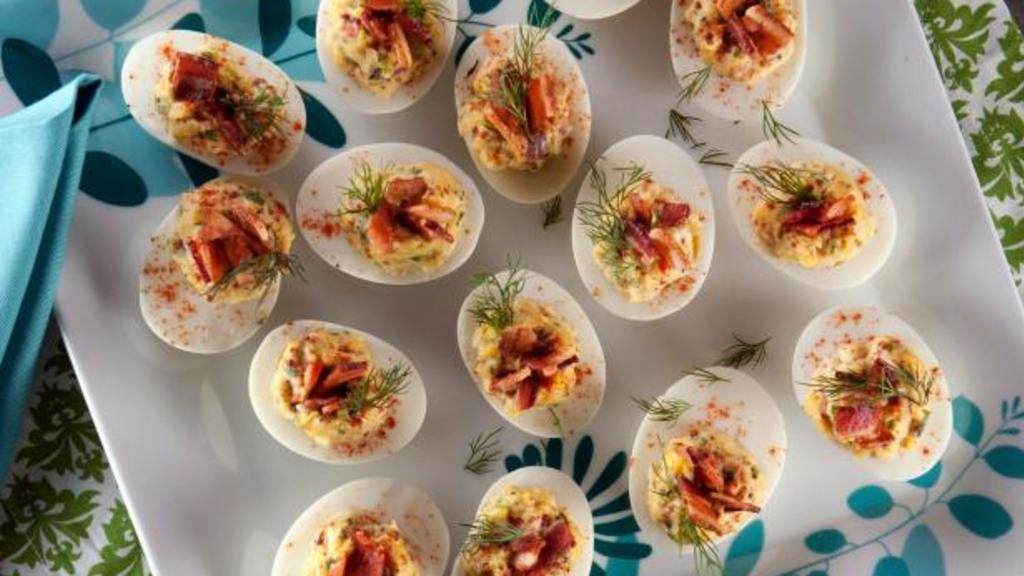 Ready In:

42mins

Ingredients:

13
directions
Preheat the oven to 350 degrees F.
In a small bowl, mix together the brown sugar, a pinch of cayenne and the cinnamon. Place the bacon on a wire rack set over a rimmed baking sheet. Sprinkle each slice of bacon with some of the spiced sugar and bake, about 10 minutes. Flip the bacon, sprinkle with the remaining spiced sugar and continue to cook until crispy, about 10 more minutes. Remove the bacon from the oven and allow to cool. When the bacon is cool, mince it and set aside, reserving a quarter of it for garnishing the eggs.
Put the cold eggs in the bottom of a medium saucepan and cover with cold water. Bring water to a boil and remove the pan from the heat. Cover the pan with a lid and let stand for 12 minutes. Drain the eggs and rinse with cold water. Let the eggs cool a bit and then peel when they are still warm (eggs are much easier to peel when they are warm). After they are peeled, you can then store them, covered, in the fridge.
Mix together the mayonnaise, mustard, dill, cider vinegar, Worcestershire sauce, 1/4 teaspoon cayenne, the scallions and the minced bacon in a medium mixing bowl. Season with the salt.
Slice the eggs in half lengthwise. Gently remove the yolks by pressing your thumb against the back of the yolk to pop it out of the white. Add the yolks to the bowl with the mayonnaise mixture. Mash together, using a fork, until smooth.
Put the filling in a re-sealable bag. Cut one end off and pipe the filling into the egg whites. Sprinkle with the paprika, extra bacon bits and dill before serving.

Cook's Notes:

A wire rack is a great way to cook bacon because the air can circulate around the bacon making it crispy and delicious.
Plastic bags are a great tool to use in place of a piping bag, easy and disposable.