Delightful Cookies a La Mrs. Fields & Neiman Marcus Omac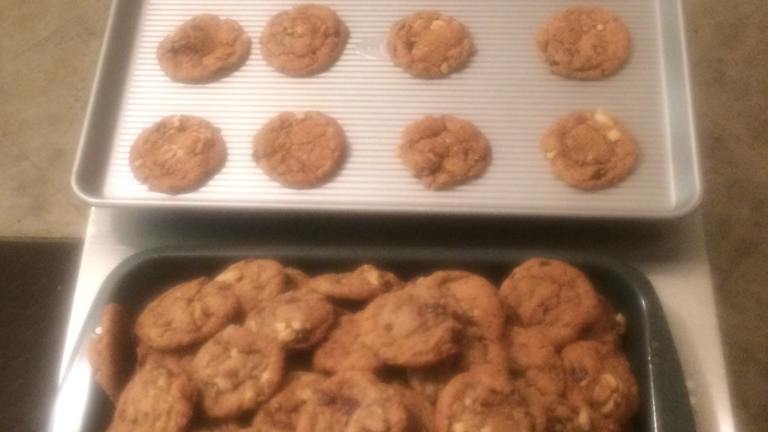 The mother of one of the kindergarteners on my bus run gave me a dozen of these cookies as a Christmas gift one year. They were such a hit at home that I asked her for the recipe. Which she very graciously provided. Now it is my job to bake a batch every year for our family reunion Christmas celebration. These cookies are truly so scrumptious that there are never any leftover. (I use a cookie scoop, like an ice cream scoop, DIPPED IN COLD WATER before each use. Individual cookie dough FLASH freezes very well. Cook time is for one sheet in the oven - the rest of the dough is in the freezer!)
Ready In:

2hrs 12mins

Serves:

Yields:

Units:
directions
In a food processor. A)-GRATE: 8 oz Hershey chocolate bar & set aside in separate dish. B)-Measure 5 cups (Old Fashioned) Oatmeal. Put small amounts of the oatmeal into a food processor until it turns to powder/flour (Add oatmeal flour to 4 cups white flour in step 2 below).
Combine: In a VERY large bowl (I use a 13 quart mixing bowl.) 4 cups white flour (with above Oatmeal flour included), 1 teaspoon salt, 2 teaspoons baking powder, & 2 teaspoons baking soda.
CREAM together 2 cups (1 lb.) butter (Softened & whipped before adding sugars), 2 cups (1 lb.) dark brown sugar, 2 cups granulated white sugar.
To the creamed mix add: 4 large eggs (ONE at a time), and 2 teaspoon pure vanilla extract. Mix together well.
To the DRY ingredients (flour/oatmeal mixture in a VERY large bowl), ADD the CREAMED mixture. Stir together (with a VERY STRONG, very large spoon - wooden?) all ingredients. Mix well with the SPOON. (Do NOT use a mixer. This recipe has burned out 2 mixers). ***THE MIXTURE WILL BE VERY DRY!***.
Stir in, 8 oz (grated) Hershey chocolate bar, 24 oz bag of semi-sweet chocolate chips, 3 cups chopped nuts (any kind) OPTIONAL additions 24 oz (3 cups) raisins, craisins, dried cherries etc. Use your imagination! ; ).
Form (one inch/two tablespoons) ping pong-ball sized cookies. I use a cookie-scoop (like an ice cream scoop) dipped in cold water before each use. (Wal-Mart sells cookie scoops in 2008). The raw dough balls freeze very well. I FLASH freeze them on a cutting board before freezer-bagging them together. KEEP SOME IN THE FREEZER FOR FRESH, HOMEMADE COOKIES ANYTIME!
Cook on an UNgreased cookie sheet, 2 inches apart. Bake at 375 degrees: Soft cookies = 6 to 10 minutes.Crispy cookies = 10 to 14 minutes. (Mine are 12 minutes).
COOL cookies on the cookie sheet (until the next batch comes out of the oven) because they are too soft to remove right away. (4 cookie sheets = 1 baking, 1 cooling, 1 prepped, 1 cleaned & drying.). Cookies CRISP as they cool.
ENJOY!
Submit a Recipe Correction
RECIPE MADE WITH LOVE BY
"The mother of one of the kindergarteners on my bus run gave me a dozen of these cookies as a Christmas gift one year. They were such a hit at home that I asked her for the recipe. Which she very graciously provided. Now it is my job to bake a batch every year for our family reunion Christmas celebration. These cookies are truly so scrumptious that there are never any leftover. (I use a cookie scoop, like an ice cream scoop, DIPPED IN COLD WATER before each use. Individual cookie dough FLASH freezes very well. Cook time is for one sheet in the oven - the rest of the dough is in the freezer!)"
WHAT A WINNER!!!!!!! I mistakenly halved this recipe as I was making another batch of cookies to take out to the workers at the cottage farm. Next time I will make the whole recipe and try to save a dozen for the woman cooking. HOLY smokes these were great! I followed directions exactly ( minus the halving of the recipe) and they came otu great! Simple to put together and oh so good! Thank you PAC baby 2010