Danish Meatballs With Creamy Dill Sauce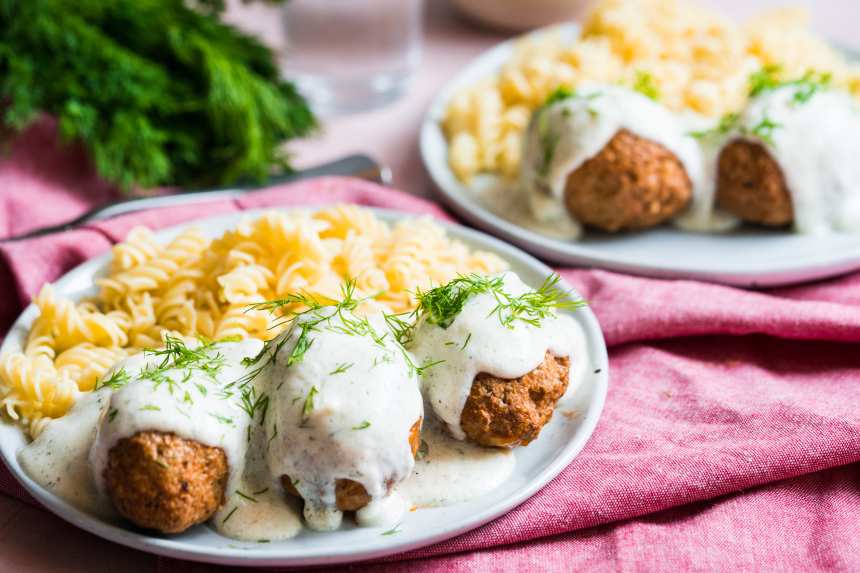 photo by alenafoodphoto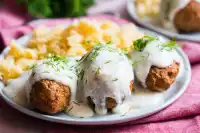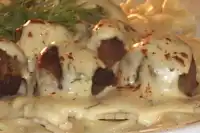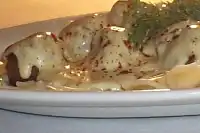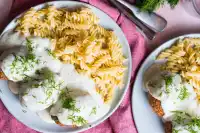 Ready In:

1hr 5mins

Ingredients:

18
directions
In a large bowl mix the meat, salt, pepper, eggs, onion and cream.
(I use my kitchenaid).
With moistened hands (this will be sticky), shape into 1 inch balls.
Roll the meatballs in bread crumbs until well coated.
Arrange in a single layer on shallow baking pans.
Drizzle melted butter over the meatballs.
Bake at 375 degrees, turning 3 or 4 times, until evenly browned, about 35 minutes.

Meanwhile, make the sauce:

Melt butter in a large saucepan over low heat.
Whisk in the flour till smooth.
Gradually stir in the chicken broth.
Continue stirring until thickened and bubbly, then blend in sour cream, dill and seasonings.
Place meatballs in a serving dish and cover with the sauce.
Serve over egg noodles.
Questions & Replies

Got a question?
Share it with the community!
Reviews
I actually have my own version of this dish. I'm originally from Romania and my granny and mom used to prepare it quite often during the early autumn. The difference is in the sauce. You will sautee in cooking oil (we used sunflower seeds oil) but any normal cooking oil you're used to will do just fine, finely grated young carrots (about 200-300 grams), 2 or three juicy autumn onions (about 100-200 grams). Sauteeing should be done on a medium flame, in a lid covered skillet or caserole. Onion should become almost transparent with a yellow tone and carrots should also be soft. If it suits your taste add some finely chopped bellpeppers. Add about 400 grams of very juicy riped peeled tomatoes, severeal cloves of garlic, freshly minced, salt and pepper to your taste. Continue sauteeing under the lid for about half an hour, stirring it with a wooden spoon from time to time and adding water if it drops too much. Separately, prepare the minced meat (we used pork and beef just like in your recipe back home) and prepare it just like in your recipe, until the bread crumbs. Instead of that, put some 2l of salted water to boiling. When it's boiling, put the meat balls you have formed into the water. It should be boiling becaus otherwise the meatball will be destroyed. You can also deepfry them or grill (this one I have not tried, as I never tried baking), When deepfrying roll the meatballs in flour before putting into the heated recipient with cooking oil. Also, you can put them into the sauce which is already simmering. Mince very finely some 5-6 bouquets of GREEN fresh dill (be carefull if your family does like it since it has a STRONG aroma) and the same amount of taragon, when te meatballs are half done. The sauce should be somewhat thinner than normal ketchup (like a thick cream or sour milk) and should be enough to cover the meatballs (the smaller the meat balls the quicker the cooking) however the meatballs should not be smaller than olives. Preferably the size of a smaller plum (about 3 cm in diameter - 1 inch). The trick is that the dill and taragon are not that much cooked so as to lose their flavor. Serve on a dish, a few meatballs, sauce and ADD fresh sour yoghurt or sour cream. It's slightly more dietetical then the version you present here and it's totally based on fresh, right from the garden vegetables.

 

We all (3 adults) LOVED this. Like others, I grated the onion. For breadcrumbs, I used Panko, and I used about 2 tbs. fresh dill. Just delicious & recipe truly does make enough for eight. Served this over wide noodles with a side of broccoli (but asparagus would have been even better!) Thanks for this wonderful recipe. Yum!

 

Wonderful! Ok honestly at first, I didn't think this sounded good at all. But I read all the good reviews and I had some Vension I needed to use, so I made this. And I LOVED it!! Hubby loved it too! Chopped it up well for my 13 month old and he ate every bit of it too! I use all venison because we don't eat pork and venison is all i had on hand. I cut the meat mixture in half (and had enough meatballs! about 24), but used the whole sauce recipe and it was perfect! I grated the onions like suggested by another review. I used wondra instead of the flour because i am bad at making sauces and Wondra always turns out perfect! Also I served this over mashed potatoes! YUM! What a treat :) Thanks for this creative recipe. It is also very easy to put together!!

 

I'm giving the meatballs 4 stars and the sauce 2 stars. The meat was very moist and seasoned well. They also reheated well for lunch the next day. The sauce on the other hand didn't do much for my family. All I could taste was sour cream and I'm not sure I liked the addition of the allspice. I will however make my meatballs with cream and butter from now on. Very good. Thanks so much.

 
RECIPE SUBMITTED BY
I'm a stay at home mom with 3 adorable children-an 8 year old daredevil son, a 5 1/2 year old princess and a wild little 2 year old girl! I love to cook, and like having my little helpers in the kitchen! I usually love recipes that are completely from scratch (I still love them actually) but right now my focus is on having any kind of food ready by mealtime! It's a little crazy here lately. Every summer we have a huge organic garden, apple orchard and raspberry and blueberry patches, along with a woods full of wild foods waiting for me to learn what they are so I can collect them. I'm learning about wild mushrooms first, so if anyone has any tips, let me know. We also eat wild venison which my husband and I hunt ourselves. It's our favorite meat, since it's lean, organic and cheap! Some of my hobbies are: hiking, biking, rock climbing, gardening, playing in the water with my kids, or just swinging in the hammock with a good book. I go stir crazy if I spend too much time inside.
View Full Profile