Dal Nirvana & Naan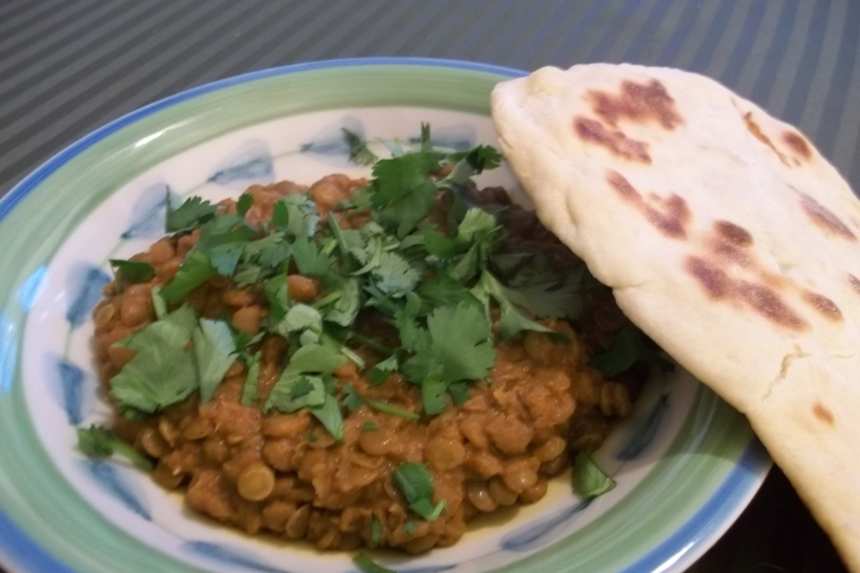 photo by rpgaymer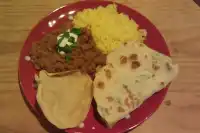 Ready In:

1hr 10mins

Ingredients:

17
directions
Dal:

Place the lentils in a pot and cover with a couple inches of water. Bring to a boil over high heat and boil until tender (about ten minutes). Drain the lentils in a colander.
While the lentils are boiling, mince the garlic and peel and grate the ginger (use a small cheese grater). Return the drained lentils to the pot (medium heat) and add the butter, ginger, garlic, cayenne, salt and pepper.
Add the can of tomatoes and one cup of water. Stir it all together, bring it to a simmer then reduce the heat to low. Put a lid on the pot and let it simmer for half an hour. The mixture should be soft and thick after a half hour. If it is not, continue to simmer, adding more water if it dries out. You want the end product to be thick, not watery.
Stir in the evaporated milk or cream and garnish with fresh, chopped cilantro. Serve over rice or with naan bread for dipping!

Naan:

In a small bowl, combine the yeast, sugar and water. Stir to dissolve then let sit for a few minutes or until it is frothy on top. At that point, stir in the oil, yogurt and egg until evenly combined.
In a medium sized bowl, combine 1 cup of the flour with the salt. Next, add the bowl of wet ingredients to the flour/salt mixture and stir until well combined. Continue adding flour a half cup at a time until you can no longer stir it with a spoon (about 1 to 1.5 cups later).
At that point, turn the ball of dough out onto a well floured counter top. Knead the ball of dough for about 3 minutes, adding flour as necessary to keep the dough from sticking. I ended up using about 3 cups of flour total. The dough should be smooth and very soft but not sticky.
Loosely cover the dough and let it rise until double in size (about 45 minutes). After it rises, gently flatten the dough and cut it into 8 equal pieces. Shape each piece into a small ball by stretching the dough back under itself until the top is smooth and round.
Heat a large, heavy bottomed skillet over medium heat and spray lightly with non-stick spray. Working with one ball at a time, roll it out until it is about 1/4 inch thick or approximately 6 inches in diameter. Place the rolled out dough onto the hot skillet and cook until the under side is golden brown and large bubbles have formed on the surface (see photos below). Flip the dough and cook the other side until golden brown as well. Serve plain or brushed with melted butter and sprinkled with herbs!
TIPS: For the most bubbles, don't roll out the ball of dough until just before it is ready to be placed in the skillet. I experimented with different skillet temperatures and found that a medium heat produces the most bubbles in the dough and does not burn the surface.
Questions & Replies

Got a question?
Share it with the community!
RECIPE SUBMITTED BY
Well, I am very passionate about cooking and love discovering new recipes. I love participating in the events since I'm always finding new recipes that I wouldn't have found on my own. My housemates and boyfriend all enjoy our food adventures and I love to leave people positive reviews and nice ish photos.
View Full Profile