Dainty Lily Cookies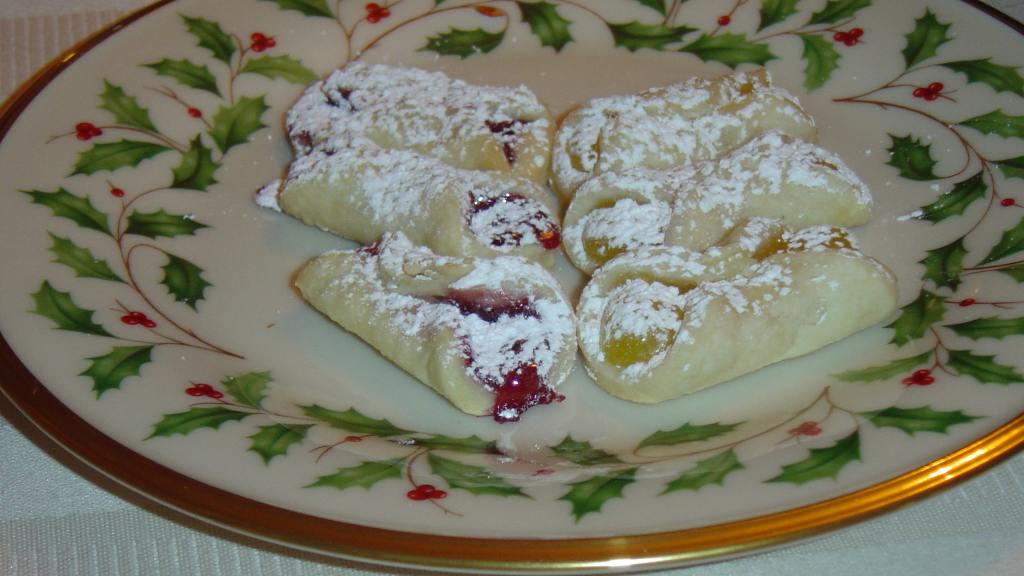 Ready In:

1hr

Ingredients:

5
directions
Cream butter and cream cheese.
Mix in flour until well blended. Chill dough before rolling.
Roll out dough to 1/8" thickness on lightly floured surface.
Cut into 2-inch rounds.
Spoon a small amount of preserves onto center of circle and fold two sides of circle towards middle, overlapping edges in center (bottom should form a point and top should be open to reveal filling).
Place on baking sheet and bake at 375° F for about 15 minutes, but do not overbake.
Cool cookies and drench entire cookie in powdered sugar.
Join The Conversation
Wow! and Thank You!! I made these using "recipe #135040" as the filling. My friend says they are better than, shhh...s.e.x. and didn't share any of that platter with anyone. I am not experienced at rolling out dough at all but it wasn't as tough as I thought. Some were prettier than others but all tasted great. Very pretty on a tray of goodies.

 

While these are not the fastest, easiest treat I've ever made, they are certainly worth the effort. Definitely chill the dough before using. I roll it out into a large rectangle, cut into squares, dot with raspberry jam, and then fold over the top corner to the bottom opposite corner of each square (making a triangle). I like to dust the counter with powdered sugar (instead of flour) before rolling out, and then sprinkle liberally with powdered sugar after they've cooled. With those changes, it's definitely a 5 star recipe. With the big CHRISTmas baking day we had, these were - by far -- the favorites!

 

Apparently the guests at the tea party really liked them, but I was disappointed at the final result. They spread out a lot more than I expected (although I should have guessed, seeing how much butter is in them) and wouldn't really hold their "lily" shape. I tried rolling them tighter, but they never really turned out as pretty as the picture, for me. I know this is due to my baking inexperience, but I just thought I'd mention -- they aren't as easy as they sound. All whining aside, they taste like absolute HEAVEN, kind of like those pepperige farms jelly-filled cookies, only softer and more melt-in-your-mouth. Mmm... worth it.