Dad's Fish Batter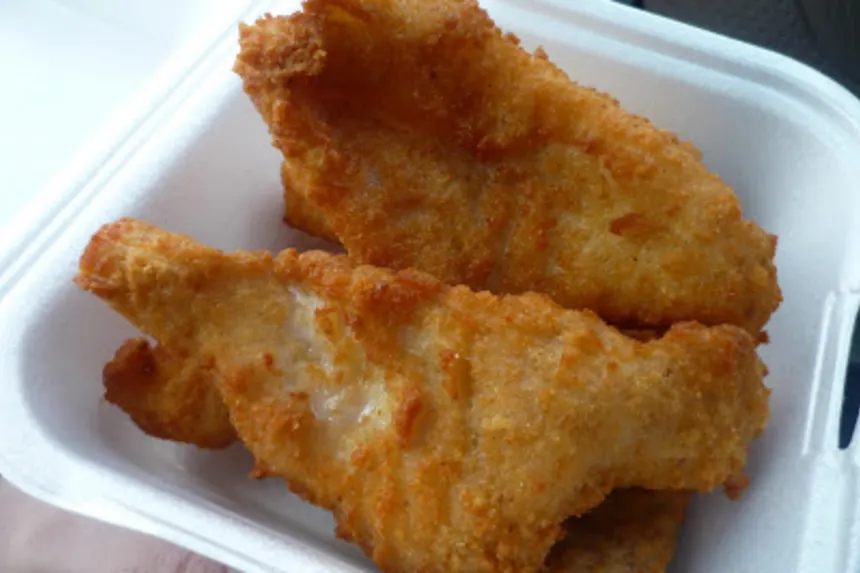 photo by Chef DeAnn 1253594

Ready In:

10mins

Ingredients:

7
directions
Sift dry ingredients.
Add water and mix well. whisk until you have a smooth batter, if needed add a bit more water but do not make it too thin. (or use some beer if you like too.my up date1968).
Use to coat fish or chicken filets. (not too thick or thin on the coating).
Cover the fish completely.
Deep fry until a nice golden brown.
SOME TIP's: If you didn't have a deep-fryer to fry the fish in, A shallow fry pan can be use, And add some oil to the pan, and I was all way surprised the batter stayed on the fish. Excellent!
I did some chicken tenders, then some fresh flounder fillets, then some shrimp. It was all incredible! Next time I will make some hush puppies, and it will be just like eating at the restaurant!
This really was an excellent batter. I made it up an hour before I used it as I have heard that this makes batter 'stick' better to whatever you're frying. Anyway, it stuck. Light, crisp and not greasy.
For fun I tried this on onion rings and I took some sweet banana peppers and split them and removed the seeds and battered them and fried to a golden brown, excellent. I think you could batter any thing with this recipe. THANK's DAD !
NOTE: After reading some of the other reviews, they stated the batter was to running. I added a 1/2 cup of corn meal to the batter, also some garlic & onion powder to taste and/or fish seasoning. I also let the fish sit in the batter for 30 minute This made the batter a bit thicker on the fish and made it stick well. My entire family loved this recipe. I am also expected to make this recipe for my neighbor. She buys the fish I cook it. We now have an awesome batter for our fish. WE all Love IT.
Reviews
This Fish Batter is so good, someone can not cook with no stars on this So simple and so good. this is just what I needed. I all-way like to made the recipe once as written, the way the chef did it. Yes I made a few alterations, I can't leave anything alone! I have to play with my food. It's a matter of what your taste is....I now have two more or is it three ways to this. Thank you!!! Happy Cooking to y'all ! Grpa